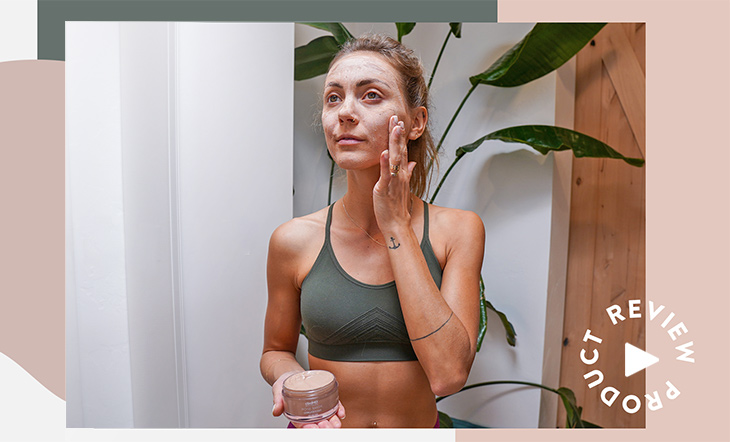 What Our Face Felt Like After Using the CBD Rose Clay Face Mask By cbdMD (Video)
When it comes to product reviews, we don't mess around. All of the items we review are put through the ringer of everyday use. You can trust that our reviews are unbiased and completely honest. Full-disclosure: we don't publish negative reviews. If a product doesn't live up to our standards, we won't promote it. Everyone has their opinion, this is ours – let's get started.
We hear A LOT of talk about CBD these days, and for good reason! This natural and highly potent ingredient is making its way into mainstream wellness, from stress-relief to pain relief, animals and now . . . skincare!
But first, what exactly is CBD?
Cannabidiol (often and conveniently referred to as CBD), is a naturally occurring compound found in the hemp plant. CBD is one of the active ingredients of cannabis (the other one being THC), but does not get you high.
Learn More About CBD Here: We Explain The Uses, Health Benefits, and Common Misconceptions
CBD is packed with antioxidants and is also anti-inflammatory. This is definitely part of why CBD is now a popular ingredient in skincare products, but it's not the only reason!
Read on to learn more about the benefits of CBD in skincare.


These Are the Main Benefits of Using CBD in Skincare Products:
According to Dr. Joshua Zeichner, director of Cosmetic and Clinical Research in the Department of Dermatology at Mount Sinai Hospital in New York, "CBD oil is a great option for all skin types."
Dr. Zeichner also shares that thanks to the calming anti-inflammatory properties in CBD, it can help relieve common skin issues such as eczema and acne. CBD reduces the skin's production of sebum, or oil, that can clog pores and result in acne.
Your skin can absorb CBD. And thanks to the high levels of antioxidants, CBD can also help with free radical damage.
Dr. Adarsh Mudgil, a double board-certified dermatologist and founder of Mudgil Dermatology, confirms that CBD is essentially safe for all skin types, including sensitive skin.
"There is likely no harm in continuing to use a CBD-infused product you like," Dr. Mudgil says. He goes on to say that, "If you happen to have a reaction from a CBD topical product, it's likely not from the CBD itself, but some other ingredient like a botanical."
Finally, it's important to use CBD that is labeled either "broad-spectrum CBD" or "full-spectrum CBD."

We Review the CBD Rose Face Mask From cbdMD:
Check out our review video below, and then read on for additional information and details on this product and our experience testing it out.
Speaking of looking for CBD that's labeled "broad-" or "full-spectrum," cbdMD uses superior broad spectrum CBD in their Botanicals skincare line.
And speaking of Botanicals, cbdMD launched an entire skincare product line! We've used cbdMD products for several years and have come to trust and respect this brand.
We Reviewed CBD Bath Bombs by cbdMD (Product Review Video)
So when we found out about their Botanicals line, we wanted to try out their top selling skincare products. Enter the CBD Rose Face Mask.
The star players in this face mask are: rose oil, bentonite clay, avocado oil, 250mg broad spectrum CBD, and rose water. These ingredients are all cruelty-free, vegan, non-gmo, gluten-free, and paraben-free.

Learn About the Ingredients
First things first – CBD! With 250mg of superior broad spectrum CBD, this face mask soothes and calms your skin. A good option for sensitive skin, CBD is anti-inflammatory, nourishes the skin with antioxidants, and reduces your skin's oil production (sebum) which in turn can help with acne or breakouts.
Next, rose oil. The namesake of this face mask, rose oil is a popular and common skincare ingredient for its high levels of antioxidants. Rose oil also contains essential fatty acids that both hydrate and help renew skin. Yes please!
Bentonite clay is a naturally absorbent clay powder that helps remove excess oil and calm your skin. You may feel a slight warming or burning sensation when you apply the mask, which tells you that the clay is drying!
Last but not least, avocado oil – the unsung hero! The fatty acids in avocado oil also help soothe your skin, moisturize it, and seal in the hydration for a lasting, luxurious feeling of moisture and hydration.
Ashton, who tested and reviewed this face mask, wore the mask for 15 minutes (as per the directions). She rinsed it off with warm water, then splashed her face with cold water before applying CBDMD's facial oil (the last step is optional but we found this was a lovely bonus! You can follow it with any moisturizer of choice).
We Wrote an Article About cbdMD's Facial Oil, and You Can Read That Here


A Few Final Details to Know About cbdMD Skincare
We also appreciate cbdMD's Botanicals skincare line is that all ingredients are cruelty-free, gluten-free, paraben-free, and made from non-GMO sources. These skincare products feature ingredients like plant-based oils such as argan oil, coconut oil, avocado oil, sunflower oil, shea butter, and aloe vera, and are supplemented with vitamins and essential oils.
All CBD skincare products from cbdMD's Botanicals line are THC-free, with cannabinoids, and nutrients with no chemicals or perfumes.
According to their site, regular use of CBD enhances the benefits over time. Perhaps our favorite aspect of this brand is that their CBD is superior broad spectrum, and tested for quality and safety in third-party, ISO-certified labs.
For all of these reasons, the CBD Rose Mask by cmdMD is 100% YouAligned™.
To learn more about this product, their Botanicals skincare line, or the brand itself, you can visit their website. If you'd like to check out their CBD Rose Mask, click here!
Full-disclosure: brands may compensate us for the production of reviews like this one. However, if a product doesn't live up to our standards, we will not review or promote it. This is our honest opinion of the product.
This article has been read 497 times. Share it and spread the love!

YouAligned
YouAligned is an online yoga, health and wellness publication for your life on and off the mat. We are here to help you live happier, healthier, more fulfilled lives. Yoga is our passion. Your healthy lifestyle is our obsession!
You may also enjoy

CBD is popular and CBD skincare is all the rage. We tried the CBD facial oil by cbdMD - read our review & learn the benefits of CBD skincare!

YouAligned