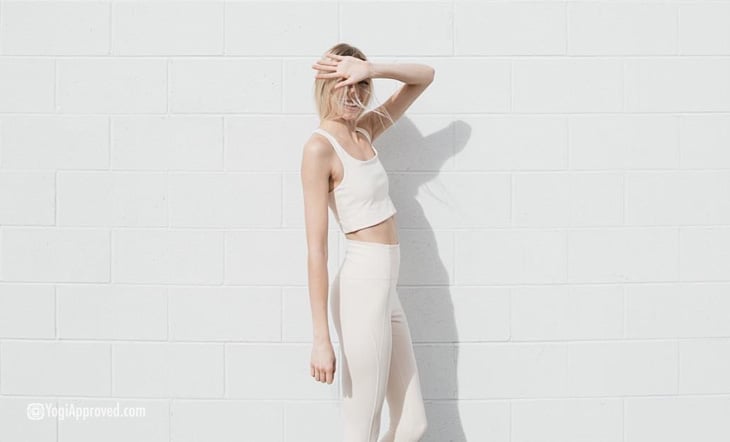 7 Eco-Friendly Yoga Brands You Should Probably Know About
Our environment is facing a monumental crisis. Climate change is one of the biggest challenges affecting our world today. And it's so important to support eco brands because fast fashion is one of its leading contributors.

Most of us are aware that we vote with our wallets every day. We have the power to create and influence change by carefully selecting where we spend our hard-earned money.

As yogis, we can even affect change by consciously choosing eco brands and products that are eco-friendly and help protect – as opposed to further harming – the environment.

We vote with our wallets every day.

Supporting brands that create eco-friendly yoga clothes (as opposed to fast fashion) and other environmentally-friendly yoga gear is a simple yet impactful way to help protect the environment.


Here Are 7 Eco-Friendly Yoga Brands You Need to Know
You can shop great gear from these eco brands with confidence and a clear conscience!

1. Girlfriend Collective
Ethical manufacturing, sustainable materials, epic performance. This tagline just about sums it up. Girlfriend Collective is a sustainable, ethical, and eco-friendly yoga brand that makes yoga clothing from recycled plastic.




Girlfriend Collective sources certified recycled plastic from Taiwan and fishing nets that would otherwise pollute the oceans. They treat dye wastewater with care and even recycling their own byproducts from production. No step in the process has been overlooked – GC is producing slow fashion at its finest.

2. PIYOGA
PIYOGA pants are pants with a purpose. PIYOGA is an awesome eco-friendly yoga brand that proudly donates 10% of net profits directly to both Balinese and global sea turtle and ocean conservation efforts.




Super cute and comfortable, these yoga pants are super lightweight (ideal for travelers), extra soft, and extremely breathable. They're made from 100% rayon – a textile fiber made from wood pulp – so it doesn't pill, it wicks sweat quickly, and it isn't polyester (in other words, it isn't made from plastic).

Want to find out more about this eco brand's ocean conservation efforts? Here's how This Yoga Brand Is Using Artificial Coral Reefs to Help Save Our Oceans

3. Umstuff
"Making products [eco-friendly and ethical] is an expensive process but I make no sacrifices and take zero shortcuts to bring you a product that was created consciously from fiber to customer." – Holly Fiske




Holly Fiske (AKA @upsidedownmama) created Umstuff as a passion project to help fill a void she felt existed in the yoga apparel industry. She built a small and ethical business to create beautiful and completely sustainable, eco-friendly yoga clothes from start to finish.

Overlooking no step in the process, Umstuff carefully selects each fiber, fabric, factory, shipping company, and beyond to offer you 100% eco-friendly and ethical gorgeous yoga products.

4. Yoloha
Did you know that cork trees regenerate stripped bark? Neither did we! But Yoloha knows this well, which is why they only use cork to produce their eco-friendly yoga mats!




Sourcing renewable resources and only using 100% recycled packaging, this company wins our hearts with the level of environmental care that they put into their production process.

This is a brand you can buy from with confidence because not only are they an eco brand, but their products are beautiful, sustainable, and super-high quality!


5. Ripple Yoga Wear
"Our clothes are influenced by the philosophy and principles of yoga."




Not only are all of Ripple Yoga Wear products made from completely natural fibers, they are all made according to Fair Trade standards. This eco brand respects both their employees and the planet. They recycle and don't waste a drop – they use 100% of their fabrics.

And the best part? Their yoga clothes are soft, breathable, comfortable, and oh-so-cute!

6. Wolven Threads
Wolven Threads's vision? To make sustainability sexy, and we'd say they've accomplished that goal. All of their adorable, unique garments are made from recycled plastic water bottles with certified Recycled P.E.T fabric (RPET). They use modal, which is an eco-friendly fiber that's softer than cotton and produced sustainably.




Modal requires 10-20 times less water than cotton to manufacture, and has a carbon-neutral footprint. Confirmed: Wolven Threads merges high-vibe fashion with eco-friendly practices.

7. Hugger Mugger
Now a household name in the yoga world, Hugger Mugger is committed to creating sustainable, eco-friendly products. These include biodegradable TPE mats, natural rubber mats, cork and bamboo blocks, and more.




Their vision is to "provide innovative, premium-quality products and create a wide circle of yoga friends throughout the world." Offering consistent quality and eco-friendly options, Hugger Mugger is an eco brand we stand behind!


Support Eco-Friendly Yoga Brands
From start to finish, each of these eco brands carefully creates products that are sustainable, adorable, and good for both you and the environment. They're producing some serious win-wins!

We're totally swooning over these epic eco brands creating eco-friendly yoga products with unwavering standards, ethics, and quality.

What are your favorite eco-friendly yoga brands? Let us know in the comments below!

Want to support another awesome eco-friendly yoga brand? Practice with YouAligned.com Classes. We plant a tree for every class our members take!
This article has been read 20K+ times. Bada bing!