These Are the Top 8 Exercises to Reduce Anxiety and Depression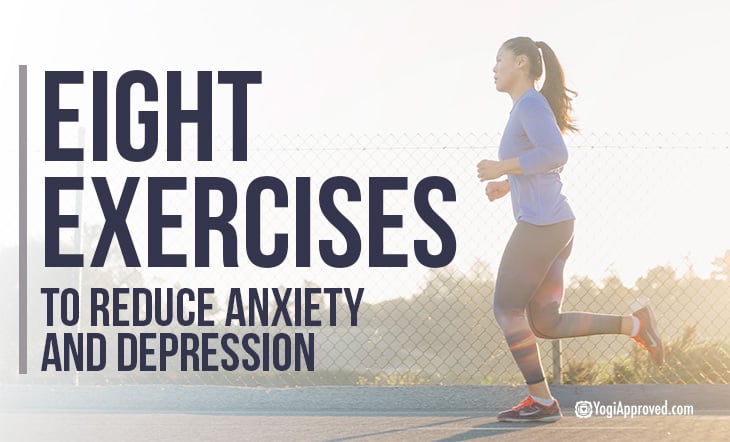 More than 18% of Americans have some form of anxiety, and more often than not anxiety and depression fuel the other's fire. Both make simple daily tasks suddenly seem unachievable, and can make life seem overwhelming at times. We want to share our top exercises to reduce anxiety and depression so you can live a full life!
Exercise can play a pivotal role in helping you recover and overcome anxiety and depression, and there are so many different forms to try!
Anything that gets your heart rate going, gets you to break a sweat or breathe a little harder is fantastic for your health. You're getting stronger, boosting endorphins, and have plenty of opportunity to be bolstered up by those around you.


These Are the Best 8 Exercises to Help Reduce Anxiety and Depression
When it comes to anxiety and depression, there are plenty of ways to help reduce the symptoms. We'll look at specific exercises that help reduce anxiety and depression so you can be your bada** self again, and go after your dreams.
1. Running
Running is great for reducing anxiety and depression because it's such an accessible exercise. You can go for a run whenever you feel you need it, without needing equipment or a special facility. If you enjoy running outdoors, you'll also get a boost of fresh air and Vitamin D which also greatly help reduce anxiety and depression.
After your run, check out 10 Stretches & Yoga Poses Every Runner Should Practice Daily to help your body release and relax.

2. Kickboxing
Ok for real though. You have to try kickboxing to help reduce anxiety and depression. Not only do you get a high-intensity, sweaty workout, you also get to punch things. Talk about letting some sh*t go. I've found kickboxing incredibly helpful in reducing my own anxiety because of the focus and agility the practice takes.

3. Dancing
Either in a structured format like Zumba or in your living room with your best friends and your favorite song. Dancing like nobody's watching is a great way to reduce anxiety and depression. Break a sweat, make some wild silly moves, and try bringing a smile to your face.

4. Yoga
A combination of breathing techniques, stretches, and strengthening poses and sequences makes yoga a winning combination for reducing anxiety and depression. After your yoga sesh on your mat, you can even hold still for a bit in a meditation to boost the effects of your practice.

5. Hiking
The secret is out: nature is grounding af. Hiking is great for reducing anxiety and depression because you get that fresh air, you can choose the intensity of your hike, and you get out in nature. Allow yourself to be fully immersed in your hike – what do you hear, see, and smell? Can you bring all of your attention to the elements around you?

6. Rock Climbing
Rock Climbing is another fantastic exercise to encourage you to focus and be wholly present in the moment. You'll work through your anxiety or depression as you strategically approach each new rock route with a new solution. With rock climbing, you'll also find a nice blend of cardio and strength training as you build muscle and endurance.

7. Weight Training
Weight training can do more than just increase your muscle mass. This exercise has been known to increase self-esteem, reduce stress, and even to help you sleep better. For those benefits and plenty more, weight training is a great way to help you reduce anxiety and depression.

8. Team Sports
We'll call this one our "curveball." While not a specific exercise, choosing a recreational or league team sport can be a fantastic aid in decreasing anxiety and depression. You'll work with others toward a common goal, make lifelong friends, and you'll gain skills in something you're interested in.


Take Charge of Your Life with These Exercises to Reduce Anxiety and Depression!
When anxiety and depression hit, it can be difficult to get on with your life, but exercise can help. Choosing a way to get your heart rate up and increase oxygen in your body can be essential in helping to reduce the symptoms of anxiety or depression. You can even jump around and try them all, or try exercises that didn't make our list!
If you aren't sure if you have anxiety or depression, but believe you may suffer one or both of them, I encourage you to seek out professional medical help in addition to exercise.
This article has been read 8K+ times. Feelin' the love!