5 Hacks to Actually Make Yourself Get to the Gym (You Can Do This!)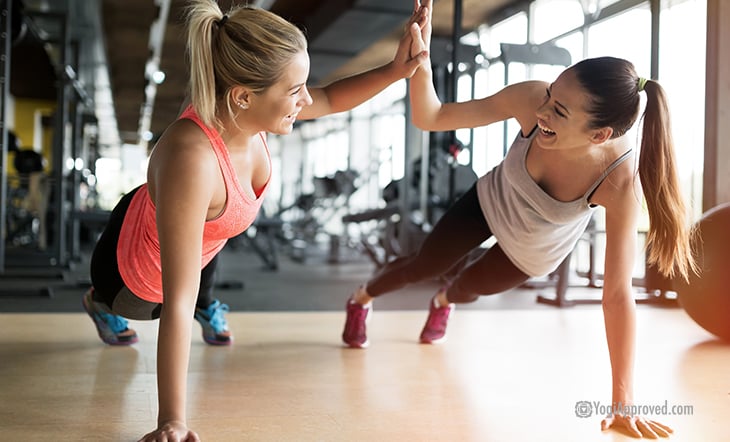 Let's cut the bullshit. It's hard to motivate yourself to go to the gym or start a workout routine! It feels like we don't have enough hours in the day, we're tired after work, and there are a million excuses to skip the gym "just for today." You'll go tomorrow, right?
WRONG!
Why? Because with that attitude, you'll keep justifying reasons to skip the gym for just one more day until eventually you haven't gone for an entire year.

So – here's the scoop my friends. You need someone to hold you accountable, and I'm going to be that person. The person who holds you accountable is the one who isn't going to take any sh*t, so love me or hate me, I'm here to motivate you!

Erase all those excuses from your mind and let's create some mental space for the inspiration, motivation, and dedication you need to get yourself to the gym . . . and keep going back.

Here Are 5 Hacks to Actually Make Yourself Go the Gym (and Keep Going Back):
Before we even get into these hacks (and trust me – they really work), let's talk about the three key ingredients I outlined above for your success: inspiration, motivation, and dedication.

Find what inspires you to get to the gym (ie, toned arms, strong core, confidence) and focus on that. Put this goal on a sticky note on your refrigerator or bathroom mirror so you're always reminded.

Next, find what motivates you to get there (ie, your 'reward' protein shake after, or checking off the "workout" box on your to-do list). Through your inspiration and motivation, you will channel the dedication you need to keep going back.

Ok – let's get into it!

1. Get a Workout Buddy
Make a commitment to work out with someone else. Decide on a set schedule each week that you can both go to the gym. Both of you will block these times out on your calendars to add more accountability. Working out with a friend makes you way more likely to go, and keep going back.

Pro Tip: Both of you can set reminders on your smartphone so you can check in with each other a few hours before and get excited! You can plan what you'll be doing that day (leg day!) and even make plans to get food after so you have something to look forward to.


2. Bet on Yourself
Get some friends, coworkers, even other people at your gym to bet on themselves by putting money in a pool. Any day that you don't go to the gym, you have to put a dollar in the pot. At the end of the month, whoever went the most gets the pot (or splits the pot if there is a tie).

Let's not underestimate the power of money to hold ourselves accountable to going to the gym! Plus, when you get a lot of people involved in the bet, you're now encouraging others to create a healthy habit (and maybe you can even find another accountability partner!).


3. Take Some Selfies
No, seriously! Make an album on your phone and take a photo of yourself at the end of every week. Once you start seeing those results, you'll be hooked!

Posting these photos to your social media is totally optional. If you're the type that gets motivated by the "likes" and comments, then go for it! But if you're not the type, just take these photos for yourself as a way to note your progress.


4. Get a Personal Trainer
Much like #1, having someone hold you to a commitment is a powerful motivator. The upside of a trainer is that you will see results faster and you'll learn about proper form and how to get the most out of your workout, which will make you more confident and excited about that next gym sesh.


5. Reward Yourself
While I'm not advocating that you workout for an hour just to hit the nearest fast food drive-thru and undo all the work with a 1,000 calorie 'treat,' what I am recommending is that you find something that motivates you to use as a reward system.

Love your special protein shake recipe? Bring it to enjoy after your workout so you know you've got something waiting for you that you enjoy. Make a goal to work out 3 times per week for a month, and if you hit that goal, you can buy that new workout outfit you've been eyeing. Whatever motivates you – channel that for a motivational reward!

Now You're Ready to Kickstart Your Healthy New Habit
There are a million gyms out there with something to offer for every type of person. Whether you love the giant athletic clubs with every piece of equipment under the sun, or the small boutique gyms that are more intimate, find what suits your needs and style and do it!

Nike was onto something when they said, "Just do it." Seriously – get out there, find a gym you actually want to go to, utilize these five hacks, and just get it done. You've got this! And I believe in you!

Have any questions, comments, or concerns about this article, the hacks I provided, or your own personal fitness journey? Reach out in the comments below – we love hearing from you!

This article has been read 4K+ times. Feelin' the love!