Adopt These Gentle, Motivating Fitness Mantras This New Years Resolution Season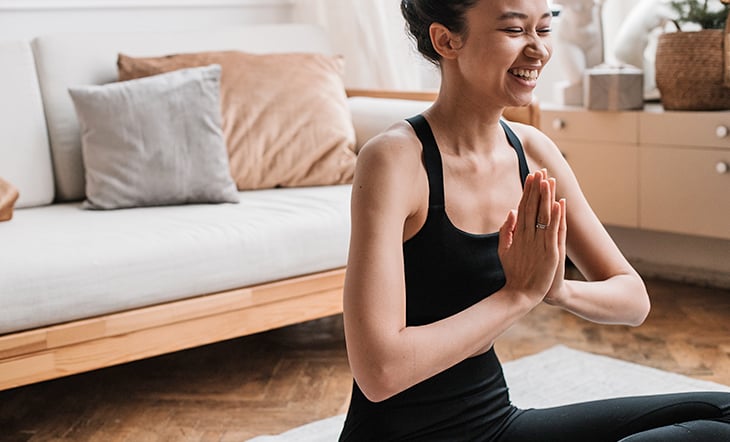 It's that time of the year again, and we hope it doesn't mean what it used to: overhauling your life with a "new year new me" mentality. Rigorous fad diets. All or nothing fitness goals. We've all been there.
If the old school resolution approach works for you, more power to you (and you're in the minority, studies show!) But what if we could approach the new year with motivating fitness mantras with a decidedly gentler, kinder vibe?


The Old Way of Setting Exhausting, Unrealistic Resolutions Is Out
Isn't the notion of sprinting to the finish line, charing into the new year, and crushing it at every step of the way just kind of…exhausting?
It's been one heck of a year. Pat yourself on the back for being here. We can ditch the old way of approaching the resolution season, and give ourselves a heaping dose of grace.

Mantras support you, guide your thoughts, and rewire thought patterns.

Tis the season to cozy up, rest, savor holiday treats, enjoy the slower cadence our bodies naturally crave this time of year and absolutely leave the old school resolution culture at the door. Instead, what if you approached your wellness and fitness regimen more intuitively and used positive mantras for better health?


Wondering How to Use a Mantra? There's No Right or Wrong Way!
The beauty of mantras or affirmations? They're endlessly customizable, totally free, and there's no right or wrong way for you to use them whenever you need.
Write them on a post it note, repeat them during meditation, or while you walk. They're here to support you, help guide your thoughts, and even rewire old thought patterns with time. And it's not all woo-woo. The science backs up their efficacy!
Want to learn more about the power of and how to use mantras? Read What Are Mantras and Why Do We Use Them In Yoga?


Your Motivating Fitness Mantras to Turn Resolutions on Their Head
Here are seven suggested motivation fitness mantras that can help guide you toward any fitness or health goals you may have, but with plenty of zen and self-love – and exactly zero 2000s diet culture energy.
More on the toxic, unrealistic cycle of resolutions and how to approach the new year differently, here.

1. "All Movement Counts"
And it does! Studies prove that even the gentlest, lowest impact movement has hugely beneficial health perks. You don't need to go hard AF at the gym or crush PRs because yes, all movement counts. (And any is better than none.)


2. "I Let Go of Perfection"
Choose your catchphrase; great is the enemy of good. Done is better than perfect. This motivating fitness mantra is a gentle reminder that it's ok if your workout gets derailed by a sick kid or a change in plans and you order takeaway instead of eating the meal you prepped – welcome to life! You're doing your best and that's more than enough.
Use These 5 Mantras for Anxiety to Rewrite Your Anxious Thoughts

3. "I Deserve this Time for Myself"
In all the chaos of life, it's troublingly easy to put ourselves last. In a culture that fails to provide many with basic healthcare, childcare, education and other core needs, of course it's hard to find time for yourself.
Add to that a glamourization of busyness and hustle culture (we hope that's slowly changing!), and of course you may need a reminder to prioritize yourself.

4. "I Nourish My Body Because I Love My Body"
You won't find weight loss or diet-focused thoughts in this motivational mantra – and that's because it's all about getting back to self-care as an act of self-love – how it always should be.

5. "I Listen to My Body and Do What's Right for Me"
If you believe the decades of advice from magazine covers, trainers, and the fitness industry in general, you might believe that cardio has to be daily, all workouts have to leave you in a sweat, you need to eat your weight in protein, and countless other fitness "rules."
In the new year, make it your goal to ditch the rules and do what's right for you with this gentle fitness mantra. Even – and especially – if that means taking it easy, honoring your need for rest, and remembering to eat the food your soul craves, too.

6. "I'm Stronger and Healthy Everyday"
The mind-body connection is a powerful thing, so be your own biggest hype woman and remind yourself how far you're coming, little by little and day by day.
So you didn't crush that marathon goal or get your splits down, but you've moved your body, worked your mindset, and therefore – you're stronger and healthier today than you were yesterday.

7. "I Am Enough"
Sure, it's not strictly a motivating fitness mantra at first glance – and that's why this one is so powerful; it's a whole life philosophy. And once you start saying, feeling and believing that you really are enough – without losing x pounds, without meeting x goal – just as you are, everything changes.

Check Out this Empowering Yoga Class That Uses Mantras
Yoga Class
With Ashton August
Ready to slow down, nourish yourself and practice using motivating fitness mantras? Join Ashton, founder of YouAligned, in this all-levels YA Class where you will move through a series of Hatha Yoga poses paired with inspiring and empowering mantras.


Here's to a Healthy New Year – Supported by These Motivating Fitness Mantras
Whatever your goals for the new year look like – or even if you don't have any – these motivational fitness mantras can help you to re-center and remember what should be at the crux of all health and fitness: not diets, not physical-focused goals, but the truest self-care.
Did any of these motivating fitness mantras resonate with you? What do you think of using positive mantras for better health instead of setting resolutions? Please share with us in the comments below – we love hearing from you!
This article has been read 719 times. Share it and spread the love!