How to Rock Yoga Pants at Work
Let's face it: you don't need much of an excuse to wear your yoga pants every chance you get. Most yogis will admit to wearing yoga pants more often than any other type of pants. But sometimes certain situations call for professionalism, and not all jobs allow for such casual business wear.

Those of us who work in a corporate office may have to adhere to certain dress codes. Other yogis have a short window of time after we get off work to make it to our beloved 5:30pm yoga class. On top of the commute to the studio, we're usual fighting rush hour traffic.

Worry no more, yogi friends, because there is a solution! You can make your yoga pants office appropriate. You will be much more comfortable throughout the day wearing your favorite yoga attire, and you'll be much more peaceful when you're walking into the yoga studio knowing you don't have to rush to change your clothes.

The first day you wear yoga pants at work, you will feel like a whole new woman. Disclaimer: we're talking office casual here. I'm not so sure you can pull this off with everyone else rocking a suit and tie – but hey, give it a shot and let us know how it goes!

Here are some suggestions on how to rock your favorite yoga pants at work.


Opt for black on bottom.
Yes, we want to wear our galaxy print leggings every day. But, the boss probably wouldn't let that slide so keep em black. Invest in some good quality leggings. Don't risk see-through pants at the office (or in the studio). My go-to pants are the Montiel Lea leggings (love these!!) and LuLu Lemon's Wunder Unders (shown below). These leggings seriously stand up to the test of time and neither are the slightest bit sheer. BetaBrand has released what they call the Dress Pant Yoga Pants (shown in the image above). These are the hybrid of the perfect work pant look with the yoga pant comfort. A great option for the working woman who want to keep it comfy while she's on the grind.



Layer, layer, layer.
Layering is always the answer. An easy go-to outfit is a yoga tank top layered under a flowy sweater or shawl, tunic, or blazer combo. Throw on your mala beads and you've got all the pieces you need. If you work in a freezing cold office (like me!), you can appreciate the need for layers. You can even add your favorite scarf for an extra top layer. Here is an example of some super affordable, stylish and comfy office appropriate layers: yoga tank, sweater,  shawl, form flattering tunic, scarf and blazer.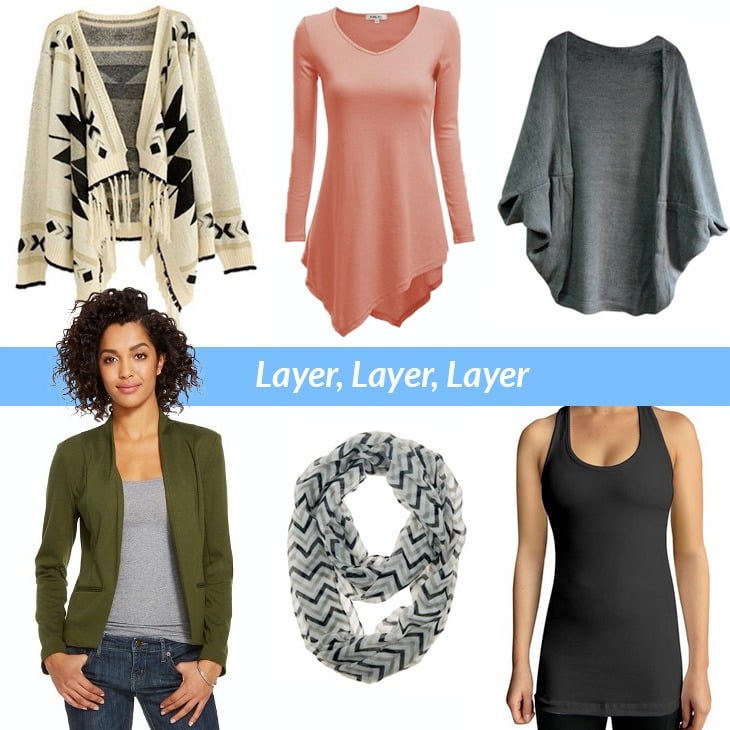 Cover your butt.
Some of us yogis are all about the backside, but we've got to tame it down for our co-workers and keep it classy. Let's make it easy and make sure our tops are long enough to cover that booty. The tank top that you layer beneath your sweater can be the layer that's a bit longer.



Don't be scared to rock your yoga clothes at the office. We are yogis. We are pursuing happiness and bliss. One of the most important things we can do is stay true to ourselves. If that means wearing your yoga clothes all day to keep you at heart center, that's awesome!
"It's easier to stay focused when we're comfortable."
It's easier to stay focused when we're comfortable. Plus, you'll get the added bonus of saving time on your after-work commute to yoga. Share your yoga business outfits in the comments below and feel empowered in what you wear!
This article has been read 6K+ times. Feelin' the love!