5 Yoga Pants You'll Love (Review)

When it comes to yoga pants, I am critical. I like pants have a mid-to-high-rise waistband that stays in place and does not require constant readjustment during my yoga practice or while running errands. Comfort is always my top priority, and the pants below all pass my critical comfort and performance tests, all while providing fantastic style – on and off the mat. All of these yoga pants have remained in the same great conditions and vibrant colors after multiple wash cycles (inside out on the delicate cycle and then hung to dry).
InYo Polka Dotties Leggies
I've have an obsession with all things polka dot – purses, aprons, scarves, dresses – but surprisingly I did not have a pair of polka dot leggings. When I first saw the Polka Dotties Leggies from InYo, I just knew that I had to have them. Then, when I tried them on, I never wanted to take them off. The leggies have vibrant colors and bold designs that allow you to express your personality. The leggies feature butt rushing "for a killer booty" and have a thick and comfortable waistband. The leggings are very high quality polyester and spandex mix, and best of all, they are 100% Made in the USA, from printing down to the final stitch of fabric, and with sustainable direct-to-fabric printing that minimizes waste and leaves just a sheet of paper that is recycled.
Varieties: Leggies (Leggings, Leggies (for hot yoga), Shorties (shorts), and Bros (for men)
Colors: Polka Dots and various patterns
Cost: $58
Style: 10
Functionality: 10
Durability: 10
Fit: True to size

Soybu Killer Caboose Legging Charcoal Pants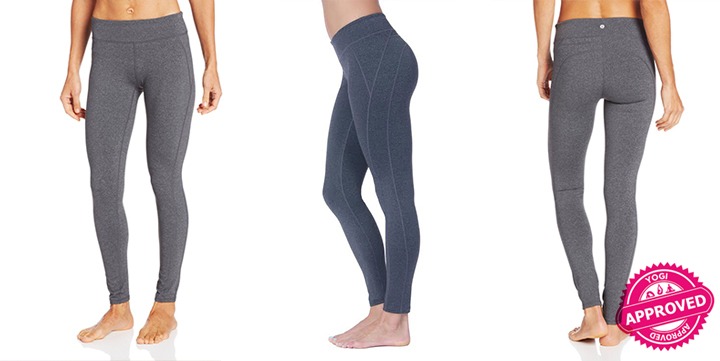 The Soybu Killer Caboose Legging Charcoal Pants are a slimming pant with multiple seam details that can take you from the mat to the mall or lounge. You can pair the charcoal pant with any length yoga tank or chunky sweater without fear of panty lines due to the substantial and sturdy compression fit Power FLEX fabric, a mixture of eco-friendly nylon and spandex. The band sits just below my belly button, and the pants are so comfortable and fit like second skin on the mat or while unwinding on the couch at the end of your day.
Varieties: Crop, Legging or Yoga Pant
Colors: Charcoal, White or Black
Cost: $72
Style: 10
Functionality: 10
Durability: 10
Fit: True to size

Jala Clothing SUP Yoga Legging
The SUP Yoga Legging in Fresh Bouquet by Jala Clothing is a bright floral yoga legging that has a wide and supportive waistband that stays flat and remains comfortable throughout your day. The polyester and spandex fabric is lightweight and dries quickly, and you can wear the pants during water sports, hot yoga or very bendy poses, without the pants becoming transparent. I love that the pants come with a matching headband, which makes me instantly look presentable even after long sweat sessions.
Varieties: Legging
Colors: Fresh Bouquet and Classic Brocade
Cost: $72
Style: 10
Functionality: 10
Durability: 10
Fit: True to size

Lucy Activewear Studio Hatha Capri Legging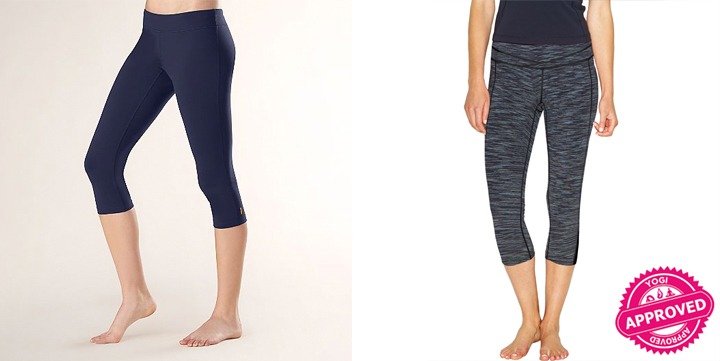 At first glance these black leggings might look like simple leggings, but they possess magical powers. Well, not really magical powers, but Lucy Activewear's Studio Hatha Capri Legging is really comfortable and have just the right amount of compression to make my bottom half look fantastic. The classic capri leggings have a smooth and wide waistband that stays in place from sun salutations through happy baby. The internal waistband pocket comes in handy to store my key fob or chap stick in studio. The leggings are made with anti-chafe SUPPLEX nylon and lycra spandex, so I can wear them all day without constant readjustment or irritation.
Varieties: Legging, Capri Legging, Pant and Stregging
Colors: Lucy Black, Lucy Black Space Dye Stripe, Ultramarine Heather, Lucy Black Heather/Cypress, Hunter Grey, Lucy Black/Fossil Dash Print
Cost: $79
Style: 10
Functionality: 10
Durability: 10
Fit: True to size

Kira Grace Secret Garden Yoga Tight
The Kira Grace Secret Garden Tight brings feminine style and comfort to your yoga routine. You can turn to these bright floral tights on dark and gloomy winter days to boost your spirits and inspire you to hit the mat. The tights have a single seam on the inside of each pant leg, creating an undisrupted floral print that lays flat across each leg. Designed with US-made imported SUPPLEX® fabric that holds its shape and color wash after wash, the pants resists pilling and chaffing, even when your thighs rub together. The pants feel luxurious yet breathable, and despite the light colors, the pants are built solidly and are non-transparent, so you will not be mooning your neighbor in downward dog.
Varieties: Tight or Goddess Capri
Colors: Fuchsia, Imperial, Turquoise, Topaz and Secret Garden (Paisley, Snow Leopard, Dark Wildcat and Vintage Rose and solid bright colors also available on select styles)
Cost: $98
Style: 10
Functionality: 10
Durability: 10
Fit: True to size
This article has been read 10K+ times. Bada bing!