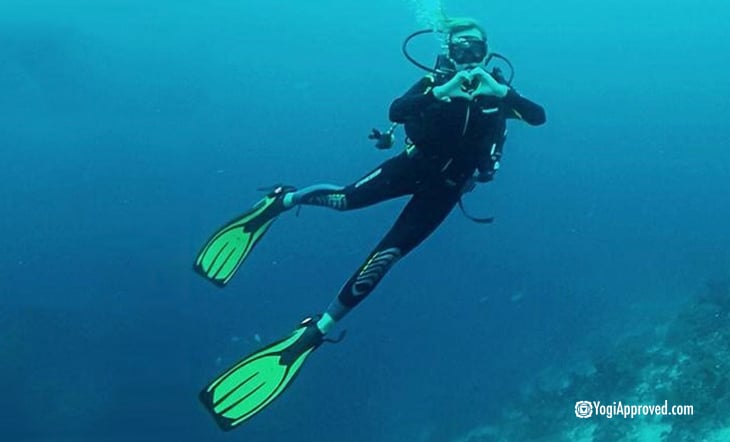 This Yoga Brand Is Using Artificial Coral Reefs to Help Save Our Oceans
Did you know coral reefs are one of the most diverse and important ecosystems on our planet? Not only do they offer a vital environment for life underwater, they also influence our life above the water. Within the last 30 years, more than half the coral reef has been destroyed.
A healthy coral reef means a healthy food supply for both humans and marine life. Reefs also naturally protect the coastline from natural disasters, such as tsunamis and hurricanes. It's important to act fast to save the reef before it is too late, and that's exactly what PIYOGA is doing.


How Biorock and a Yoga Pants Brand Are Saving Bali's Coral Reef
PIYOGA is a yoga pants brand that's all handmade in Bali, and they donate 10% of net profits directly to sea turtle and ocean conservation efforts in Bali and around the world.

Our oceans and coral reefs are in serious danger due to human negligence, destructive fishing methods, pollution, and global warming. Our overconsumption is causing global warming, which means extra heat is absorbed by the ocean.

This has caused the water temperature to rise about 2°F. Maybe this doesn't sound like much, but the coral reefs can't handle that extra heat, and it's causing it to "bleach" and die out.


All About Biorock and How It Protects Our Oceans and Coral Reef
The PIYOGA team met with Delphine, the executive director of the Gili Eco Trust, in July 2017 to team up on a huge coral reef conservation project. Gili Eco Trust is a non-governmental organization dedicated to protect the coral reefs and promoting a sustainable marine life in Gili Trawangan, a small island off the shores of Bali.

Gili Eco Trust creates a "super coral" called biorocks. This artificial coral reef is a steel structure with a low voltage of direct current through it when sunk in the ocean. The biorock helps the coral reef regrow up to 8 times faster than if they were left to recover on their own – and they're 100% sustainable. There are currently more than 120 biorock structures that are flourishing with marine life around the island of Gili Trawangan.

Through the sales of their yoga pants, PIYOGA helped build and drop a 10-foot biorock in Gili Trawangan. And it's working! In a few months the PIYOGA biorock is already growing healthier coral offering sustainable habitats for many marine animals.


How You Can Help Save Coral Reefs
There are many ways you can help save coral reefs around the world. First: educate yourself about the situation. The documentary Chasing Coral on Netflix is a great place to start! It's a must see, and one of the best things you could do to quickly become educated on this topic.

You have the ability to make a difference. It's just a matter of realizing how big of a positive impact you can to make. A great place to start is to stay on the lookout to support local organizations that are making a difference.

If you are interested in participating in PIYOGA's next project, or to suggest an organization that needs help, you can contact them via email at info@piyogapants.com. You can also follow their progress on Instagram and their website.

All images provided by PIYOGA

This article has been read 719 times. Share it and spread the love!