10 Must-Read Empowering Books for Every Woman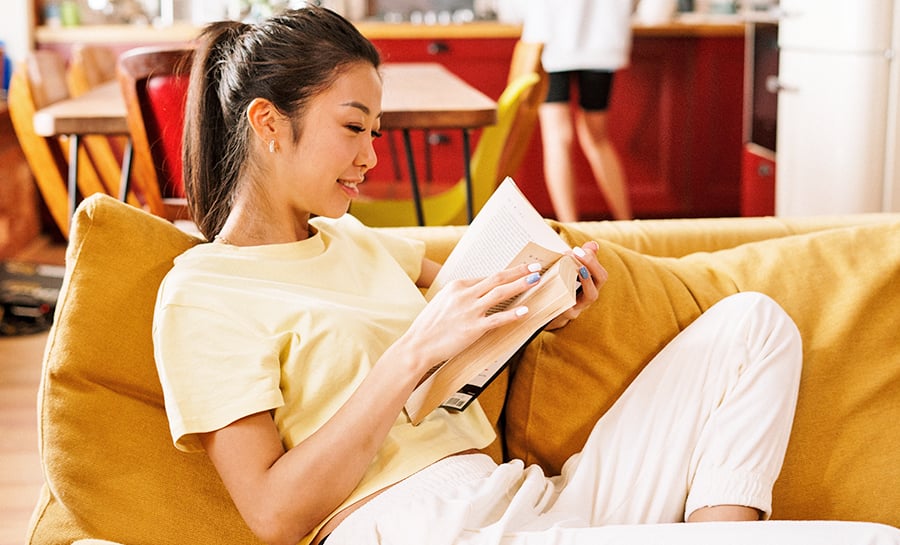 If you're looking for a list of empowering books for women, you came to the right place!
YouAligned.com is a female-founded and ran business and we are all about empowering women.
Meet YouAligned Founder Ashton August: YA Classes Teacher Highlight Series (Interview)
Every woman should be reminded that she is an incredibly strong, dynamic, and beautiful goddess inside and out. The best way to reawaken the powerful woman inside you is to read works by other empowered women.
Whether you are inspired by novels, poetry, personal development or nonfiction, this list includes ten excellent titles by empowered women to choose from to boost your confidence, creativity, and sense of personal power.


Here Are 10 Empowering Books for Women That You'll Want to Add to Your Reading List:
In no particular order, here are ten incredibly inspiring and empowering books written by women, for women. Which is your favorite?

1. In the Meantime by Iyanla VanZant
We all know what it feels like to be living an "in the meantime" kind of lifestyle and how frustrating and painful it can be. This book is a powerful reminder that we can love ourselves at all points in our life journey.
Using a house as a metaphor, VanZant – an inspirational powerhouse – leads the reader through each room, taking time to clean, dust, and scrub as she goes.
Through simple and effectively short sentences, she brings home the point that self-love is the biggest goal when finding true love. VanZant says, "We go to a relationship looking for love, not realizing that we must bring love with us."

In the Meantime will help any woman who reads it to find the love that is always available inside, if only she could clean the past pains and disappointments off the windows of her heart.
Iyanla VanZant Will Inspire You Even More In This 2-Minute Video

2. Diving into the Wreck by: Adrienne Rich
This reading list wouldn't be complete without Diving into the Wreck. Rich's beautifully painful work of poetry revolves around challenging both men and women on their roles in the burden of heteronormativity.
These poems cover everything from age, rape, love, and Vietnam. Rich plunges into the struggles of women in the 1970's in a fiercely passionate way – in a way that asks neither forgiveness nor permission, but makes your heart race just the same.
Talk about an empowering book for women! This book is perfect to read all at once (dive into, if you will) or to pick up once in awhile and read piece by piece.
"Diving into the Wreck is one of those rare books that force you to decide not just what you think of it, but what you think about yourself. It is a book that takes risks, and forces the reader to take them also." – Margaret Atwood



3. I am Malala by: Malala Yousafzai
I am Malala covers the Nobel Peace Prize winner Malala's daily life as an education activist, including the day she was shot in the head by Taliban while on the school bus, followed by her amazing recovery. Her book also covers much of the political history of Pakistan.
Christina Lamb is co-author of this book and you can appreciate her presence even when it isn't specifically stated where she helped or what she wrote.
The book is informative, educational, and personal. Malala's incredible journey from a seemingly powerless girl who was being denied education to a worldwide voice for girls and women's rights is a moving reminder of how fortunate most of us are, how important education is, and how just one 16 year-old girl can change the world.

4. #Girlboss by: Sophia Amoruso
If you are a young entrepreneur, #Girlboss is a great pick for you. As a visionary with a tough attitude and a badass past, you can see step-by-step how Sophia Amoruso built her empire, NastyGal clothing.

5. Yes Please! by: Amy Poehler
If you are a fan of Amy Poehler, Parks and Recreation, or just looking for insightful stories of a woman juggling motherhood along with her growing (and growing) career, then Yes Please! is your book.
Both Girlboss and Yes Please share a common thread of being written by powerfully successful women in the public spotlight. Read either or both of these autobiographical books to be inspired by their journeys!

6. When Things Fall Apart by: Pema Chödrön
When Things Fall Apart: Heart Advice for Difficult Times is a timeless classic companion for life – and particularly life's challenging times. Written by beloved American Tibetan Buddhist and ordained nun Pema Chödrön, this empowering book pulls from traditional Buddhist wisdom.
Chödrön's life advice is as practical as it is comforting and enlightening, and each page reveals a wealth of inspiration, motivation, and guidance so you come away feeling empowered to face and overcome life's inevitable challenges.
Read: 5 Inspiring Life Lessons from Pema Chödrön's "When Things Fall Apart"



7. The Mothers by: Brit Bennett
The Mothers is a beautiful novel about the communities of women that carry us through our lives, loves, losses, and secrets. Brit Bennett described it best in an interview:
"The book is about this central question of how girls grow into women when the female figures who are supposed to usher you into womanhood aren't there. How girls come of age with that absence. It's about how in moments of grief, community can be both a source of comfort and a source of oppression . . ."
Bennett goes on to explain how she was so intrigued by this concept and what it's like to be a young, black woman in "a community that expects a lot of her, in a world that expects very little." The Mothers is a very compelling, inspiring, and empowering read.

8. Tiny Beautiful Things by: Cheryl Strayed
If you're wondering what looks familiar about this title, it's because it's written by the author of Wild. Instead of trekking across the Pacific Crest Trail, Tiny Beautiful Things collects the best of TheRumpus.net's (once anonymous) Dear Sugar advice columns.
These columns include some never-before-published pieces and cover nearly everything life can throw your way. If you are looking to be better, build resilience, courage, clarity, or to be more empathetic, take a moment and read one or a few pages. You won't regret reading this incredibly empowering book for women.

9. We Should All Be Feminists by: Chimamanda Ngozi Adichie
This title has made a lot of the top-reads lists and it's easy to see why. We Should All Be Feminists is powerful without being preachy, personal without making it hard to relate to, and fierce without losing its direction.
If you're looking for a fresh, inclusive read on feminism and how it is for everyone, please, please read this book!

10. The Heart of a Woman by: Maya Angelou
Talk about a phenomenal woman to end this list on an incredibly powerful note! In her fourth autobiography, Maya Angelou discusses the struggle of being a black mother in New York in the 1960's. Angelou also revisits her time spent as an activist alongside Malcolm X and Martin Luther King Jr.
The Heart of a Woman follows the adventure of her relationship with a freedom-fighter which brings her to Africa. Be sure to grab this read for some seriously empowering quotes from a famously badass and wise woman that will help you feel the power you already possess in your own being.

Bonus Empowering Book for Women!
Check out A Year of Self Motivation for Women by YouAligned founder and female author, Ashton August.
This book is a standout in the motivational self-help genre. It uses a unique combination of daily motivational affirmations, quotes, and guided practices to empower women every single day. A great gift for any woman you love, Ashton compassionately and expertly weaves her wisdom and through a fun and interactive daily companion format.
Practice Yoga With Ashton on YA Classes

Yoga Class
With Ashton August
Ashton's popular I Am Worthy online class incorporates the affirmation work she is known for into a deeply inspiring, calming, and gentle Hatha Yoga practice. Get ready to feel empowered on the mat with Ashton exclusively on YA Classes!


These Empowering Books for Women Are a Must-Read!
After reading these titles you are guaranteed to radiate feminine energy and power. Bring this energy out into the world to inspire other women and girls, or write it down in your journal.
You are just as capable of creating self love or making a positive impact as the influential women above. There are hundreds of empowering women to get inspired by.
This list of empowering books for women by women is by no means exhaustive! What are some of your favorites to add to the list? Please share in the comments below – we love hearing from you!
This article has been read 409 times. Share it and spread the love!