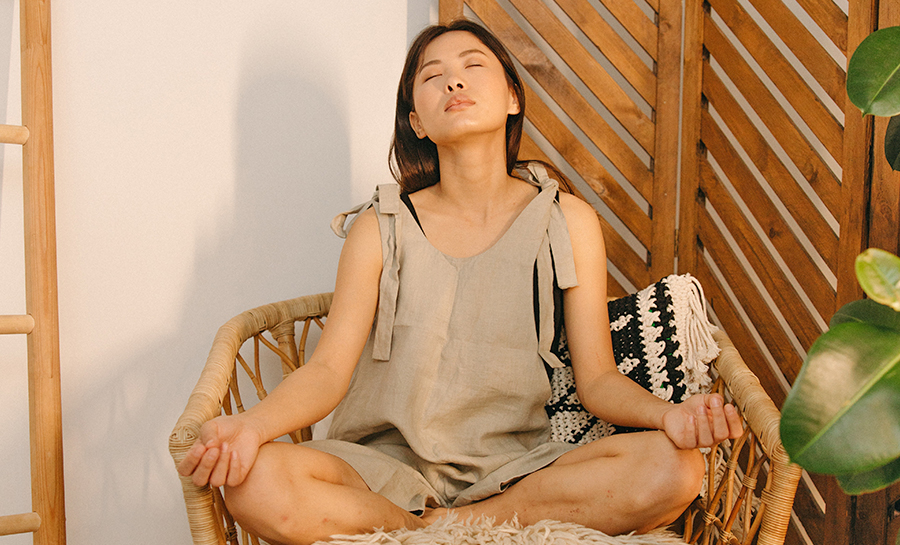 5 Affirmations to Balance Your Throat Chakra for Clear Communication
Communication is quite possibly the most important aspect of relationships. The Throat Chakra is the basis of our communication, and affirmations are one way we can ensure clear and truthful communication.
With relationships at the center of life, ensuring you're speaking your truth with clarity is important.
Words contain power and energy – they should be used with intention and deliberate action for clear communication. Affirmations are a powerful way to bring awareness to your communication, and empower yourself to speak more clearly and directly.

Try This Affirmation: I am Worthy
Yoga Class
With Ashton August
Move through a series of basic Hatha Yoga poses paired with the affirmation "I am Worthy." Solidify new, empowering thought patterns in your mind in this all-levels yoga class with YouAligned founder Ashton August on YA Classes.


What Are Affirmations?
Affirmations (a sentence repeated to add focus and intention in meditation or yoga), are powerful tools to use for manifestation, cleansing, and balancing the subtle body (or energy body). When chanted or repeated often, affirmations are essentially initiating manifestation.

Words contain power and energy – they should be used with intention and deliberate action for clear communication.

These affirmations can help you develop more honesty in your life and your words. You'll be surprised how much they can impact your communication, perspective, and daily interactions.


Use These 5 Affirmations to Cultivate Clear Communication and Balance Your Throat Chakra:
Having an open and clear Throat Chakra supports a clear expression of self. The following affirmations are a beautiful way to create clear and truthful communication.

I speak my truth freely and openly
Being honest will free me from my current situation
I alone am accountable for expressing myself clearly
I am safe and trust others to allow me to express myself truthfully
My honesty attracts what I deserve

Choose the Throat Chakra affirmation that resonates most with your authentic self and what you'd like to cultivate more of in your life. Repeat the affirmation in the mirror, in your morning meditation, throughout the day, before bed, or whenever you recognize the potential for miscommunication.
Affirmations teach us to use our words thoughtfully and clearly, which in turn can stimulate the Throat Chakra, our center for clear communication. Being impeccable with your words is one of the easiest ways to avoid conflict, ensure your truth is being heard, and share your thoughts with the world.
Want to learn more about the Throat Chakra? Read this! The Throat Chakra: Here's Everything You Need to Know About Your Fifth Chakra
By studying the chakras, we can develop a deeper connection to ourselves and establish a stronger communication style through honest evaluation and expression.
Looking for more articles on Mantra? Check out our full library of Mindfulness articles here


What Are Chakras?
The chakra system is comprised of seven points within the body where qi (or chi) energy gathers and flows through. Each chakra has different properties and corresponds with different parts of the body.
Energetic blockages (or inactive/stuck energy) can occur in any of the chakras – and if left unattended to, these blockages can manifest into physical and emotional dis-ease. A chakra can also be overactive, which has similar effects.
An imbalanced chakra creates a myriad of symptoms, and needs to be balanced so the energy isn't stuck, diminished, or overabundant.




The seven chakra points are located from the base of your spine, going upwards through the crown of the head.
The seven chakras are:

Curious about which chakra is your strongest? Read: What Is Your Strongest Chakra? Take This Quick and Fun Quiz to Find Out


Why Is It Important to Balance the Throat Chakra?
A balanced Throat Chakra will allow for clear communication, fluid articulation, and the genuine ability and desire to fully listen to others, as well as ourselves.
When imbalanced, our Throat Chakra demonstrates either overactivity or under-utilization. When it's overactive, you may experience the desire to gossip, speak critically, or interrupt people regularly.

If truth is the elixir, speaking honestly – especially when it's difficult – is the solution.

When the Throat Chakra is under-active, you might find it difficult to speak up for yourself (speaking your truth), or you may find it difficult to speak loudly enough to be heard. These imbalances happen because we are not being impeccable with our word.
Our word is what we say, do, and think – so these symptoms occur in reaction to not being honest in all levels of our communication.


Affirmations for the Throat Chakra: The Takeaway On Clear Communication
If truth is the elixir, speaking honestly – especially when it's difficult – is the solution. This can always be done from a place of compassion and empathy, even when the truth you're delivering is hard to say, and even harder to hear, and these Throat Chakra affirmations will support your authentic self-expression.
During this process of balancing your Throat Chakra for clear communication, be mindful of what propels you forward as well as what may be holding you back.Developing clearer communication with yourself first will automatically lead to better communication with others.
A balanced Throat Chakra means you've got a more hospitable environment for honesty to flow. Just remember – it's all about genuine expression and communication!
Want more Throat Chakra love? Try These 5 Yoga Practices to Balance the Throat Chakra

Heal Your Throat Chakra With Mantra
Mindfulness Program
With Youmie Jean Francois
Are you ready to fully empower your mindset? Mantra Mindset is a 5-class program on YA Classes that will give you the techniques you need to work through and overcome your limiting beliefs and thought patterns. Learn how to use mantras in your everyday life to create new, empowering habits.
This article has been read 20K+ times. Bada bing!