5 Ways to Deepen Your Self-Study Using Svadhyaya (the Fourth Niyama)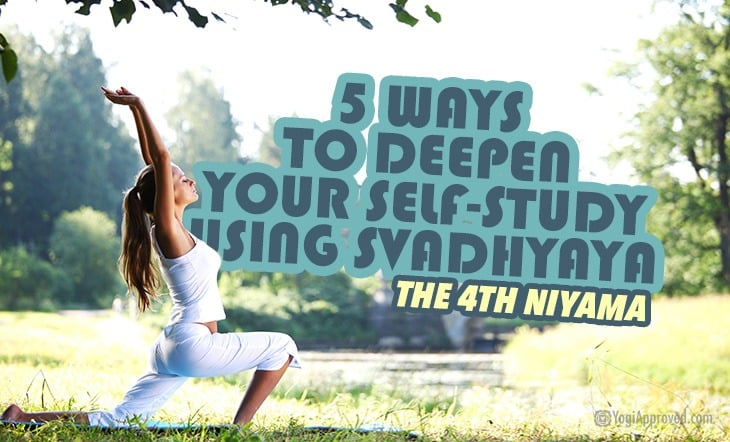 Svadhyaya, the fourth Niyama of Patanjali's Yoga Sutras, means 'self-study.' This process of getting to know your psychic, emotional, and soul interior is central to the yogi path for many reasons.

When we get to know our small self – the self of our personality, our ego, and our identity – we learn the many habits, behaviors, and ways of relating to the world that have been conditioned by our experiences.

In order to transform, we need to get really intimate with these habits, behaviors, and perceptions so that we can identify where they're ultimately not serving us. This awareness can bring great change, while also getting us in touch with our larger Soul Self, the Self that knows what's best for our evolution.

Here are five simple ways to deepen your practice of self-study, or Svadhyaya:
1. Meditate
When it comes to the cultivation of self-knowing, meditation is probably the best practice. In meditation we get quiet, we get still, we get free from the distractions of the external world which so often discourage an inner knowing of our true nature.

Traveling inward is a long, long journey, and the more we meditate, the further we go – until we reside more and more in that still space – that beautiful, unconditionally loving space of the soul.

Recommended read: 6 Simple Steps For Beginning a Regular Meditation Practice

2. Study the wisdom teachings
Taking the time to delve into the timeless teachings of yoga is a really effective way to cultivate Svadhyaya. The teachings of the Bhagavad Gita, the Hatha Yoga Pradipika, Patanjali's Yoga Sutras, and the Upanishads all offer such universal wisdom that it puts us in touch with who we truly are.

We gain profound insight into our true nature as we study these wisdom teachings. Modern spiritual literature is also highly effective in supporting our path towards self-realization.

Recommended read: 10 Books Every Yogi Should Read


3. Journaling
Journaling is the perfect way to contemplate and reflect upon all that we're learning as we walk the path of yoga. We can't just read about these teachings – we have to take the time to reflect and marinate on them.

To fully understand and grasp all that we're learning about yoga and about ourselves, we need ample time to write it all down and reflect upon what we find. Then we can begin to integrate that which resonates with us into our daily lives in order to better know ourselves.

"Knowing others is intelligence; knowing yourself is true wisdom. Mastering others is strength; mastering yourself is true power." -Lao-Tzu
4. Practice Yoga

One of the primary aims of yoga is to cultivate self-knowledge, or Svadhyaya. Getting intimate with ourselves on the mat during a regular yoga practice is a really good way to get to know yourself. Challenging poses show us how we respond when dealing with our "edge," while slower movements and long holds often reflect back to us our current mind state.

Going deep into the physical practice allows the "issues in our tissues" to come to the surface, allowing us to see where we might be holding past hurts and present tension. In this way, our yoga practices helps us cultivate self-knowledge each time we come back to the mat.

5. Spend solitary time in nature
There's nothing like spending alone time in nature to really get to know who you are. Whether it's taking long walks, laying in the afternoon sun on your porch, listening to the carefree chirps of birdsong, or gazing at the horizon at dusk, nature has a way of calming and slowing us down so that we can listen to our heart's calling.

Spend as much solitude in the natural world as you possibly can with the intention of cultivating Svadhyaya, and with time, you will!

Recommended read: 6 Reasons It Feels so Darn Good to Do Yoga Outside

"Knowing others is intelligence; knowing yourself is true wisdom. Mastering others is strength; mastering yourself is true power." -Lao-Tzu

Indeed, there is no relationship more important than the relationship with yourself. May we all take the time to heed the ancient wisdom of Lao-Tzu, the author of the timeless Tao Te Ching.

This article has been read 10K+ times. Bada bing!