7 Law of Attraction Hacks That Will Change Your Life Forever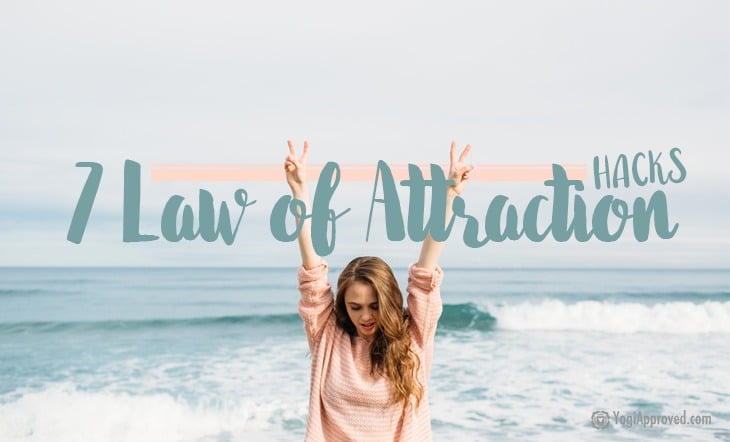 What exactly is the "Law of Attraction"? How can we use it in our own lives? What's all the buzz about and are there Law of Attraction hacks that actually work?
From watching movies like The Secret, people may falsely assume the Law of Attraction is just a series of techniques you can use when you want to manifest something. You use the technique, you manifest what you want.

It's not just about the things you do on purpose, it's about the way you think, talk and live your entire life.

Though it is true that there are techniques you can use to manifest the life of your dreams, it's important to remember that everything you do is manifesting. It's not just about the things you do on purpose, it's about the way you think, talk and live your entire life.
When you realize this, it becomes much more apparent that using the Law of Attraction isn't just about "techniques" or "tricks." It's a lifestyle – an empowered way of living your life. The Law of Attraction is a simple guiding principle that everything is energy and like attracts like. In essence, your thoughts words and actions are actively creating your reality by attracting the same energy that you're putting out.


Here Are 7 Law of Attraction Hacks to Help You Create the Reality You Seek:
May these seven simple hacks help you easily and effectively manifest the dreams and goals that you have for yourself.

1. Start Your Day with Positivity
The morning, right as you are waking up, is a magical time for your mind. As you are waking up and putting yourself together for the day, your mind is making a big transition from the unconscious, abstract world of sleeping and dreaming to the more rational, concrete reality of day-to-day life. What you are thinking, feeling, and believing during this time has a profound rippling effect on your entire day.
Starting the day with a positive affirmation is one of the absolute best things you can do for yourself!
As soon as you wake up, declare positivity into the day! Bless it. Find something to be grateful for and focus on it. Instill your intention (for peace, positivity, abundance – whatever it may be) into your subconscious mind to instantly start finding reasons for the day to be fantastic!
The morning is also a great time to do spiritual practices like yoga or meditation, or to at least give yourself a little dose of something you love, whether it's music, creative writing, that cup of coffee or tea, or some extra snuggle time with your cat. ☺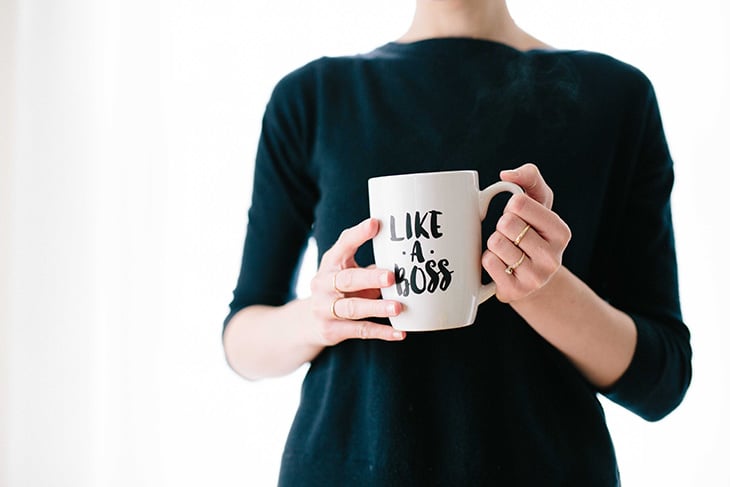 Looking for some morning yoga to start your day off right? Check out this Morning Yoga Routine for Energy and Focus

2. Balance the Scale
No matter who you are or what you do, you are always going to encounter a certain degree of negativity throughout your day as you interact with the world and feel it interacting with you.
Understand that you do not become a master of the Law of Attraction by avoiding negativity to the point that you are in denial. Yes, we always do what we can do to stay in a positive environment and think positive thoughts, but sometimes we must also jump into the mud and get some work done. No mud, no lotus.
Fortunately for us, positive thoughts, feelings, and beliefs are much, much stronger than negative ones. What this means is that you can help balance the scale of what you are manifesting throughout your day-to-day life by taking just a few minutes (ideally around 10) each day to intentionally think only positive thoughts.

Positive thoughts, feelings, and beliefs are much, much stronger than negative ones.

By taking the time to do this every day, whether by writing it down on paper, or visualizing happy thoughts, events, and memories in your mind, you will rapidly begin to notice a turning of the scale in how many positive things and events find their way into your life. You attract what you emit, so be consciously aware of the type of thoughts you are emitting.


3. Give Yourself the Present Moment
Take a break from the constant stream of thoughts running through the mind (in yoga this is called "chitta vritti" – mind chatter, or the "monkey mind") by bringing yourself back to the present moment. Being fully present drastically accelerates the progression of the manifestation process.
In the present moment one can truly find peace, and deeply authentic joy. And it is this that will truly manifest the happiness, fulfillment and abundance that we crave at the depth of our being – and not the objects, money, events, or other external things that we tend to latch onto. True happiness is a STATE, not an external object, event, or circumstance.
To begin practicing presence, simply take 1-2 minute breaks several times throughout your day to just stop, breathe, let go of the mind for a second, and enjoy the richness of what is going on now. The more often you do practice this Law of Attraction hack, the more you will grow accustomed to the acquired taste of "nowness," and the more you will begin to realize how pleasurable your life really is.
Looking for guidance on how to calm the mind and become more present? Learn How to Control Your Mind and Experience More Peace

4. The Magical Question
Before you lay down to go to sleep, there is one very simple and magical question that you can ask yourself that has the potential to refocus your mind, both at the conscious and subconscious level, on gratitude, blessings, and goodness. The question is this: What was the best thing that happened to me today?
By asking ourselves the right questions, we elicit responses in our subconscious mind that helps us manifest in our day-to-day lives.
The fact that it is a question is powerful in and of itself, because a question encourages the subconscious mind to answer it. By asking ourselves the right questions, we elicit responses in the deeper parts of our mind that make a HUGE difference in what we manifest in our day-to-day lives.
That's it! I often times find that when I practice this Law of Attraction hack and ask myself this question, my mind goes to situations and events that I may have completely forgotten about throughout the day. Little things that have meaning pop up out of the mental noise, and what was right and happy and good becomes the primary focus again.

5. Learn to Access the Slower Brainwave States
The secret of accessing slower brainwave states has been known and utilized by sages, mystics, and shamans across all time periods, disciplines, and parts of the world. I personally believe that this is the key ingredient in manifesting what you want into the world. This secret is "the secret behind the secret."
The modern theory is that these slower brainwave states (alpha, theta, delta) enable the conscious mind to more clearly communicate with the subconscious mind. This means that when you are in these states, what you consciously think, visualize, and feel will more quickly and powerfully program the subconscious to manifest these things into being.
The slower the brainwave state, the faster the mind has the ability to act upon the subconscious to create in the physical realm.

Your thoughts words and actions are actively creating your reality by attracting the same energy that you're putting out.

The most effective way to give yourself unlimited, effortless access to these states is through the use of brainwave entrainment technology. Brainwave Entrainment is the process of synchronizing the brain to specific frequencies and patterns embedded in audio tracks. These frequencies correlate to specific emotions, feelings, and even energy levels.
If you are looking to master this skill, I recommend trying a full-fledged brainwave entrainment meditation program. You can check out my bio to learn more.
Click here to try brainwave entertainment technology for free.


6. Use Positive "What If?" Questions
Positive questions greatly help you leverage your emotional state, and often times work much better than positive affirmations in the form of a statement. Questions open the door to possibility. When you are feeling terrible, just try asking yourself "what if?" questions that end on a positive note.
Here are some examples:
What if this all works out exactly how I want it to, or better?
What if the reason things are the way they are is because this is what needs to happen for me to achieve my goals?
What if this is all a misunderstanding and everything is actually completely ok?
What if I go home and forget all about this, and it solves itself?
What if that attractive person over there is fantasizing about me right now?
What if I come by that money I need in the most unexpected way?

7. Learn How to Breathe
"What?! But I've been breathing my whole life! I think I know how to do that . . ."
The breath is one of the strangest bodily functions because it can be completely operated by the conscious mind, or handed over to the unconscious mind and forgotten about. Learning to play with your breath consciously is a HUGE key to becoming more conscious of everything else in both your body and mind.
The breathing patterns we unconsciously use from moment to moment, day to day, directly affect our physical health, our thoughts, and our emotions. These patterns also affect our subtle energy flow that can further affect every aspect of our physical, mental, and spiritual reality.
All of this can be "upgraded" and used to your advantage by learning yogic breathing techniques (pranayama) and practicing throughout the day. Even taking a moment each day to bring your attention to the breath and take full, deep belly breaths will create a powerful change in your life. If you don't believe me, I challenge you to try it for yourself.
If you don't know where to start with this, just begin by committing to take 3 breaks each day to simply breathe deeply for a few minutes. You will be amazed at the results and the power of this Law of Attraction hack!
Want a little more insight into conscious breathing? Check out Alternate Nostril Breathing: Learn How To Breathe Your Way Into a State of Peace


Activate the Law of Attraction in Your Life
You know what the best thing about all of these Law of Attraction hacks is? They all take minimal effort, yet they yield a high return in results. Remember that you can pick any of these hacks to help get the Law of Attraction results you want in your life. But whichever practice you choose, it is important that you practice it consistently!
One last tip about all of this is that it takes approximately 20-30 days of daily practice for the brain to build a new neural pathway. Why not take these tips and turn them into habits, rather than things you do occasionally?
Using the Law of Attraction is much more akin to the way water carves its way into rock. It's the consistency or frequency of the practice, and the accumulation of this consistency that will get you what you want.
I encourage you again to be consistent! And in so doing, watch your full potential manifest the life of your dreams.
-Ashton A.
This article has been read 300K+ times. Wowzers!