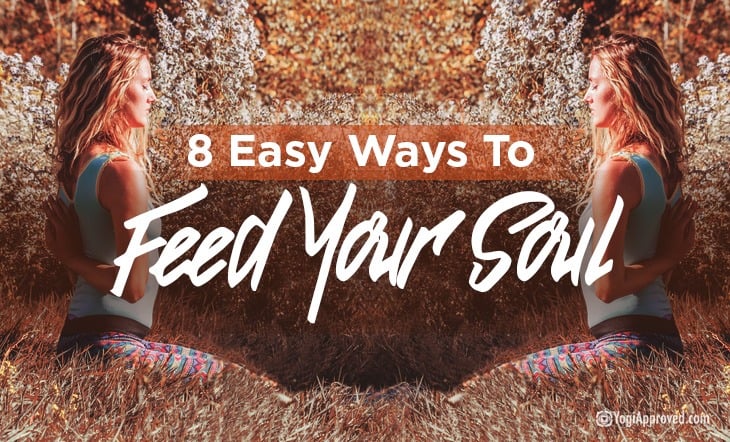 8 Easy Ways to Feed Your Soul Every Day
You're hungry, in fact, you're starving, but you've had your fill to eat. You feel restless and unable to focus. You have everything you need to be satisfied, yet you still feel like something is missing. Perhaps it's not your physical being that's lacking substance. What if it's your soul?
Are you regularly tending to your soul and giving it what it needs to stay healthy, happy and whole? If you've admitted to slacking on your soul chores, it's time you start pulling your weight! In order for our physical to be content, we must nourish our spirit. Without soul vitality we risk our ability to think clearly, act naturally and "be" present.
I believe when your head is in the clouds, it's out looking for your heart. It's time to feed your soul and get your heart back!


Here Are 8 Easy Ways to Feed Your Soul:
1. Spend Time Outdoors
Have you been outside lately? It's beautiful and it just so happens it's been waiting for you, since oh, you know… FOREVER!
Get outdoors, breathe in the fresh air, enjoy the beautiful, vast sky and experience what nature has to offer. Swim in the water, run your hands through the sand, dig in the dirt and lay in the grass. You'll be doing yourself and your soul a favor by rejuvenating your senses.
These 21 Surprising Health Benefits of Nature Will Inspire You to Get Outside

2. Crank the Tunes!
Whatever your funk may be, shake it out by listening to a favorite song. For serious funks, we also recommend dancing. Nothing frees the mind like shaking what your momma gave you and using those lungs to belt your favorite chorus! Or perhaps something more classical is up your alley. I promise you that no matter the genre, your spirits will be lifted.

Let Your Soul Be Moved With This Cardio Dance Class
Fitness Class
With Crystal Palermo
This fiery 35-minute cardio workout on YA Classes has funky beats and dance routines that will have your soul smiling! Get ready to have a blast, get a killer workout, and learn cardio dance all in one.

3. Unplug
You may have guessed this one but it can't be stressed enough. PLEASE take the time to shut off the computer, cellphone, TV, video games, and tablets. Be absent from social media and current events for a while.
This will create a more positive focus on yourself. Without constant comparison to others and the desire to be "in the know," you can be more aware of what is good for you and what your soul is yearning for. Take the cellphone charger out of the wall and plug in to some good ol' fashioned you!
If you're in need of a digital cleanse, check out Too Much Screen Time? Go Unplugged With a Digital Cleanse – Here's How In 6 Simple Steps

4. Seek Thrills
We all have a different standard of being adventurous or outgoing. Find your comfort level and exceed it! Book a trip on a whim, go to a new place, skydive, sing karaoke, or cross an item off your travel bucket list.

Let yourself go to broaden your horizons.

There are so many experiences out there waiting for you – go find them!

5. Read
Even if it's a dictionary, read something! Pick up a book you've been meaning to finish or search for a new one. There is no doubt about it – reading makes you more intelligent. It will broaden your horizons, which is a great way to feed your soul.
Correct me if I'm wrong, but have you ever met someone with a happy, intelligent soul that you didn't like? Seems like a no brainer to me!
3 Health Benefits of Reading Books Every Day (Plus 9 Reading Lists to Get You Started)

6. Indulge a Little
You might not want to go too overboard on this one, but it's oh-so-enjoyable. Chances are if your soul needs feeding, you've been working really hard on a different part of your life. Great news! You've earned that new pair of shoes, brownie or glass of wine. Cheers to you and your accomplishments!


7. Express Yourself!
Without a doubt, there's a little ditty stuck in your head that you want to get out. Whether you choose to express yourself verbally, through writing, art or interpretive dance…now is the time.
Keeping all your thoughts and feelings pent up isn't good for your emotional or physical health. Let the weight be lifted and let yourself be heard!

8. Get Nostalgic
This is my favorite! Remember all the actual photographs we used to take? You know – the ones that captured you as a bare-bottomed toddler, aspiring scholar or awkward teenager. Take a trip down memory lane, reminisce and bask in the days of when things weren't so complicated.
If you don't find nostalgia there, perhaps you'll find it in a visit with an old friend, family member, or a visit to an old familiar place. Travel light – there will be many memories to bring back!
"When you do things from your soul, you feel a river moving in you, a joy."
Love, Nurture and Feed Your Soul
As Rumi once said, "When you do things from your soul, you feel a river moving in you, a joy." Be sure to stay in touch with your inner self. Love it, grow it and pamper it, but most importantly, please feed it!
Did any of these ideas resonate with you? Or better yet, did any of these empower and motivate you to feed your soul body? Please share with us in the comments below – we love hearing from you!
This article has been read 5K+ times. Feelin' the love!