10 Quotes From "The Alchemist" to Remind You of Your Purpose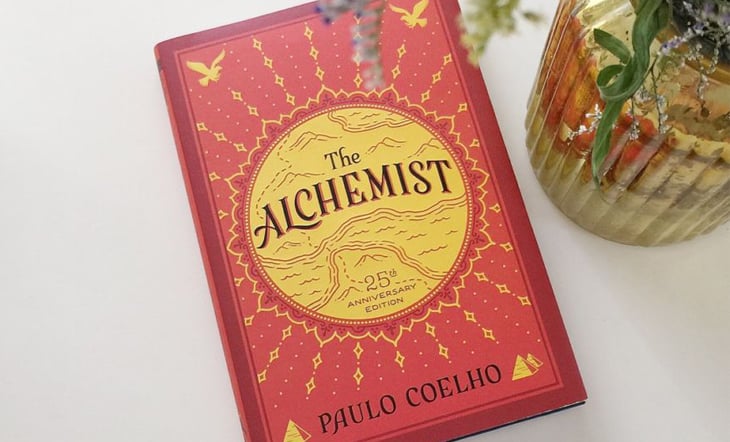 If you've ever read Paulo Coelho's The Alchemist, then you know just how inspiring and motivating this book is. The best quotes from The Alchemist show up on every inspiring blog and in countless motivational social media posts.
And that isn't just gratuitous! Paulo Coelho has such a beautiful way with words and an incredible ability to motivate and inspire.
His enchanting novel The Alchemist follows the seemingly simple quest of an Andalusian shepherd boy in search of worldly possessions. But the true story unravels as he starts to discover the priceless treasures that already exist within him.
It's a story about life and love and meaning and finding your true purpose.


Here Are 10 Quotes From The Alchemist to Remind You of Your Life's Purpose:
It's hard to pick out the absolute best quotes from The Alchemist because the book is seriously teeming with gems, but there are certain quotes that stick out for their powerful reminders to follow your purpose.
Use These 7 Simple Steps to Create a Fulfilling Life of Purpose

1. "You will never be able to escape from your heart. So it's better to listen to what it has to say."
This quote literally says it all. In life, we essentially have two options: we can follow our hearts, or not. But our dreams will never fade even if we turn our backs on them.
So as Paulo Coelho so wisely said, it's better to listen to what our hearts have to say because they will be with us forever.

2. "Every blessing ignored becomes a curse."
The universe showers us with blessings regularly and if we don't take the time to find gratitude for our many blessings, they lose their sacredness.
21 Uplifting Quotes to Help You Get Through Hard Times

3. "When we strive to become better than we are, everything around us becomes better too."
As a whole, we are all part of a greater collective consciousness. The more we raise our own vibrations, the more we raise the vibrations of the entire world.
9 Buddha Quotes to Refresh Your Perspective On Life

4. "No matter what he does, every person on earth plays a central role in the history of the world. And normally he doesn't know it."
Every single thing we think, say, or do ripples on into eternity, changing the course of the world forever. We hold far more power than we realize. We create history in the moment. And the eyes of the world are watching us – always.

5. "And, when you can't go back, you have to worry only about the best way of moving forward."
The past is the past. Whatever mistakes we may have made down the road do not define the way that we move forward.
Our purpose is to constantly put one foot in front of the other and find our best way forward from wherever we may be starting.
14 Quotes About Love That Deserve All the Heart Emojis



6. "There is only one thing that makes a dream impossible to achieve: the fear of failure."
Far too often we are crippled by fear of failure so we refuse to grow out of our cocoons.
Our purpose in life is not to stay stagnant. Our purpose is to grow, and we cannot allow fear of failure to stand in our way.

7. "And, when you want something, all the universe conspires in helping you to achieve it."
The universe is always on our side. When we set off to fulfill our true purpose, everything falls into place to make that happen, exactly as it is meant to happen.
How the Japanese Concept of Ikigai Can Help You Find Your Life Purpose

8. "Tell your heart that the fear of suffering is worse than the suffering itself, and no heart has ever suffered when it goes in search of its dreams."
Again, it is so often fear that holds us back from realizing our dreams and pursuing our life's purpose. Fear is imagined and anticipated pain and suffering – it is not real.
And as the universe conspires to help us achieve our dreams, our dreams and our purpose become greater than our individual fears.

9. "To realize one's destiny is a person's only obligation."
We've been put on this earth for a reason. There is a purpose to this life. Our duty, our dharma, is to discover our purpose and realize it fully.
What Is Your Dharma? Here's How to Find Your True Life Purpose

10. "If it's still in your mind, it is worth taking the risk."
So often we put things on the backburner. We tell ourselves we'll get to it – one day. But those small tugs at our heartstrings will continue to pull until we take the risk and work to fulfill our purpose.
No risk is too great when it comes to finding out the reason you are here.


The Best Quotes From The Alchemist Will Remind You of Everything That Your Heart and Soul Needs to Hear
The Alchemist is filled with so much wisdom and truth that it has reached an almost biblical status for so many of its devoted readers.
It's hard to flip a page within the book without revealing some of the best quotes from The Alchemist in each and every paragraph and line.
The book lovingly reminds us that we each have a valuable purpose in this world and it is our duty to follow and fulfill that purpose during our time here on earth.
The novel encourages us to believe that the universe works in our favor when we strive to fulfill our purpose, and that all we ever need to do is simply follow our hearts wherever they lead us.
12 Inspirational Quotes for When You Need a Quick Boost of Motivation
Main Image Source: Mommy-Diary.com
This article has been read 8K+ times. Feelin' the love!