7 Body Positive Lingerie Brands You Might Just Fall In Love With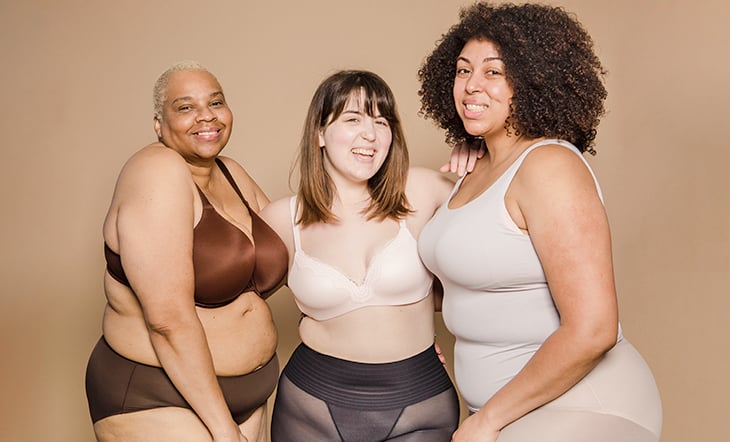 How many of us walked the mall as high schoolers with those iconic pink striped bags, viewing the Victoria Secret angels as the pinnacle of femininity and beauty? Not exactly the body positive message we rally now.
Luckily, it's not the 2000s anymore. The old ways of super skinny models and extreme pushup bras are finally being replaced with more body positive lingerie brands that prioritize diversity and inclusivity — not just adding two cup sizes to size 0 bodies.
It's 2022, and there are many body positive lingerie brands shaking up the industry and helping us reinvent the way we view sexiness, beauty and our own bodies.
Your Body Is Already Beautiful! Use These 5 Tips to Find Confidence and Body Acceptance at Any Size


This Is the Importance of Supporting Body Positive Brands
Those iconic angel fashion shows and semi-annual VS sales felt alluring and exciting for many of us as teenagers, but as adults, it's become obvious how problematic the bombshell culture truly was.




As if idolizing highly unrealistic, white, blonde bodies wasn't harmful enough, more has come to light in recent years regarding the misogyny, fatphobia and toxicity that went on behind the scenes at Victoria Secret. (And indeed, the fashion industry as a whole.)
For a deep dive into this topic (however, trigger warning!) check out the in-depth reporting by the podcast Fallen Angels.
So what now? If you're aware of the problems at not only VS but many of the mainstream lingerie brands, and still want underwear that feels special and elevated, read on! We don't have to choose between sexy unmentionables and companies we can feel good about.
Here are seven body positive lingerie brands you can feel great about supporting.


7 Body Positive Lingerie Brands to Support:
Say goodbye and good riddance to unrealistic beauty standards and treat yourself to something nice from these body positive lingerie brands.

1. Pepper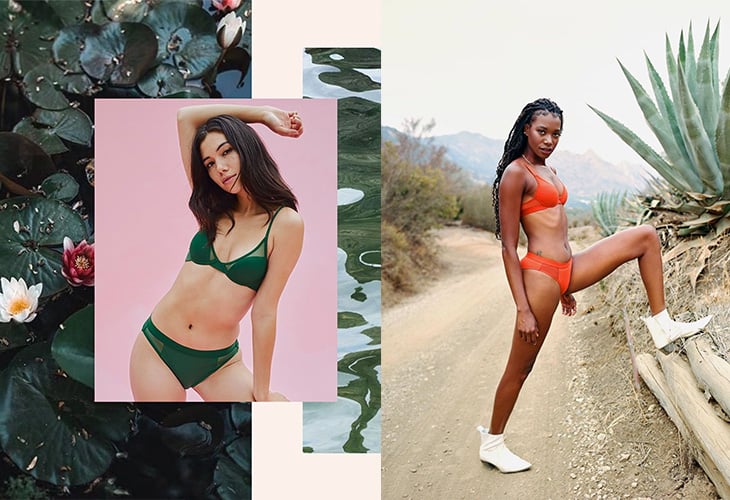 So many lingerie brands frame their marketing around the concept of bigger boobs, more lift, added cup sizes! Pepper was created specifically to celebrate the IBTC – that's the itty bitty titty committee if you didn't know – making beautiful bras specifically for small boobs!
Pepper's line offers wired and wireless options that flatter A-B cups – without uncomfortable padding or awkward gaps.
Pepper Bras Claim They're Designed to Perfectly Fit Small Boobs, So We Tested Them Out

2. Savage x Fenty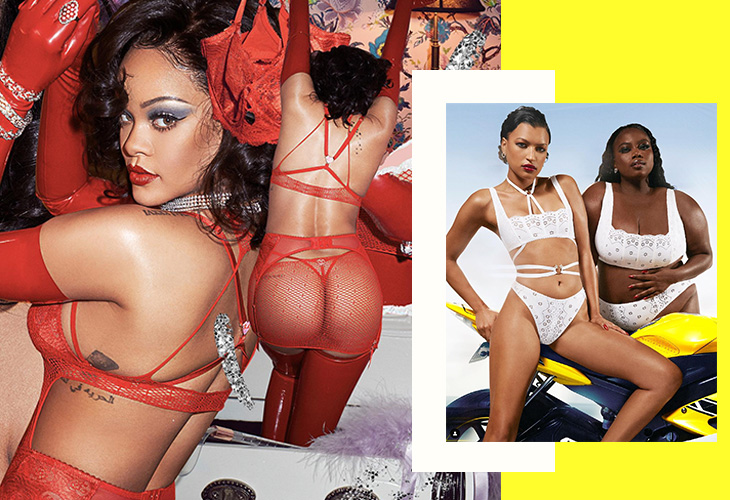 Quickly becoming one of the bigger names in lingerie in general, and certainly body positive lingerie, Rihanna's Savage x Fenty line offers a huge catalog of stunning and seriously sexy lingerie, bras and underwear.




And they do so while making it common practice to showcase bodies of all shapes, sizes, colors and abilities. More of this from all brands, please!

3. Aerie

When we think of body positive lingerie brands, we tend to think of the smaller, new brands to the scene. Let's give credit where credit is due. Aerie was one of the first and certainly most well-known body positive lingerie brands that helped set a new standard in the industry.
They said no to airbrushing and photoshopping and were one of the very first to do so. They also use real women in their catalog, not models, and it's a breath of fresh air to see cellulite, stretchmarks and acne on such a large site.

4. AnaOno

Going beyond just inclusive sizing, AnaOko recognizes not all boobs are created or REcreated equally.
They go the extra mile to create beautiful pieces for all boobs – asymmetrical ones, those post-mastectomy or implant surgery and many more options, truly making all bodies feel seen and created for.
For those purchasing a post surgery bra, you can even find support on their site for how to get your bra covered by insurance!

5. TomboyX

TomboyX was founded from a simple goal: to make good underwear that fit and flattered all bodies, regardless of size or where they fell on the gender spectrum.

Body positive lingerie brands are helping us reinvent the way we view our own bodies.

Like so many body positive lingerie brands, TomboyX features versatile options in a large range of sizes and styles.
If you're looking for bralettes, compression bras, period underwear, thongs or more, you can find an option for your body (and in their trademark comfy, breathable cotton.)

6. Parade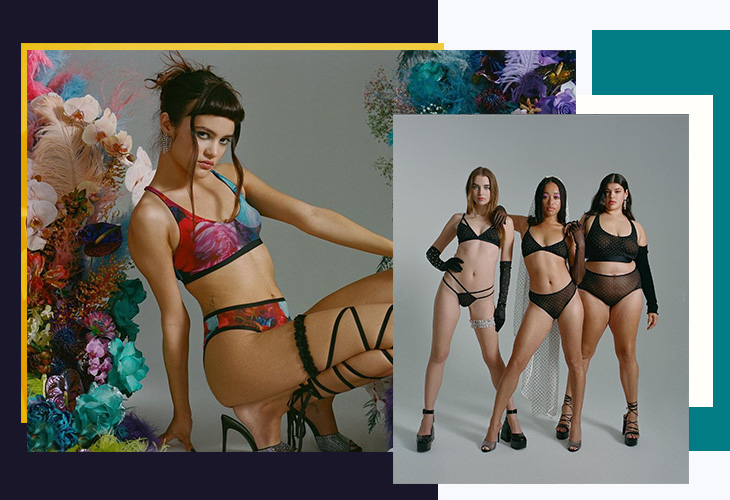 Parade is a body positive lingerie brand founded by someone who, like many of us, grew up thinking bombshell bras and airbrushed bodies were sexy. Then, they decided to be a part of the changing narrative.
Not only do their pieces celebrate body inclusivity, they also give back, prioritizing sustainability and donating to socially conscious causes. Whether you're looking for basics, sexy mesh lingerie or comfy loungewear, you can find it.
Bonus! When your underwear is retired, instead of tossing it, send it back in with their recycling program!

7. Thirdlove

Thirdlove says uncomfortable is unacceptable, and we heartily agree. They make a wide range of styles and sizes of bras and undies, all with the mission of the perfect fit and cancelling the notion that any one size is more desirable.
Another reason to love Thirdlove is their charitable focus. They give back to organizations like I Support the Girls, Soles4Souls, St. Anthony's and more, so you can support good causes as you treat yourself.
Body Positive Lingerie Brands – There's Nothing Sexier
The body inclusivity and positivity movements have a long way to go before they're truly mainstream, but it's encouraging to see companies challenging the old status quos and crushing outdated notions about what body shapes are more desirable (because they all are!)
With these body positive lingerie companies and so many others out there, the tides are turning. Real bodies are, finally, becoming celebrated as they should be, and there's nothing sexier than that.
Interested in exploring body neutrality and how it contrasts to body positivity? Read all about the growing movement: Body Neutrality Movement: What It Is, Why It's So Important + 5 Accounts to Follow
Have you tried any of these brands? Or better yet, are there any body positive lingerie brands we missed? Please share with us in the comments below – we love hearing from you!
This article has been read 1K+ times. Feelin' the love!