The Complex Nature of Grief During COVID-19 (Plus 3 Simple Practices to Help You Cope)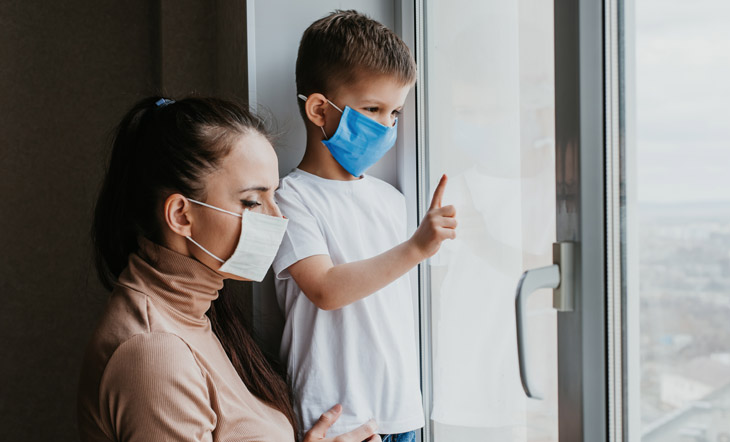 COVID-19, has really changed so much in our lives, including how we're coping with grief from the loss of a loved one. Quarantine and social distancing ask us to adapt in different ways when it comes to love and loss, and to saying goodbye.
In normal circumstances, when a loved one gets sick, we can have contact and care for them, share sentiments and love, and be present with them as end of life approaches. We can hold their hand as we say goodbye and assure them, they are not alone.
A pandemic changes all of this.
As one approaches the end of life, it must be experienced without loved ones nearby, which can be scary and leave loved ones without a sense of closure over the loss.
People are missing out on their final farewells, which is relatively common when a loved one dies suddenly, like from an accident or heart attack. But there's added stress that is unique during a pandemic, in that we are aware that the loved one is declining, but there's little ability to be of support and the inability to be present for the end of life.
This can lead to deep despair, feeling a lack of control, guilt, and sadness over the inability to be of comfort.
In addition, once the loved one passes, rituals like celebrations of life and funerals can't be held due to social distancing measures. While some are engaging in virtual funerals and other rituals, it doesn't replace the hug of family members or the shared experience of mourning together.
So a lot of the grief is left to be done alone or at a distance from the loved ones needed for support. Finding acceptance, a key tenet of grief processing, can be disrupted as a result.


Coping With Grief: How to Work Toward Healing and Health
In states of bereavement, we oscillate between loss-oriented and restoration-oriented responses. Loss-oriented activities involve going through the emotional motions including crying, thinking about the loved one, and depression.
It is important to have support during this process, so talking with a family member, close friend, or therapist is significant for this aspect of grieving. It is also important to engage in self-care during this time.




Take time away from responsibility and be with all of the feelings as they come up. Practice forgiveness – of yourself and what you were unable to do. Practice forgiveness of the situation in general.
As difficult as it may seem, allowing yourself to go through all of the emotions: sadness, anger, despair, rage – and also practicing forgiveness can be incredibly healing.


Try These 3 Yoga Practices When Coping With Grief to Help Soothe Your Nervous System
Grief takes its toll on various aspects of the nervous system, including physical tension, sleep disruption, and negative thinking.
Engaging in self-care is important for attending to the effects of loss. Releasing tension, addressing sleep, and meditative practices quiet the mind and contribute to overall well-being.
Try the following three practices to soothe your nervous system.

1. Restorative Yoga
Restorative Yoga poses are fully supported with blankets and other props so the body can completely let go and rest. These poses can be held from three to five minutes and allow for the body to relax and the mind to settle.
Restorative Yoga, and in particular, restorative backbends (to open the chest) and hip openers (for deep relaxation) can be especially helpful when coping with grief.
Try This 30-Minute Restorative Yoga Class
Take this soothing Restorative Yoga class on YA Classes with Allie Geer.

Yoga Class
With Allie Geer
2. Mantra Meditation
Choosing a short phrase that is uplifting helps shift thoughts from dismay toward thoughts that free the heart and mind.
After finding a comfortable seat, sit tall, close your eyes, and mentally repeat a comforting phrase like "I am whole," or "peace is my nature." Continue for five minutes for a mental reset.


3. Focus on Your Breathing
Lengthening the exhale can help when feeling anger or rage. Sit tall, close your eyes, and bring your awareness to your breath. Inhale to a count of four and exhale to a count of six. Practice for three minutes to calm your mind and any other tension you feel.
Find Peace Anytime With This Simple Pranayama Breathing Exercise


The Takeaway on Coping With Grief
Restoration-oriented responses are actions that allow engagement with daily life and give temporary relief from the intensity of it all. This is important for bringing a sense of balance back to your existence.
While this may seem difficult due to community-wide shutdowns, make an effort to take on a work assignment, watch a movie, or do a project around the house, like tend to the garden.
Restoration-oriented activities ease the pain and give us a few moments to get the practical tasks of life done.
Understanding the unique nature of grief during a pandemic can be helpful to the process of living with loss.
We don't get over the loss, we experience it in doses. When the feelings hit you head on, dwell in the experience of loss: feel the feelings, forgive, connect with support, and engage in yoga practices for self-care.
Try These 4 Restorative Yoga Poses to Relax Your Body and Mind
When feeling capable of focusing on something else, allow daily activity to shift your focus and give you a sense of reprieve.
As you oscillate between the two, you'll steadily find a path toward acceptance which is what we all must face in some way while living in a world pandemic.
This article has been read 197 times. Share it and spread the love!