Pull a Marie Kondo and Declutter Your Self-Care Routine (Here's How)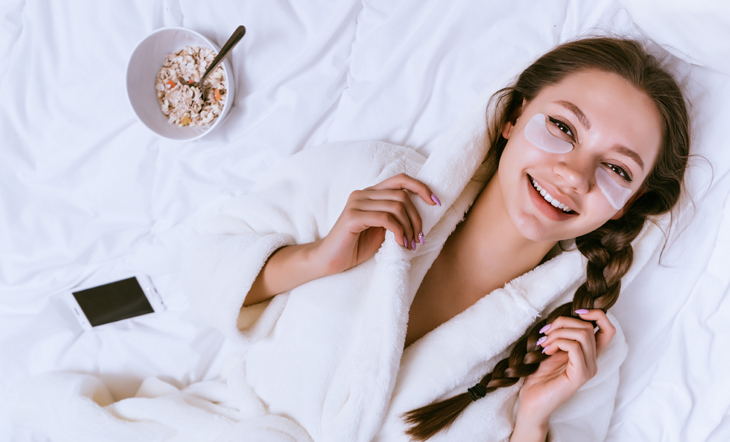 When it comes to our self-care routine, the sheer volume of options and information can feel overwhelming. From organic skincare products to yoga studio memberships, therapy to self-care practices, it's easy to find ourselves feeling like we need to participate in everything wellness-related to be our best selves.
But still, sometimes we aren't even sure if any one thing is helping!
Over the past few years, Marie Kondo has burst onto the scene with her book titled The Life-Changing Magic of Tidying Up and a Netflix special proclaiming the benefits of organization, decluttering, minimalism, and getting rid of extra items lying around the house.
Interested in minimalism? Get Rid of These 25 Things to Declutter Your Life
Her method of "tidying" has changed the way people declutter and make space in their lives. Not only does she write about how decluttering can give you more room physically, she explains how the act of tidying and removing the physical clutter can help make you feel better mentally.

"Marie Kondo" just became a verb!

So, can you tidy up your wellness and self-care routine? We say yes! "Marie Kondo" just became a verb, so let's Marie Kondo that self-care routine! Read on to learn how.


Follow These 5 Steps to "Marie Kondo" and Declutter Your Self-Care Routine:
Use this checklist to clean up your wellness and self-care routine and make space for new possibilities and more meaningful experiences.

1. Consider Your Goals
Close your eyes and use your imagination. What does your ideal life look like? How do you feel, who do you spend the most time with, what does your daily routine look like?
Once you understand the direction you'd like your life to go and take steps toward tidying up your self-care routine, you'll start to notice opportunities popping up that are more in line with your goals.


2. Look for Patterns
Take note as you're considering your goals and ambitions. If you notice being outdoors and being with family are common themes, try swapping out that class you don't totally love for a weekly family hike.
Look for ways that a change in activity can open up more possibilities, like using the money you save on a studio membership to invest in something that will help make your goals a reality.
For example, if you're a parent looking to spend more time outdoors with your toddler, investing in a child carrier hiking backpack might be just the thing to nudge you toward your best life!

3. Make a List
When it comes to organizing your home, Marie Kondo stresses the importance of "tidying by category." This doesn't just apply to shirts and pants – it applies to your self care routine as well!
Start by making a list of the specific activities you do to promote wellness and self-care. What do you do for exercise? Nutrition? Mental health? Skincare? Social activities?
Are you spending the majority of your time and/or money on exercise, even though you feel a strong need to make space to focus on your mental health? Does your morning routine consist mostly of skincare and beauty routines, but lack sitting down for a healthy breakfast? Are there any imbalances in your life that can be corrected?
This Morning Routine Will Set You Up for Success Each and Every Day

4. Ask: Does It Spark Joy?
Marie Kondo fans know the biggest component of her home organization method revolves around this one question. But it doesn't just apply to tidying and decluttering your home – it can apply to the yoga and fitness classes you take as well!
We know what you're thinking . . . it's hard to imagine that seemingly never-ending Chair Pose as joyful in any way. However, an uplifting or thought-provoking instructor, a Savasana that leaves you on cloud nine, or repeatedly finishing class feeling glad you did it are all great signs that it's lighting your soul on fire.
If traffic consistently frustrates you or you dread the workout every time, it's okay to let it go and make space for something new.
Psst! Have you tried our online yoga classes? We have tons of options and no driving required!


5. Consider Why You're Attached
Marie Kondo states that people struggle to let go of things because they hold an attachment to the past or fear for the future.
If an activity doesn't bring joy to you but you're struggling to let it go, consider again how you want your life to look and whether that activity contributes to the positivity you're looking for.
Acknowledge why you're attached and confront the associated emotions to move forward.
Let It Go – Release These 10 Things For a Happier Y-O-U


Declutter Your Self-Care Routine Using These Marie Kondo-Approved Tips
As Marie Kondo says, it doesn't have to be complicated. In her book, she says "Letting go is even more important than adding."
Learning what we can live without and letting go of activities that no longer serve us are key to making space for more positive things to come our way.
By seeking out joy and working toward truly understanding our goals and dreams for our lives, we'll be able to more clearly see the positive opportunities waiting for us on the other side. So what are you waiting for? Go Marie Kondo your self care routine and watch the magic that unfolds!
Need more decluttering in your life? Here are 3 Simple Ways to Merge Mindfulness and Minimalism for a Happier Life

This article has been read 624 times. Share it and spread the love!