Here's How to Perform a Burning Ceremony In 4 Simple Steps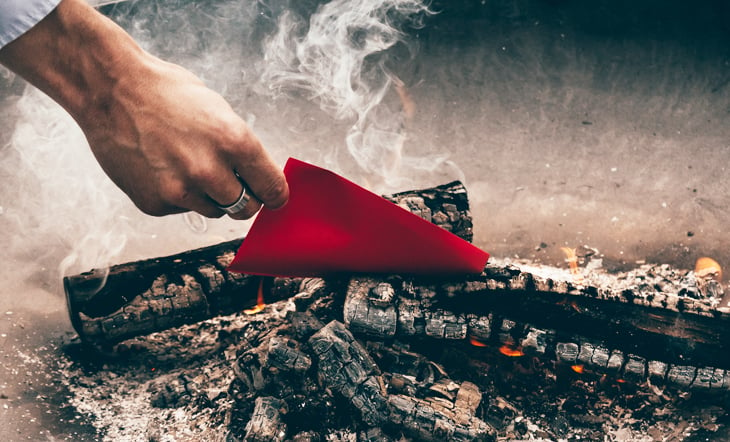 A burning ceremony is a transformative ritual traditionally performed as a way of releasing something that no longer serves you. It is often performed on New Year's Eve or other meaningful holidays or dates.
During a burning ceremony, fire is portrayed as a powerful symbol of wisdom, knowledge, passion, and purification.
The burning ceremony morphed from a religious ritual to become a way of releasing the past, negativity, old resentments, hurt, grudges, regrets, or suffering, and focus on what is more significant to us.

A burning ceremony is an inspirational practice to release the past.

You typically perform a burning ceremony during special symbolic times, such as birthdays, events, or, most commonly, New Year's Eve.
The significance of the timing gives you more willingness to let go of something in your life – from negative habits to unhealthy relationships. It's the time to leave it all behind and start fresh.


Why Perform a Burning Ceremony?
This simple ritual of the burning ceremony aims to cleanse and let go of situations that cause regret. This could be relationships that have caused pain, an unsatisfying job, negative energy, a bad mindset, or a negative thought process.

It's essential to be honest, open, and sincere with what you choose to release.

When you feel you can willingly let go of attachment in a peaceful state of mind, that's the time you should perform a burning ceremony. If done correctly, you will likely be surprised by how the ceremony can leave you feeling lighter, relaxed, and happier.


When Should I Perform a Burning Ceremony?
The best time to perform a burning ceremony is when you are going through a challenging time in life, or a transition or big change. When you let go of expectations, the world becomes full of opportunities. During the burning ceremony, you can sense how the flames burn old energy.
Be positive and genuine about your feelings. The ceremony should be performed when you're in a peaceful mood. Celebrate the end of the burning ceremony with the acknowledgment that you have closed the door on a part of your life that brought you sorrow and negativity.


Here's Your Step-by-Step Guide to Performing a Burning Ceremony:
Performing a burning ceremony can be done alone or with your loved ones. You need a safe space and container to perform the ceremony.
In a nutshell, you'll start by writing what you want to let go of, and then you'll burn that piece of paper. Keep reading for further instructions.

Supplies You'll Need For the Burning Ceremony:
Paper
Pen
Matches or a lighter
A safe, burn-friendly receptacle or surface (like a metal or glass bowl or fireplace)
Precautions Before You Start
While preparing for the ceremony, it's important to clear your head of any anger or irritation because it's not advised to burn in the "heat of the moment." The ritual has more impact when it is done in a peaceful, grounded state of mind.
Do not burn something valuable out of spite, like legal documents or something that could be important to another person. If you feel you must burn memories, you can choose to burn old photographs or letters.
Avoid burning something that is highly flammable or something that can cause you harm. It is important to approach this burning ceremony with caution and in a safe space.

Step 1: Create Your Burning Ceremony Space
A burning ceremony shouldn't be performed in a confined or enclosed space, as it can pose a threat to you and others.
Use a large enough unburnable bowl or a container (like metal or glass). Be aware of your environment or surroundings – they need to be peaceful in order to focus completely on the ritual – and also need to be a safe place to burn like a fireplace.

Step 2: Set a Clear Intention
Throughout the burning ceremony, remain calm and grounded in your intent. The ceremony should not be performed to shake away anger or frustration. If you can't shake a negative mindset, meditate to relax your mood before you begin the ceremony.
Some intentions that work well:
I am peaceful
I am grounded
I let go of attachments
I find peace when I let go

When your intentions are clear and focused, you can determine what you want out of this ceremony. You can write down your feelings and intentions so you are more open and ready for release.


Step 3: Get Grounded
Literally sit down or stand firmly with both feet on the ground for a few moments until you feel present and grounded. As negativity or tension releases from your body, let it pass. Stand quietly in prayer or meditation, while you honor your commitment to change.

Step 4: Write and Burn What You Want to Let Go
Write down what you're ready to let go of on your piece of paper.
Now that you have listed what you want to let go, it's time to burn. Light the piece of paper on fire, and place it in your burn-friendly receptacle. Watch it burn, take a few deep breaths, and rub your hands together for a final release of the attachment you just let go of.
Whether good or bad, anything that's holding you back needs to be released. Burn the lists and letters, and you will start to feel the attachment leave your body and mind.


Empower Yourself to Let Go and Move On With a Burning Ceremony
By burning away the past, you can free yourself from any regret, sorrow, or pain, and look forward to a brighter future. Let the burning ceremony allow you to sense a feeling of closure, and move on.
In addition to cleansing the past, you can cleanse your aura and make it through a rough patch easily with a burning ceremony. The flames help get rid of any negative energy in your life.
So, the next time you need to let go of attachment, try a burning ceremony. You will find it's one of the best ways to release negative energy.


Take This Program to Explore Your Modern Mystic
This 5-class program will explore 5 key modalities: astrology, shadow work, crystal healing, spirit communication, and manifestation. Each class is designed to show you tools that you can use to help you step into your personal power, sharpen your intuition, and move past anything holding you back from being your most magical, mystical and powerful self.
Mindfulness Program
With Morgan Garza
This article has been read 100K+ times. Wowzers!