Look Around Less, Imagine More: 4 Tips for Staying Inspired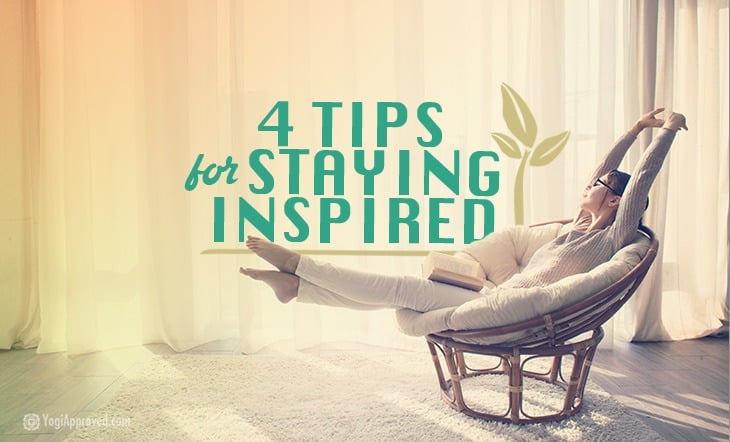 In the middle of my routine scroll through Instagram the other day, I came across the Esther Hicks quote, "Look around less, imagine more." As a yoga teacher, writer and all around creative-type, there's times when I'm overflowing with inspiration and times where I'm just … not.

Here are my tips for keeping the inspiration well full, even overflowing:

#1. Take a break from the scrolling and pinning.
Believe me, I know. It's addictive. Note that I used the word "routine" when I talked about Instagram scrolling earlier. And how ironic that I came across that quote while "looking around." You can give yourself the treat of a little Instagram and Pinterest action, but don't "live" there. Take a breather already!

#2. Sit.
Just sit down and take a breather. Literally. I have a little purple meditation cushion. It's nothing special but it's honestly where I carve out more minutes, hours – more SPACE in my day. If it feels ultra-challenging (it does for all of us from time to time) to sit, find a meditation class or group in your community or even download the Headspace app. It's a super helpful tool to use.

#3. Go play.
As a yoga teacher, I make sure that I'm getting a regular yoga practice in. Sometimes that practice looks like this: two home practices, two studio practices, one CrossFit workout and one hardcore dance sesh in my skivvies. Get outside. Go play at the beach or in the mountains. Embrace your inner five-year-old.
Embrace your inner five-year-old.
#4. Marinate.
Marination is required. If you don't have one already, get a notebook you can use as a journal and start to write things down. Observations, musings, ideas, etc. Doodle. Collage. Daydream. Give yourself a sense of space to renew.

Drawing inward and cultivating your creativity and gratitude, rather than looking outside for momentary validation, is a surefire way to remain energized and inspired. But just like a muscle, you have to train and focus on these practices to make them stick. By bringing just a bit of discipline to your daily practices, you'll feel more spacious than ever before.

What other ways do you like to stay inspired? Comment below! Let's keep this conversation going.

This article has been read 946 times. Share it and spread the love!