These Sheets Are Made from the Same Material As Yoga Pants – You Definitely Want to Sleep On These!!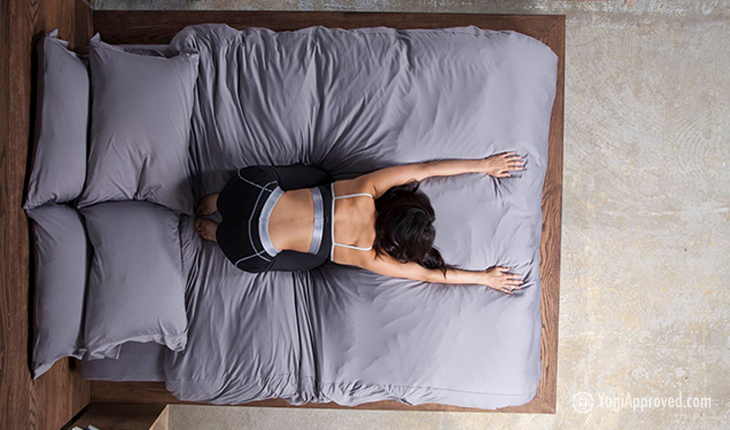 Activewear and yoga leggings are just about the comfiest things you can wear. The performance material is soft, it moves with you, and it also absorbs moisture. Many types of activewear also regulate your body temperature to help you maintain maximum comfort. Of course this is why we so often choose our yoga leggings over jeans!!

So what if your bedding could do the same? What if your bedsheets were as soft, comfortable, and innovative as your activewear material is?

Well – we found a bedding company that asked the same questions and actually created performance bedding – out of the same materials we love so much in our yoga leggings and activewear!

SHEEX® is the innovative performance bedding company that makes sheet sets, pillowcases, comforters, and even mattresses (and more) that all have SHEEX® signature Sleep-Fit Technology® to regulate your body temperature and moisture while you sleep.


What Exactly Is "Performance Bedding"?
Performance bedding takes the best attributes of high-performance activewear and merges them with SHEEX® high-quality sheets.

If you think about when you sleep, you typically get hot or even wake up sweating throughout the night. These sheets have breathability and moisture-wicking technology (just like your favorite yoga leggings!) so you experience cooler, deeper sleep.

Sheex™ fabrics have heat and moisture control that work through evaporative cooling. Essentially, the heat is lifted up and out of the sheets while your skin stays cool.

A key ingredient in this performance sheets technology is thermoregulation. Thermoregulation – a fancy word for regulating your body's internal temperatures – transfers body heat so your body is able to cool itself while you sleep. As a result, you get deeper, uninterrupted sleep.


What Are the Benefits of Performance Bedding?
The first, most obvious, and most important benefit of performance bedding is better sleep! If you tend to 'run hot' while you sleep, or if you sleep with someone else, this can often lead to waking up once or more during the night to readjust, kick the sheets off, and try to get comfortable again.

SHEEX® sheets make sure that doesn't happen, so you can sleep comfortably and undisturbed throughout the night (thanks to the evaporative cooling and thermoregulation we discussed in the previous section).

Getting better sleep is restorative for our minds and bodies. It's a noticeable difference when you're out and about in your daily life after a great night's rest! Another perk of this performance bedding is how beautiful they are – and visibly high quality. These sheets are offered in a huge variety of colors and styles depending on your needs and preferences.


We Slept on SHEEX® – Here's What We Think
With all these big claims, we had to try these sheets out for ourselves! We were happy to find that these sheets meet their big claims – and even surpass them, because you really have to try them out for yourself to feel the difference from ordinary sheets.

It really does feel like you're sleeping in your favorite yoga leggings. Our favorite features? The incredibly soft fabric, their durability, and what a noticeably different, better night's sleep they create! These sheets don't pill, don't fade, and never lose their Sleep-Fit Technology® (even after many washes).

The final verdict? These performance sheets by SHEEX® truly stand apart from the rest. And they're definitely worth trying for yourself. Rejoice – yoga leggings and bedsheets just had a baby . . . and you definitely want to sleep on these!

Try them out for yourself at SHEEX.com. They offer a 30-night money back guarantee so you've got nothing to lose and only a great night's rest to gain.

Sweet dreams!

This article has been read 2K+ times. Feelin' the love!