Have Trust Issues? 4 Ways Yoga Can Help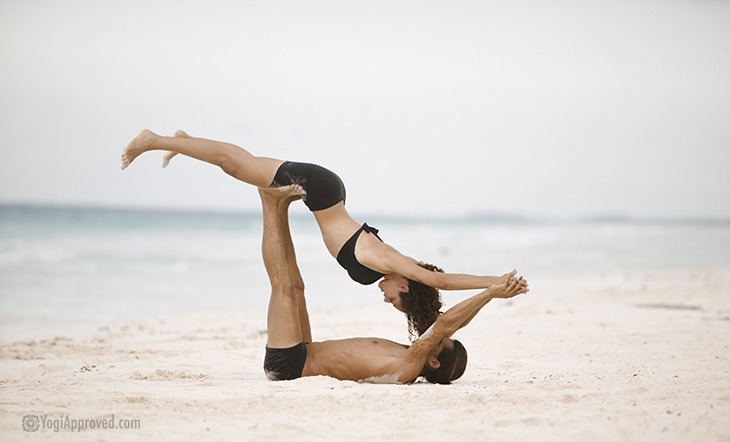 Trust is a hard thing to come by for so many of us. We often don't trust ourselves, we don't trust others, and we don't trust the natural flow of life.
Most of us have been hurt as children and betrayed as adults, and we've let our ability to trust fall to the wayside. But our yoga practice teaches us to soften, to let things be, and let things go. It teaches us to support ourselves and ultimately heal the Universe.

When we experience the Oneness and interconnectedness of everything and all that exists, we learn to trust deeply in the innate intelligence and awareness that lives within our Selves and the Universe.

Here are 4 ways your yoga practice can help resolve trust issues to cultivate a deeper ability to trust – in ourselves and the world around us:
Yoga Increases Body Awareness
The more we practice yoga, the more we get in touch with the signals our bodies are sending us – and they're sending those signals constantly. By naming the sensations in our bodies, we learn how to get deeply familiar with them, which helps us increase our bodily awareness and in turn increase our sense of trust in ourselves.

Yoga Expands Our Minds
By opening our minds, we end up accepting and trusting ourselves and others with greater patience and understanding. There's more space for listening with an open mind AND an open heart – to others and ourselves.

This expansion of mind helps us see things from a greater perspective, accepting that there's no right or wrong way – which helps us become more trusting of the Universe as a whole.


Yoga Helps Us Witness Our Thoughts
As we practice asana, or the physical poses, we begin to slow the fluctuations of our thought patterns, which allows us to become the witness of them. The more we become the witness of our thoughts, the more we learn to see them for what they are – arising and falling, coming and going – until we develop such a deep sense of self-awareness that we get to know ourselves really, really well.

This self-knowing leads to a deep sense of self-trust, which helps us move through life with confidence and an inner-knowing that we're on the right path.

We Learn to Surrender
Yoga helps us cultivate a deep sense of surrender to life. We learn to stop gripping, forcing, and controlling, and in turn, develop a faith and a trust that the great Cosmic Consciousness is ultimately serving our greater good.

Trusting in the Divine is one of the great teachings of yoga, and as we develop this spiritual trust, surrender and acceptance of life comes naturally.

Opening to trust takes time. It's like a muscle we build with practice. As you practice yoga and sit in meditation, let the word "trust" move into your heart as you breathe in and out. Use the word "trust" as a mantra – one that you can bring into your heart and mind at anytime or place.

This is an incredibly effective way to take your power back and move confidently in the direction of your dreams.

This article has been read 2K+ times. Feelin' the love!