8 Unique and Inspiring Yoga Tattoos + Their Meaning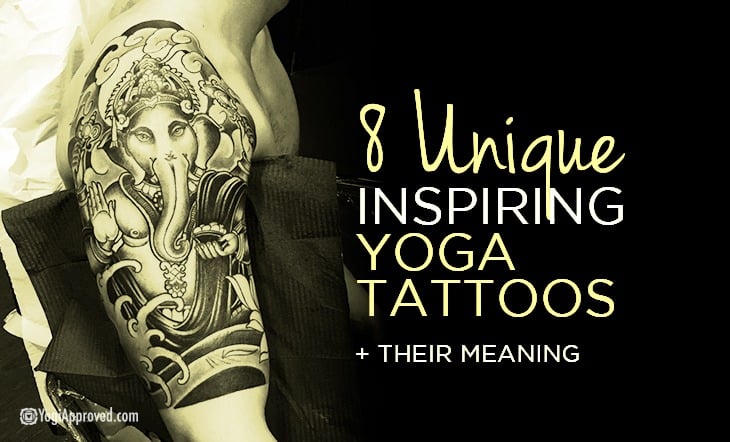 According to a recent study, 40% percent of adults between the ages of 26 and 40 in the US have at least one tattoo. Overall, there are 45 million Americans with tattoos, and there are over 20,000 tattoo parlors nationwide!

Whether you love them, disapprove of them, or remain neutral, you can't deny the growing popularity of tattoos. People, especially Millennials, are getting more tattoos than ever before. While in the past tattoos were seen as a sign of rebellion, they now carry little-to-no negative stigma.

For yogis in particular, a tattoo can be a way to show their devotion to yoga, or help define, represent, and pay homage to their yoga practice. One of the most common yoga tattoos is the "OM" symbol. However, if you're looking for something a bit less common, there are many symbols and sayings that are perfect for representing your yoga pride.

Here are 8 unique yoga-based tattoos to inspire you in your pursuit of meaningful ink:
1. Ganesha
Ganesha is the Hindu god of wisdom, knowledge, and new beginnings, and is widely renowned in the Hindu religion. Although he is known by many attributes, he is easily identified by his elephant head, four arms, and the trunk actually representing the OM symbol. Regardless of whether you follow Hinduism or not, a tattoo of Ganesha can bring good luck and attain success and fulfillment in every aspect of life – something that makes Ganesha tattoos appealing to many.

2. Dancing Tree
A tree is rooted to the earth, but reaches for the sky. Dancer's pose, or Natarajasana, improves your ability to concentrate and focus. When dance is combined with a tree in tattoo form, it reminds you to live each day with poise and grace, to not be afraid to dance and express yourself, and to remain grounded while continuing to reach for the stars.


3. The Buddha
While Gautama Buddha was the founder of Buddhism, the word Buddha itself means "awakened one" or "the enlightened one." A Buddha is a person who has become free of ignorance and obstruction. A Buddha tattoo can show a devotion to a particular aspect of Buddhism, or an admiration of the meditative mind and what Buddha represents. Whether you're a practicing Buddhist, or simply resonate with what Buddha represents, Buddha tattoos offer a variety of meaningful options.

4. "Inhale, Exhale"
When we inhale, we draw air into our lungs. When we exhale, we breathe that air out. The breath, then, anchors us to the present moment through every inhale and exhale. This simple statement can be a great reminder to be present in the moment. For many, breathing can be the answer to a lot of questions, and is a great mantra to have both in your practice and in your approach to life.

5. Compass
A compass represents the idea of "finding your truth north," or who you really are. It can also represent the love of wandering, or traveling, which many yogis possess. Getting a tattoo of a compass can serve as a reminder to follow your dreams, as well as finding comfort in knowing that you will be guided to where you need to be.

6. Sun Symbol
A Sun Salutation is a sequence of poses that many yogis practice daily. Traditionally, the sequence was done in the morning to honor the sun. Hindus believed that the outer sun reflected your inner sun, or the light and life-sustaining energy within you. Overall, a tattoo of the sun pays homage to your yoga practice in a very simple yet meaningful way.


7. Unalome
The unalome symbol represents the path to enlightenment in the Buddhist culture. The spirals are meant to symbolize the twists and turns in life, and the straight lines the moment one reaches enlightenment or peace and harmony. The dots at the end of the symbol represent death, or the moment we fade to nothing. There are multiple designs for unalome tattoos, or you can create your own and add your own elements, such as the lotus flower to represent new beginnings.


8. Zen Circle
A Zen Circle is a Buddhist symbol for enlightenment, balance, clarity, and life. The circle is usually made up by one or two brush strokes to express the moment when the mind is free to let the body create. This tattoo can symbolize different things to each person, such as emptiness or fullness, balance, or presence. Ultimately, the Zen Circle allows each of us to create our own definition.


These yoga tattoos are truly masterpieces that hold dear meaning to their owners. Which yoga tattoo speaks to you? Do you have ink that relates to yoga, but is less common? Share your pictures and thoughts below!

This article has been read 300K+ times. Wowzers!