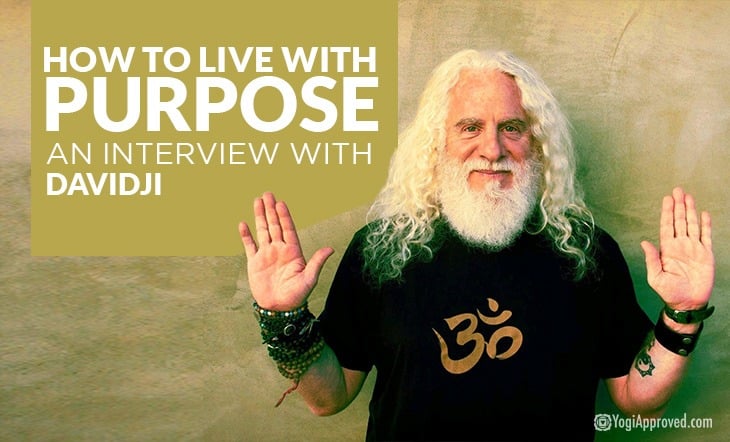 How to Live with Purpose: An Interview with Meditation Master Davidji
I recently had the great opportunity to speak with one of my mentors and favorite authors, Davidji, about the subject of living with purpose and finding happiness. Davidji is an internationally recognized stress-management expert, corporate trainer, meditation teacher, and author.

People who are not living with purpose may feel like they are in a haze – going through the motions – stuck in a state of inertia. Or they may feel angry, anxious, or depressed. According to the National Institutes of Health, 18% of the American population struggles with excessive anxiety that negatively impacts their day-to-day living.

We all struggle with tough times and challenges. We all want to be happy and find joy. Heed the wise words of Davidji on how to find your authentic self, cultivate purpose, and find happiness.

Here's Davidji's wisdom on how to be happy, mindful, and live with purpose:
LC: How do you define happiness?
Davidji: That's a great question and I think it all comes back to sort of a definition that I apply to happiness and all its offshoots.

It's that it is a return to wholeness. It can be a return to wholeness in a given moment or it could be a return to wholeness on a longer path.

But happiness is when you're feeling whole. Your needs are pretty much met in that moment or at least the need that you're putting your attention on is met in that moment. Abraham Maslow said that there are 5 levels of needs:
Physiological needs
Safety and security
Love and belonging (attention, affection, appreciation and acceptance)
Social needs – feeling part of something that's bigger than us
Self-actualization

When all those other needs are at least being worked on, they don't all have to be met, but you do have to be aware of those needs and be working to meet those needs. In those moments, that's when self-actualization occurs.

So I believe that happiness is a path to self-actualization. That wholeness is a path to that self-actualization, and the ultimate expression of our wholeness is our self-actualization.


LC: When you have all those bases covered, or, as you said, you're at least working on them . . . when does the Zen moment come?
Davidji:I don't think that there is a finish line. I think maybe when you take your last breath. We have to remind ourselves, it's an ongoing thing. You don't get to say, "Okay, that's it! I'm enlightened!" [laughs] . . . I believe that if you're steeped in the teachings, then you can practice them every day, then you can live them every day.

But you know, I've seen his holiness the Dalai Lama get disappointed. I've seen him a little stressed out. I spent 10 years with Deepak. I've seen him in all sorts of emotional states.

The difference is, people who practice on a daily basis, when they find themselves in that less than whole or unhappy state, they sit with it a little bit. They understand it. They try to figure out, "what need of mine isn't being met right now?" They know that they are not their emotions! That's really important!

I want to struggle a little less than I did yesterday. I want my heart to feel a little fuller than it was yesterday. That doesn't happen by accident, that only comes by applying yourself every day and that's why they call it a practice . . . We're all still trying to be our best version.


LC: What role does yoga and meditation play in living your fullest potential?
Davidji: Yeah . . . you know these teachings are thousands of years old. We can say that Patanjali wrote the Yoga sutras 2,000 years ago, but 600 years before that, the Buddha walked the earth.

So we have to realize that these teachings have been around, truly, for thousands of years, not just 2,000 . . . It was Patanjali who was able to structure it all, put it all together so it could be really understandable and compiled it all in one place, but I think it lays out a path.

And life is just a lot more happy and fulfilling when we have that clarity of what our path is.


LC: How can we find the motivation to manifest this higher self expression? What is the value? How would you motivate someone to begin this journey?
Davidji: Not everyone cares . . . This is stuff that flows from attraction rather than promotion. I think that it's a rookie mistake when people are like "Wow! I feel so much peace in my mind right now. I'm going to force it on everybody I know around me. Or I'm going to teach them these tools!" [laughs].

Over the years of teaching, my 16 years now I've been teaching, so many different types of people in different types of circumstances, I found out . . . sometimes the spouse doesn't want to play along, sometimes the kids are too much into their own thing, sometimes the people at work just want to clock out at 4:59 and leave. Sometimes people are not ready.

I think everyone's got to float at their own pace. And some people are not here to awaken to these teachings in this lifetime. Our job is not to force them.

Our job is to create such a beautiful vibration and such a beautiful light around us that people want a piece of that or they want to connect to that and share it with their families. Show up and be your best version. That's why we have to be patient and work on ourselves. And not judge anyone else and not force anyone else to connect to them.

That happens sometimes when I'm with someone and they're freaking out and I'll say, "Let's just breathe together." So innocent. Let's just gaze into each other's eyes and take long, slow deep breaths in.

Suddenly 3 minutes later they'll say, "Wow! That felt great! That's cool, maybe I should try that a little more often." And I don't then say, "Well, sign up for my meditation workshop!" [laughs] In that moment I say, "Yeah great, well when the moment moves you and you're interested, I'm here."


LC: How do we deal with the stress and distraction of modern living?
Davidji: The definition of stress is how we respond when our needs are not met. So to live a stress-free life, you need to either have all of your needs met, or understand what that process looks like. And that would not be any human on the planet. We're all going to have needs that just pop up that are not going to get met. So there are ways to approach that:

The proactive way, [which means] showing up every single morning and having a meditation practice, having a yoga practice, doing that in advance. [And] the present moment way, [meaning that] you can't watch the present moment and be in the past or future.

It comes down to that line in the Bhagavad Gita when Arjuna is asking Krishna, "How am I supposed to live my life?" And Krishna responds, "Yogastha Kuru Karmani" (establish yourself in the present moment and then perform action).

[You can try] the 16 seconds technique (16 seconds of watching your breath) . . . You can't watch your breath and be angry at the same time. [Or the] After the Fact Reset. Suddenly it's after the fact, where you get to ask yourself did I just leave some Ama (toxic residue) behind or did I just leave some Ojas (sweet vital nectar) behind.

You can't unring the bell, you can't go back in time, but you can say, "wait, wait, wait, timeout. I'm so sorry, I didn't mean that. I was being mindless. But I want to be more mindful right now. So let me reframe what I said. Or let me redo, what I wanted to do. Let me start over here."


This soulful and enlightening interview highlights a truly simple process to becoming your best self so that you can inspire others to do the same. When you shine your light and satisfy your heat by living your purpose, you show others that they too can give themselves permission to prosper.

Want to learn more about Davidji's philosophies, guidance for living with purpose, and insight into building a happy life? Check out his written work! He authored the critically acclaimed destressifying: The Real-World Guide to Personal Empowerment, Lasting Fulfillment, and Peace of Mind and Secrets of Meditation: A Practical Guide to Inner Peace & Personal Transformation, winner of the Nautilus Book Award.

This article has been read 1K+ times. Feelin' the love!