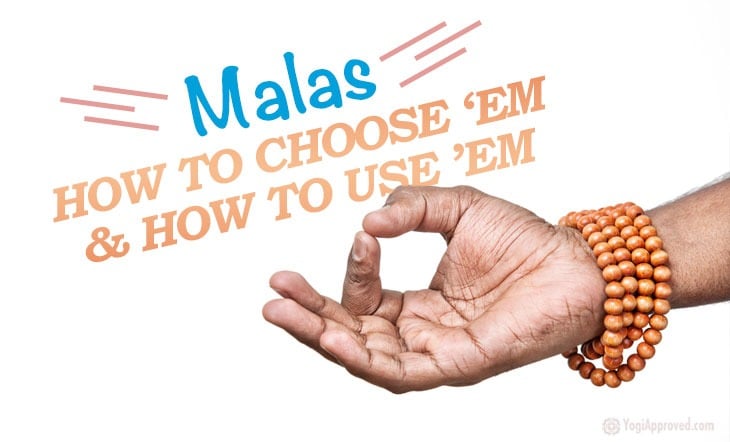 Find Your Soulmate Mala! Everything You Need to Know About Choosing and Using Malas
A mala is a long strand of 108 beads traditionally used to aid your meditation practice. Often, malas are combined with a mantra that you repeat during your meditation – both mantra and mala are meant as tools to help your mind stay focused. Instead of focusing on the number of times you repeat your mantra, you can use your mala to keep count so that you can focus your mantra's meaning.

Malas – in the form of bracelet and necklace – have become super popular. You see yogis wearing them on and off the mat. There are a million different types of malas to choose from – from type of mala beads to the style (length, color, energetic properties, etc) of necklace or bracelet.
If you're new to the mala game, keep reading for insight into the meaning behind particular malas and how to choose the type of mala for your specific needs.

How to Choose the Right Mala for You
You can find malas made of seeds, wood, bones and gemstones. The possibilities are nearly endless. To choose your mala, try using your intuition and thinking about what you would like to achieve. Then find a mala that helps you reach those intentions.

A good rule of thumb for choosing a gemstone mala is to match your intentions with your body's chakras as follows:

Looking to balance your chakras? Align Your Chakras By Practicing These Yoga Poses

How to Use a Mala
Hindu traditions say to hold the mala in your right hand with the thumb flicking one bead to the next while the mala is draped across your middle finger. Traditions in northeast India dictate that the best practice is to drape the mala on the ring finger of the right hand, and move the beads with the middle finger and thumb.

Either way you choose, begin your practice by sitting in a quiet, comfortable space. It is best to sit with your legs crossed to keep your mind and body engaged, but you can lie down if sitting up is not possible or uncomfortable. 

Breathe in deeply and focus your attention on your chosen mantra or affirmation. Once you are calm and focused, start with that bead to the left of the larger center bead – the guru bead – and turn your finger clockwise around each bead and then push that bead away and move onto the next bead.

Once you arrive at the guru bead, you can stop your practice, or you can turn the mala around and repeat the process in the other direction.

How to Choose a Mantra For Your Mala Meditation
A mantra is defined as a word or phrase that is repeated often or that expresses someone's basic beliefs. You choose a mantra during your meditation practice to enter the silence of your mind and achieve deeper awareness.

The repetition of the mantra can allow you to escape your thoughts and feelings that fill your mind each day, allowing you to disconnect your mind and thoughts from your physical body. One of the most commonly used mantra is "Om" (pronounced as aum), which represents your universal consciousness.
Looking for some inspiration for your mantra meditation? Check out 3 Sanskrit Mantras to Boost Your Meditation Practice



Another option is to follow a guided meditation that has music and mantras for you to recite. Deepak Chopra's Chopra Center for Wellness website offers free guided meditations with specific intentions. You can also find thousands of free videos and audio recordings available online or on YouTube.

Find Your Soulmate Mala and Meditate On!
Practice your mala meditation daily, weekly, monthly or whenever you feel that your body and mind are in need of clarity, peace and an escape from the hustle and bustle of the busy world.

This article has been read 80K+ times. Hot damn!