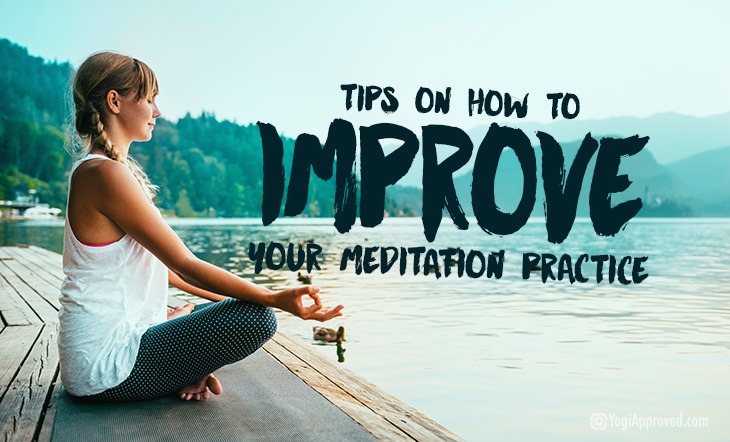 How to Improve Your Meditation Practice
A personal meditation practice is both simple and profound. Meditation is a journey for the practitioner. Meditation explores the Self and brings to light things we have kept dark for too long.

If you have a consistent meditation practice, you may have encountered some challenges on the cushion, or maybe even feel as though your practice is fading. But don't give up! There are ways to help you deepen your transformation and evolution on your spiritual path.

Here are some tips to help you deepen your meditation practice:
Remind yourself why you come to your cushion
We all have different and personal reasons for our daily meditation practice. When we remind ourselves of why we meditate, we give reverence to our motivations and possibly new life to our practice. You might want to take some time to journal why you meditate every day, and perhaps even explore new reasons for coming to your cushion.

Beautify your space
Many of us wake up and go straight to a bolster or cushion to meditate. But how many of us have actually taken the time to conscientiously beautify our space? What sensual items inspire you – incense, a singing bowl, fresh flowers or a beautiful shawl to drape over you?

Many practitioners build an altar and personalize it to make it more inviting. The idea is to give yourself a sacred, special area you will want to visit and meditate in.

Want to learn more about creating a sacred space? Read 3 Things to Consider When Creating Your Own Sacred Space.

Get comfy!
Many traditions teach meditation to be seated with a straight spine and the hands in a particular mudra. This seated position works great for many and is a successful posture for meditation. But if you find your practice is deeper when seated in a chair or lying down, then honor that.

You want your practice be to be enjoyable and relaxed, which will help you find a deeper and longer practice. If your current meditation position distracts your practice or you feel another position would help you better relax, always do what works for you. Remember, each day is different. Some days a seated position feels great, other days it may not work.

Connect to your breath + move your body
The breath is a great tool for letting us know if we're relaxed or anxious. It can also be used to relax any physical or mental tension we carry with us. When we practice pranayama we become more centered and relaxed – the perfect place to be for our meditation practice.

There's a good reason yogis practice asana to prepare them for a seated meditation practice. Doing yoga before meditation allows us to sink deeper into meditation. When we allow our physical bodies to release tension before we sit in meditation, our minds may be more open to release and let go.

Always be gentle and kind with yourself
Meditation can be lighthearted and fun – you don't have to be serious in order to meditate. Approach your meditation practice with a kind attitude toward yourself. Look at it as a means of self-care – a time to nourish and nurture yourself.

Being kind to yourself also means having patience. When we meditate, we allow our minds to become quiet, which will help us cultivate the virtue of patience. But meditation does take time and we want to give it the time it deserves. Continue to focus on your meditation practice one day at a time.

When you do this, you'll most always look forward to your time on the cushion.

Being kind to yourself also means having patience.
Love the good, the bad and the ugly
Now that your practice has become deeper, new issues may come to the surface – and it might get ugly at times. Old emotional wounds can come to light that need to be cleansed – or mental habits that you'd rather not see.

But remind yourself that the more you practice, the more you'll deepen and evolve. So love it all – the good sits, the bad ones, and everything in between. As long as you show up each day, you will naturally evolve as a practitioner.



To deepen your meditation practice and continue to evaluate yourself is not easy. But you're amongst good company if you're reading this article and wishing to deepen your time on the cushion. Know that you're making the world a better place – raising your own vibes and those of others the more you practice. Cheers to that!

Have you come to a place in your meditation practice that needs some encouragement? How have you helped deepen your own practice? We would love to hear your ideas and experiences in the comments below.

This article has been read 3K+ times. Feelin' the love!