6 Mother's Day Gift Ideas for the Modern Mom – She'll Love Them All!
Mother's Day – need we say more?! While we love and cherish our mommas every day of the year, this is the day to absolutely shower them in love!
Let's take a moment to honor all of the incredible mothers of the world. Take a moment to reflect on everything your mom has done for you over the years. And take time also to celebrate what makes her so special. There's a lot to love!
And while love don't cost a thing, we're sure she will love our Mother's Day gift ideas. Combine any of these gift ideas with spending quality time (even if it's on FaceTime!!), and you'll have the perfect Mother's Day celebration.


Here Are 6 Mother's Day Gifts Your Mom Is Sure to Love:
1. Crystal Infused Weighted Blacked from Sunday Citizen
Weighted blankets feel like a great big hug while you sleep. And they also have a huge range of benefits for sleep quality and overall wellness. Add the healing power of amethyst and quartz crystals and you just found your mom's new best friend!!
Shop the Crystal Weighted Blanket from Sunday Citizen.
Order with coupon code YOGIAPPROVED50 and save $50! One use per customer, valid through May 31, 2020.

2. The Always Pan from Our Place
Appropriately named, The Always Pan can do the same amount of work as 8 pieces of traditional cookware! In addition to the 10″ ceramic pan, it also comes with a modular lid, spatula, and stainless steel steaming basket. Definitely Mom approved!
Shop The Always Pan from Our Place.

3. Mala Wrap Bracelet from Lovepray Jewelry
Lovepray Jewelry is known for their uniquely gorgeous gemstone jewelry, and one of our favorite Lovepray collections is their gemstone wrap mala bracelets. With a huge variety of beautiful stones with varying powers and properties, Lovepray offers a mala for every momma!
Shop the Mala Wrap Bracelet Collection from Lovepray Jewelry.

4. Cranberry & Turmeric Clay Facial Mask from Souk Skincare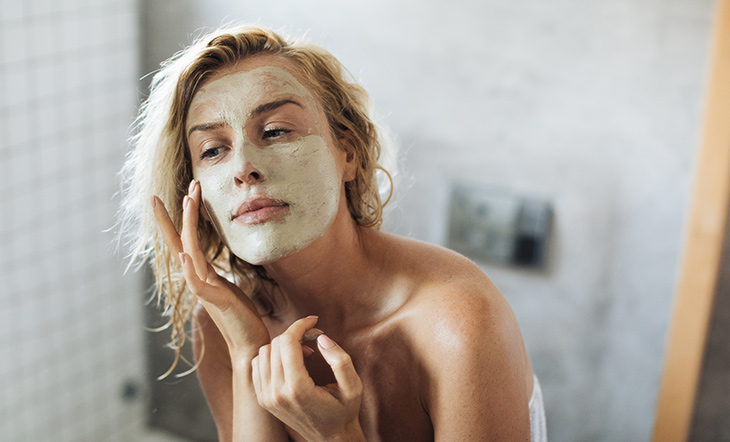 Pamper mom with a hydrating, nourishing, and rejuvenating face mask! Souk Skincare offers a full line of natural, effective skincare products made from quality ingredients. Mom will love the exfoliating cranberries and brightening turmeric!
Shop the Cranberry & Turmeric Clay Facial Mask from Souk Skincare.

5. Online Yoga Classes Membership from YA Classes
Moms (and dads and sons and daughters) around the world are loving YA Classes, the online yoga and fitness membership by YouAligned! YA Classes offers hundreds of unique classes ranging from yoga, meditation, barre, Pilates, and fitness – something for every mom! What better gift than the gift of physical and mental wellness?!
Give your mom the gift of wellness with a 3-month membership or full year membership to YA Classes!

6. Vitruvi Stone Diffuser and Essential Oils Starter Kit
If your mom doesn't already have an aromatherapy diffuser, you just found the perfect Mother's Day gift! Vitruvi's Stone Diffuser is a beautiful and well-made ceramic ultrasonic diffuser. Going above and beyond this Mother's Day? Snag her Vitruvi's essential oils starter kit to go with the diffuser!
Shop the Vitruvi Essential Oil Diffuser and the essential oil starter kit


Your One-Stop-Shop for Mother's Day Gift Ideas Your Mom Is Sure to Love
Celebrate the woman who brought you into this world and give her something she'll love this Mother's Day.
But most importantly, take this time to tell her how much you love her, and how grateful you are for her. Because while she will love the Mother's Day gift ideas on this list, the greatest gift of all is your love.
We'd love to hear from you! Which Mother's Day gift did you choose? Please tell us in the comments below, and Happy Mother's Day!
This article has been read 1K+ times. Feelin' the love!