Eco-Moms: Here's Your Head-to-Toe List of 32 Natural Baby Product Recommendations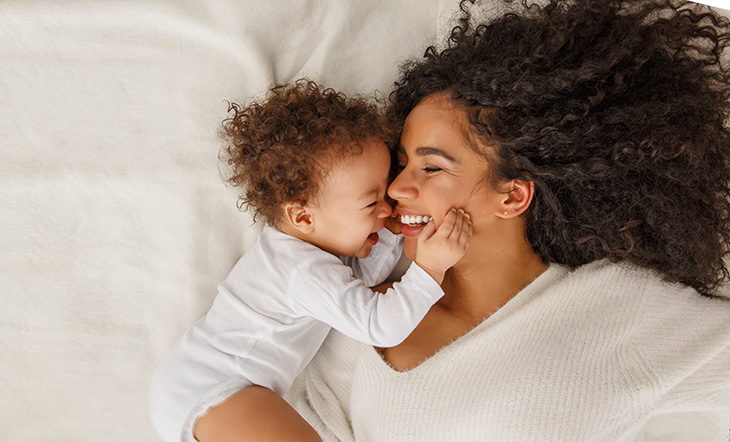 As an eco-mom, you want the best natural baby products for your bundle of joy. You will spend hours (and hours) researching the best eco-friendly baby products.
From diapers to skincare, healthcare, feeding and teething products and non-toxic toys, the new addition to your family needs a lot of stuff!
I have spent hours researching, searching and critiquing hundreds of products to determine what eco-friendly products will be best for my little bundle of joy.
As an eco-mom, I am eco-friendly and only use organic and natural products already, so I practiced the same due diligence in finding the very best baby products.

One thing to note is that I did not include any big ticket items like jumperoos, walkers or pack-and-plays, as I did the eco-friendly thing and hopped on my local buy/swap/sell boards on Facebook and bought them gently used for a fraction of the cost.


From Diapers to Bottles and Everything In Between, Here's Your List of 32 Natural Baby Product Recommendations:
As an eco-mom myself, I've organized this list of baby products into several main categories based on what you're looking for.

1. Eco-Friendly Bath & Skincare
Even newborn babies get dirty – we're talking spit-up and other substances that can come out of every orifice.
You will need the right artillery to handle the messiest of jobs, but don't settle for conventional products that contain harsh chemicals that can irritate your baby's skin and even cause long-term health complications.

Shampoo/Body Wash
You want to start with a gentle, yet effective baby shampoo and body wash that is designed for your baby's delicate skin. The 2-In-1 Baby Shampoo and Body Wash from Babo Botanicals is a plant-based, hypoallergenic formula with all natural ingredients and their organic Nutri-Smooth blend of vitamins and antioxidants.

Lotion
After bathing, it is important to replenish moisture to your baby's delicate skin.
The Earth Mama Angel Baby Lotion has a wonderful orange vanilla scent (like a delicious creamsicle) and is formulated with organic calendula, roobios and shea butter (and without synthetic fragrances, phthalates, parabens or petroleum products) to soothe dry skin and even diaper rash.

Towel
Babies lose a ton of heat through the tops of their heads, so you will want to cover it as soon as possible after bathing. The organic Bamboo Baby Hooded Towel is an absorbent hypoallergenic towel with an adorable bear hood design.

Sunscreen
No matter the complexion, baby's skin needs to be protected from the harmful rays of the sun. Super Shield Zinc Sport Stick is 50SPF and protects against UVA/UVB rays with non-nanoparticle zinc oxide (and is free of toxic chemicals found in other sunscreens that are absorbed by the body).
This sunscreen is a sensitive skin formula.
2. Eco-Friendly Cloth Diapering
It is now not recommended to use baby powder on a baby (go figure). But when your baby's bottom needs a little TLC, you can choose a natural balm, such as Babo Botanicals Soothing Diaper Cream, which is even safe for cloth diapers!
The cream uses non-nano zinc oxide to form a protective barrier to prevent diaper rash and inflammation, as well as calendula and oils to provide relief and soothe irritated skin.
If you choose to cloth diaper, it may seem intimidating at first. There are a lot of upfront purchases that you need to make, but if you play it smart, you can keep your costs to a minimum. Also, keep in mind that with cloth diapering, for the most part, these are one-time expenses, as opposed to the recurring cost of disposable diapers and wipes.
Here is what you will need to get started on cloth diapering:

Step 1: Cloth Diapers
Yes, you need to start by picking a brand of cloth diapers.
There are many types of cloth diapers available, but I like the adjustable cloth diapers with snaps that allow you to use the same diaper on a newborn as you would a toddler learning to potty train. How's that for long-term use and savings?
The Alva Baby brand has super-affordable cloth diapers with free inserts (for absorption) and tremendous reviews on Amazon. They are really affordable and come in tons of cute prints.
You should also pick up a pack of Alva Baby's Cloth Diaper 4 layers Antibacterial Bamboo Viscose Inserts, which give you an extra layer of absorption and protection against leaks and blow-outs.

Step 2: Liners
You do not want to open up a diaper to find a stinky mess and then have to struggle with it. You can put the GroVia Bioliners disposable liners on top, so you can just toss out the mess and forget about it.
Or, if you are a little savvy, you can go to a cloth store and purchase a few yards of fleece, bamboo or flannel fabric and cut your own diaper liners (and baby wipes!) for just pennies.
You can wash and reuse them, or dispose of them for stinky messes without feeling like you are throwing money down the drain (or in the diaper pail).

Step 3: Wipes
You will go through so many wipes during your baby's diapering lifetime, even up to 6 per change depending on the mess.
If you want to save some money, you can make your own baby wipes with the Baby Bits Wipes Solution, which gives you enough product to make 1,000 natural baby wipes (with your choice of paper towels or cloth wipes).

DIY Alternative: make your own batch of wipe solution with this easy recipe
Whether you choose a pre-made solution or the DIY recipe above, you can add the solution to an amber spray bottle, and spray it directly on your baby's bum, paper towel or reusable wipe as needed during diaper changes.
The amber spray bottle set, which comes with handy chalkboard labels, won't leach chemicals into the wipe solution.

Dirty Diaper Storage
Now, what do you do with all of your soiled diapers and wipes? On the go, you can store them in a Waterproof and Reusable Wet Diaper Bag, a leak-proof bag that prevents odors from escaping.
At home, you can store them in the Planet Wise Hanging Wet/Dry Bag, made from the same materials as the wipe holder and portable diaper bag.
The bag can store about 20 cloth diapers and inserts and you can easily flip the contents into your washing machine, turn the bag inside out and wash it all together – even the bag!

Disposable Diapering
Traditional diapering is not the most eco-friendly choice in terms of waste, but you can choose products made with natural ingredients that won't irritate or cause harm to your baby's delicate skin.
In addition to below, you will also want to invest in a diaper pail and disposable diaper pail bags, which will be a lifesaver to keep the lingering diaper smell at bay.
As far as disposable diapers go, there are so many brands out there, but many contain harsh chemicals such as chlorine and bleach.
I found two brands that I can trust when I'm on-the-go or at the in-laws and don't want to store dirty disposable diapers: Bambo Nature and The Honest Company.
If you aren't using cloth diapers, chances are you are not using reusable wipes either. While there are so many conventional brands that are jam-packed with yucky chemicals, one product that meets my strict standards is the WaterWipes Baby Wipes.
They are great on sensitive skin and are chemical-free, containing just 2 ingredients – water and grapefruit seed extract. I like and trust that!

3. Eco-Friendly Feeding
As a mom (or soon-to-be-mom), you have probably read 1,000 times that breast is best. However, unless you want to have that newborn glued to your teat, you might want to invest in baby bottles.
So many products these days exclaim "BPA-free," but sorry to inform you, that is not enough.
BPA – or Bisphenol A – is an endocrine-disrupting chemical that alters hormones in your body and is linked to health complications such as cancer, obesity, diabetes, infertility, and abnormalities of the nervous and cardiovascular systems.
However, just choosing a product that is BPA-free still leaves you open to other plastic- or petroleum-derived toxins, lead or phthalates.



Bottles
That is why I wanted to avoid plastic as much as possible, so I chose stainless steel bottles, which also make great options for longevity.
The 5 oz. Pura Kiki Stainless Steel Infant Bottle is the ONLY 100% plastic-free bottle in the world that is made of medical grade silicone components.
While the initial investment in these bottles is certainly more than the cheaper plastic alternatives, stainless steel bottles can grow with your child by simply changing out the nipple for a sip spout or straw (all made with silicone and plastic-free).
Grab a few 5 and 11 oz. bottles and various nipple sizes and straws and you will be set for years!

Bottle Cleaning
The great thing about the stainless steel and glass bottles is that they are both top-rack dishwasher safe (except the painted or insulated Pura Kiki bottles).
If you don't have time to run them through a full cycle, you can clean them easily with the Boon Forb Silicone Bottle Brush, which looks like a cute flower instead of an unsightly bottle brush on your countertop, and some of Dr. Bronner's Unscented Fair Trade & Organic Castile Liquid Soap.

Breastmilk Storage
If you are a breastfeeding or pumping mama, you will feel like a 24/7 convenience store of milk for your baby! If you breastfeed, it is a good idea to pump extra for use later when you are sleeping, at work or just too exhausted to sit through another breastfeeding session.
Most traditional breastmilk storage containers are made of harsh plastic chemicals, so you want to be on the lookout for plastic-free silicon.
The Little Sprout Silicone Pop Out Portion Freezer Tray is 100% BPA and phthalate free and a great way to freeze your breast milk for use another time in 1 oz. portions.

4. Eco-Friendly Teething, Biting and Oral Care
Babies will chew on almost anything that they can get their little mouths on, so make sure to babyproof your space and keep anything smaller than the inside of a roll of toilet paper out of baby's reach.
Most babies will start to grow teeth within months of birth, so you want to make sure to properly care for your little one's gums and teeth as early as possible.

Teether
Once teething begins, your baby will probably be miserable, so you want to make sure to have plenty of items that baby can chew on that are safe.
The best and safest teethers that I have found are the Maple Landmark Maple Teethers made from sustainably harvested rock maple from Vermont. The teethers are smooth without any rough edges and free of all plastic and synthetic materials.
With a more traditional and colorful look, the Twist Teether Toy from Green Toys is a fantastic eco-friendly option that is made of 100% food-grade recycled plastic milk containers and free of BPA, PVC, phthalates or other plastics or coatings.
You can trust that this teether won't cause harm to your babies when gnawed on, and baby will love to hold them and shake, rattle and roll!

Teething Relief
When teething pain becomes unbearable, you will do whatever it takes to mitigate your baby's discomfort.
The Lofca Teething Necklace is a beautiful non-toxic, food-grade silicone necklace that gives mom a wearable teether for baby to nosh on.

Oral Health
Even before teeth come in, you want to start working on baby's oral hygiene.
You can start with a Baby Buddy Finger Toothbrush Stage 2 for Babies/Toddlers, a 100% food-grade silicone (without BPA, lead or phthalates) finger brush that soothes and cleanses gums.
Or, you can try the Baby Buddy Baby's 1st Toothbrush Stage 4 for Babies/Toddlers, a six-sided brush that allows babies up to 12 months to learn to "brush" on their own and simultaneously reduce teething discomfort.
Add a little toothpaste to the finger brush (or toddler brush when you are ready) to kill germs.
The Jack N' Jill Natural Toothpaste is an organic toothpaste made with natural sweetener xylitol and free of sugar, fluoride, colors, SLS and preservatives. And it comes in a lot of baby and toddler approved flavors!

Pacifier
No baby is complete without a pacifier, but just be weary of those dollar-store or gimmicky variations that have far too many chemicals to even fathom.
The Dr. Brown's Silicone Pacifier is made of medical-grade silicone and is dishwasher safe for easy cleaning!


5. Now For the Fun Stuff!
You can also choose eco-friendly toys that are free of BPA and other harmful chemicals. Remember, babies put anything and everything in their mouths, so choosing eco-friendly toys, such as the Green Toys Multi-Color Block Set is just plain smart.
The blocks are colorful and eye catching for baby, but made with safe materials that won't cause harm (even if chewed).
For babies who like soft, plush toys, the Organic Farm Buddies Boxer the Dog Plush is hypoallergenic and chemical-free plush toy that is cuddly and safe for your little one.
And for mobile babies who are developing sensory skills, the Wooden Nursing Play Gym is BPA-free, non-toxic, and helps with early motor skills.


Eco-Moms Rejoice! Safe, Eco-Friendly, Natural Baby Products Are Within Reach
Use this list of safe and natural baby products in good health, eco-moms! Hopefully it will save you some time and hair pulling as you endlessly compare which bottle is best or which diaper cream is the safest and most effective.
What are your favorite natural baby products? Do you want to see more eco-mom guides (say on clothing or bedding or foods)? Please let us know in the comments below – we love hearing from you!
This article has been read 1K+ times. Feelin' the love!