Practice This Prenatal Yoga Class to Relax Your Body and Connect With Your Baby (Free 30-Minute Video)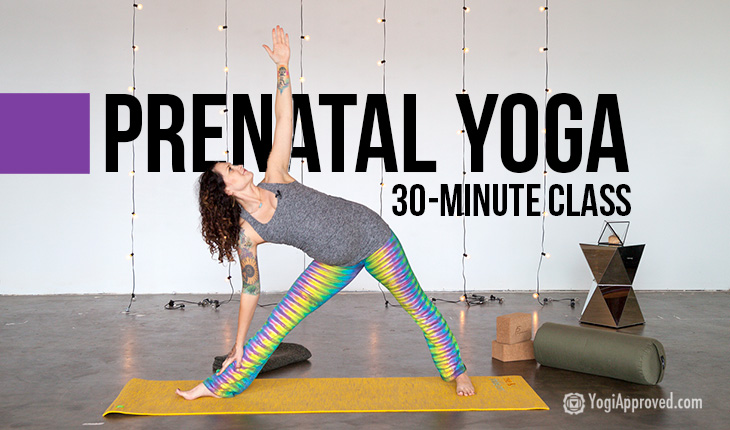 Yoga can really help ease the body during pregnancy. Yet throughout your pregnancy, your typical yoga practice should become more gentle, mindful, and centered on creating safe, healthy movement that benefits both you and your baby.
Join YouAligned teacher Carrie Varela in this soothing Prenatal Yoga flow to help relax your body, calm your mind, and connect with your baby. Be sure to check out the general tips below for keeping your yoga practice safe throughout your pregnancy.


Here's Your 30-Minute Relaxing Prenatal Yoga Flow Class:
Never miss a FREE class. SUBSCRIBE HERE
Tips to Keep Your Prenatal Yoga Practice Safe and Effective:
With Prenatal Yoga, it's encouraged that you use as many yoga props as possible. Yoga should be relaxing, especially when you're pregnant. For this video, we recommend a blanket, yoga block, and bolster. If you don't have a block or bolster handy, you can substitute a book or water bottle for the block and a pillow for the bolster.
As a general rule when you're pregnant, it's best to avoid the following things in your yoga practice:
Yoga poses on your stomach
Supine poses (flat on your back)
Deep backbend poses
Poses or movements that contract the abdomen
Holding poses for longer than 5-10 breaths
Deep twists that compress the abdominal area
Deep forward bends or hip openers
Advanced Pranayama (or deep breathing exercises)

Looking for more yoga tutorials and yoga tips? Check out our full library of Yoga articles here

These are general safety tips but be sure to discuss with your experienced Prenatal Yoga teacher and doctor to be sure your practice is safe and effective for you and your body's particular needs.
If you're interested in learning modifications for common poses during pregnancy, check out these 6 Prenatal Yoga Pose Modifications for Pregnancy


Incorporate Prenatal Yoga Into Your Wellness Routine Throughout Your Pregnancy
This is an amazing yoga flow to relax the body and cultivate a sense of peace and calm for mind, body, and baby. Feel free to revisit this video throughout your pregnancy and always remember to take time for yourself, mommas!
The best thing you can do for yourself and your baby is take care of yourself and commit to a daily self-care practice, and Prenatal Yoga is a great place to start! Namaste!
Ease Your Pregnancy with These 7 Relaxing Prenatal Yoga Poses


Want a Full Prenatal Program for All Trimesters?
Take a class from this prenatal program with 500-RYT YA Classes teacher Jess Rose. Not yet a YA classes member? Try it out for free for 14 days.
Yoga Program
With Jess Rose
All Levels
This article and all included information is not intended as medical advice and does not treat or diagnose. Please consult your doctor for any health-related questions or concerns before practicing these poses.

This article has been read 5K+ times. Feelin' the love!

YouAligned is an online yoga, health and wellness publication for your life on and off the mat. We are here to help you live happier, healthier, more fulfilled lives. Yoga is our passion. Your healthy lifestyle is our obsession!