Keep Your Home Non-Toxic With These 6 DIY Natural Cleaning Product Recipes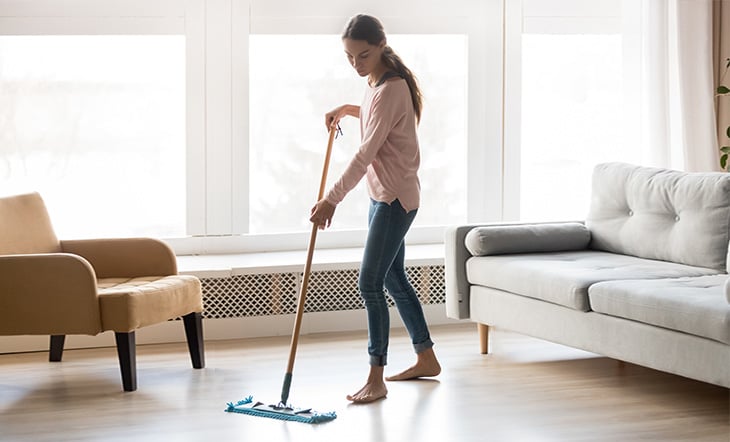 Not to sound dramatic, but it's a minefield out there. From shampoos to household cleaners to the mascara we put on our eyelashes and the color we put on our lips, many of our common products and self-care items are full of chemicals and known toxins.
Don't stop the natural trend with just your cleaning products: Ditch the Dirty Dozen! Beware of These 12 Toxic Chemicals Lurking in Your Beauty Products
We all do our best to avoid what we can and replace toxins with more natural alternatives. But it seems like every day there's a new "use this, not that!" article or ingredient to avoid. It's enough to make you want to just give up.
After all, who has the time or money to do a total product overhaul every few months? Not us.
But fear not! Because even with known carcinogens and toxins hiding in plain sight in many of our household cleaners and products, you're definitely able to avoid most of them with a few simple (and cheap) swaps.


Make Your Own All-Natural Cleaning Products
Instead of using the chemical-heavy store-bought brands, make your own non-toxic all-natural cleaning products! It's simple and easy and will immediately weed out many of the worst chemicals you'd normally be exposing yourself to.
Take a common kitchen cleaner, for example. Most contain fragrance, a "catch-all" term used in many products. Strong evidence shows that fragrance is a known human carcinogen.
Toilet bowl cleaners and many bathroom and kitchen products contain bleach, which can irritate the eyes, skin, nose, and throat, cause dermatitis from direct contact, or even esophageal injury and stomach damage.




Common laundry detergents can cause asthma over time with large exposure, and are to blame for many accidental poisonings each year.
Um, no thank you! Things meant to clean and improve our homes have no business being so dirty.


Here Are 6 Natural Cleaning Recipes to Make Your Own All-Natural Cleaning Products:
You can totally have a sparkling clean home and also minimize the toxins in your environment. Clean and natural are not mutually exclusive! Take matters into your own hands and create your own all-natural cleaning products.
Use these six natural cleaning recipes to take care of the bulk of your cleaning needs, not at the expense of your health, your body, or your peace of mind.

1. All-Purpose Kitchen and Bathroom Cleaner
I keep this one mixed up in old spray bottles and on hand at all times.
Zero-waste tip: once you use up your current cleaning spray, rinse and reuse the old bottles!
Ingredients:
Water
White vinegar
Essential oils of choice (like lemongrass or orange)

Preparation:
Combine and shake up equal parts vinegar and water in a spray bottle and add a few drops of your favorite fresh-smelling oil. Spray on any surface you want to disinfect and clean with a sponge or rag.

2. Daily Bathroom Tile Cleaner
Especially if you live in a humid environment, regular cleaning of the tiles in the tub and around the sink is crucial to keep mildew and mold out of the bathroom.
Ingredients:
1 ⅔ cup baking soda
½ cup vegetable oil-based liquid soap
½ cup water
2 tablespoons vinegar

Preparation:
Combine all ingredients in a spray bottle or jar. Shake before using, and clean surfaces with a sponge or cloth.

3. Already-Moldy or Mildewed Bathroom Tile Cleaner
While TV ads for cleaners might have you thinking only the toughest solutions and bleach will do the trick, try this for yourself and see how false that is!
Ingredients:
½ cup borax
½ cup vinegar

Preparation:
Combine both into a paste and smear onto tile. Let sit for an hour or more if needed, and scrub off with a brush.

4. Toilet Bowl Cleaner
While nobody's favorite chore is cleaning toilet bowls, using all-natural cleaning products that won't cause you harm does make the job a lot more tolerable.
Ingredients:
1 cup baking soda
1 cup white vinegar

Preparation:
Dump baking soda into the toilet and let it soak for at least an hour. Pour in the cup of white vinegar. Leave for five minutes and flush.


5. Mop Solution for Floors
This is actually a two-for-one in that you can also easily use it from a spray bottle as a multipurpose surface cleaner in the kitchen or bathroom. But it's also a great, super cheap mop solution.
Ingredients:
Citrus peels (enough to fill a jar)
White vinegar (enough to fill the remainder of the jar)

Preparation:
Fill your jar with the peels and pour the vinegar over them. Let it sit for a few days (or up to two weeks) and strain out the vinegar. Dilute down with water in a bucket for mopping floors (or to clean windows or disinfect surfaces).

6. Natural Air Freshener
Now that you've got your house all sparkly clean, why would you want to puff out a whole other boatload of toxins into the air? Especially ones that are designed especially to be breathed in!?
Not to call any brands out, but nothing makes us glad about that idea! Instead, you probably already have on hand everything you need to make a delicious air freshener that your lungs will enjoy as much as your nose.
Ingredients:
Water
Cinnamon sticks
1 teaspoon baking soda
Cloves
Citrus peels
10 drops of essential oil of choice

Preparation:
Add water to a small or medium saucepan and add your spices and oils of choice. You can customize this endlessly depending on the season or scent you're going for. Let simmer on low heat and stir in a teaspoon of baking soda. The smell will continue to permeate the house as it simmers.


Use These Natural Cleaning Recipes to Keep Your Home Clean, Natural, and Most Importantly, Safe
Armed with these natural cleaning recipes, you can get your spring cleaning on . . . and both your home and the planet will thank you for it.
What are your favorite all-natural cleaning products? Do you have natural cleaning recipes that you love? Let us know in the comments below!
This article has been read 959 times. Share it and spread the love!