You Will Love This Warm, Nourishing Fall Harvest Salad Recipe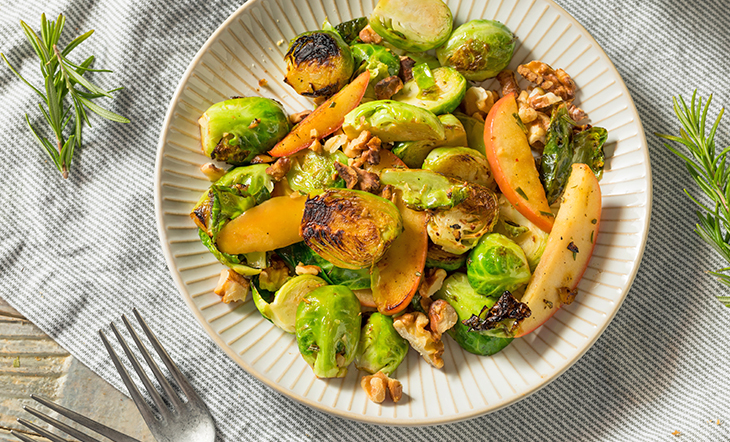 When you think of a fall food harvest, what do you envision? This fall harvest salad recipe is the epitome of fall with its roasted apples which pair nicely with Brussels sprouts, hearty wheat berries, toasted nuts, and cranberries.
When the warm Brussels sprouts and wheat berries are placed on a bed of peppery arugula and drizzled with balsamic, this harvest salad recipe really hits the spot. As the seasons change and temperatures drop, our bodies naturally crave (and are best nourished by) warm, hearty dishes with plenty of in-season vegetables.
Although we typically think of hearty, carb-heavy foods to enjoy in the fall, harvest salad recipes are equally as delicious and can be substantially more nutritious. This salad recipe packs a big punch of flavor, protein, and nutrients so you finish feeling satiated – and you'll definitely be craving this salad again soon!
Read on to learn how to make it!


Sweet and Savory, Hearty Fall Harvest Salad Recipe
Serves 4 as a main meal or 6 as a side dish

Ingredients:
For the Salad
½ cup wheat berries
1 ½ lbs. Brussels sprouts
4 medium apples (tart Granny Smith work nicely)
1 tablespoon olive oil
½ cup chopped walnuts
¼ cup dried cranberries
8 cups baby arugula
Salt and pepper
For the Vinaigrette
¼ cup extra virgin olive oil
3 tablespoons balsamic vinegar
½ teaspoon dried basil
1 teaspoon maple syrup
1 teaspoon dijon mustard
¼ teaspoon sea salt
Pinch of freshly ground black pepper
Craving more hearty salad recipes? Try this Healthy, Tangy Winter Root Veggie Salad Recipe (Gluten Free, Vegan)

Preparation
Preheat oven to 400 degrees. Cook wheat berries according to package instructions, and then set aside to cool.
While the wheat berries are cooking, trim the ends of your Brussels sprouts and cut them in half through the stem end.
Peel and core the apples and then cut into one-inch cubes. Place on a cookie sheet and drizzle with olive oil and sprinkle with salt and pepper. Toss gently to coat. Place in the oven for 15 to 20 minutes or until Brussels sprouts are just tender and have begun to caramelize. Remove from the oven and set aside to cool.




Heat a small sauté pan over medium high heat. Add the walnuts and cook for four minutes, stirring occasionally so they don't burn. Remove from the heat and set aside to cool.
To prepare the vinaigrette, add all the ingredients to a small bowl and whisk to combine. Season to taste with salt and pepper.
Divide arugula among four bowls and top with Brussels sprouts, apples, wheat berries, walnuts, and cranberries. Drizzle each bowl with the dressing. Serve immediately.
Pro Tip: If you have access to different balsamic dressing flavors, feel free to play around. Fig pairs amazingly with these fall flavors.


The Nutritional Benefits of Eating This Fall Harvest Salad
Eating in season is good for many reasons. It reduces the carbon footprint of the foods we eat. It helps us get in-tune with the time of year, and acts as a simple ritual for acknowledging and celebrating the seasons.
Arugula, this harvest salad recipe's base, is a flavorful leafy green from the superfood family. Brussels sprouts – a hearty addition to any salad – are high in vitamins, minerals, fiber, and antioxidants. The amount of Brussels sprouts in this salad equates to approximately 23 grams of protein!
The old saying, "An apple a day keeps the doctor away" may be due to their long list of health benefits.
Apples are linked to gut health and offer a big dose of Vitamin C and fiber. This also means that eating apples regularly supports a healthy immune system. The pectin, a good-for-you prebiotic, feeds the good bacteria in your gut, which is why apples support health digestion. Plus their soluble fiber makes apples a diabetic-friendly fruit.
Cranberries are another superfood this harvest salad recipe boasts, and they're responsible for bringing a subtle sweetness to the salad. The tart-yet-sweet dried cranberries help balance out the balsamic vinegar and arugula flavors, and adds a dimension in flavor and texture.
Walnuts pack a great little pop of protein to the salad. Four ounces of walnuts equates to approximately 16 grams of protein. Combine the walnuts with the Brussels sprouts, and this harvest salad offers a good serving of protein!
If you haven't heard of wheat berries, you are not alone! This lesser-known food packs a big nutritional punch. Wheat berries contain the bran, germ and endosperm from the intact wheat kernel. They are high in fiber, protein and nutrients. They can help regulate blood sugar levels, promote healthy digestion, and keep you regular.


Savor Your Delicious and Nutritious Fall Harvest Salad
Use this and other salad recipes as inspiration. Diced, roasted winter squash, sweet potato, or baked potato pair wonderfully with these flavors if you want added heartiness. If you don't have access to wheat berries or want to substitute them for something else, try farro, couscous, quinoa or other hearty grains.
In place of or in addition to cranberries, you can also try sliced pears, dried cherries, fresh pomegranate seeds, or diced grapes. Perhaps you want to experiment with adding more warm vegetables, like roasted corn or artichoke heart. If you're looking for added texture, chop up cucumber or sprinkle sunflower seeds on top.
If you truly cook with love and enthusiasm, it can't help but show in your food. Whether you are just starting out or have been cooking for years, experiment in the kitchen and enjoy the process! Don't be afraid to try new combinations. Hopefully this recipe gave you inspiration to try a few new flavors or ingredients.
And if you didn't like something from this list, substitute it for a different ingredient that you prefer or have readily available. The best part about most salad recipes is that they are simple, straightforward, and the perfect type of recipe to experiment with! Have fun with each step and enjoy the final product.
Did you make this salad recipe at home? Do you have another favorite fall recipe to share? Please tell us in the comments below – we love hearing from you!
This article has been read 210 times. Share it and spread the love!