Kale Caesar Salad With Spicy Chickpeas (Easy Vegan Recipe)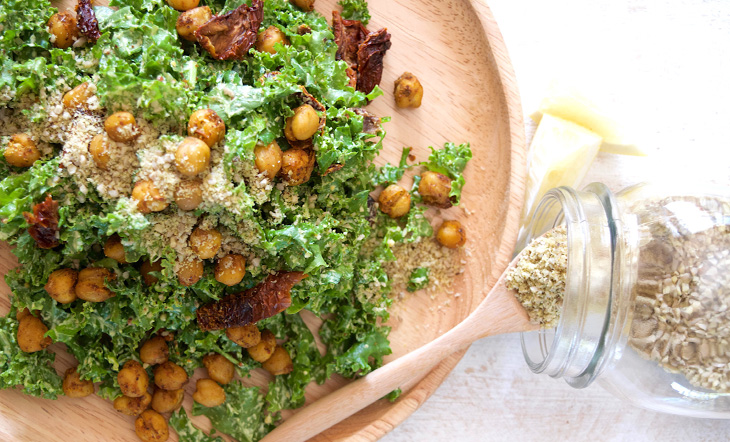 Caesar salads are flavorful, delicious, and one of those unique dishes that you crave.
Yet a traditional Caesar salad recipe includes anchovies, along with eggs and cheese. Because of these ingredients, Caesar salads are typically high in fat, sodium, and calories compared to most other salads.

This recipe is anything but boring, and packed with nutritious ingredients that will have you asking for seconds . . . and thirds.

Enter this delicious – and much healthier – Caesar salad recipe. While you don't have to be vegan to enjoy this salad, it is a vegan recipe, making it suitable for virtually anyone at your table.
The best part is, this recipe is anything but boring, and packed with nutritious ingredients that will have you asking for seconds . . . and thirds.
This is one of those meals that just feels good inside your body. It's delicious, quick to prepare and is full of goodness.




Ready to make this Caesar salad recipe for yourself?! Read on to learn how!


Here's How to Make Your New Favorite Vegan Caesar Salad Recipe:
Ingredients:
Start by preparing your spicy chickpeas. (Also note that you'll need to soak your cashews for 2-4 hours before preparing the dressing below.)
Sumac Chickpeas:
1 cup cooked chickpeas – drained and rinsed
½ tsp. salt
1 tsp. smoked paprika
1 tsp. sumac spice
1 tsp. olive oil
⅛ tsp. Cayenne pepper
Place all of the ingredients in a bowl and mix well to coat the chickpeas. Place in the oven at 180 degrees for 15-20 minutes, then remove and allow to cool.
Vegan Parmesan:
¾ cup sunflower seeds
2 Tbsp. walnuts
1 Tbsp. nutritional yeast
½ tsp. salt
¼ tsp. turmeric powder
Blitz all the ingredients in a blender or food processor until it resembles a parmesan cheese consistency. Do not overblend, as it will become a paste! Pour into a sealed glass jar and place in the fridge.
Caesar Dressing:
1 ½ cups cashews – soaked for 2-4 hours
¾ cup filtered water
2 Tbsp. lemon juice
1 tsp. salt
⅛ tsp. nutmeg
⅛ tsp. black pepper
1 Tbsp. nutritional yeast
1 Tbsp. light miso
½ tsp. turmeric powder
1 tsp. wholegrain mustard
Blend everything in a high speed blender or food processor until smooth and creamy. Pour into a glass jar and keep in the fridge until ready to serve.




Caesar Salad:
2 cups finely chopped kale leaves
¼ cup sundried tomatoes – finely sliced
2 Tbsp. vegan nut parmesan
¼ cup Caesar dressing
1 cup sumac chickpeas
How to Prepare and Serve Your Vegan Caesar Salad:
Place the chopped kale and sundried tomatoes in a large bowl. Add a quarter cup of the Caesar dressing and mix well to combine.
On two plates or bowls, evenly distribute the kale mixture and then top with sumac chickpeas and a good sprinkle of the vegan nut parmesan.
Pro tip: The vegan Caesar dressing makes extra and it's fabulous on any kind of salad, or also on steamed potatoes or greens.
I also like to keep a batch of the vegan nut parmesan in the fridge for sprinkling on pasta or salads for extra flavor and an extra hit of protein and B vitamins which is important in a plant-based diet.
These 5 Vegan Foods Are High In Protein and Should Be In Your Plant-Based Diet


Voila! Enjoy Your New Favorite Caesar Salad Recipe
This vegan Caesar salad is easy to whip up, and a great lunch or dinner option when you're craving a classic dish but with a healthier, lighter twist.
We love this vegan recipe for its versatile spin on the original salad, and also for its robust flavors. But don't take our word for it. The next time you want to experiment in the kitchen, make this delicious and nourishing Caesar salad recipe and see for yourself!
Did you try this vegan Caesar salad? Have a different vegan recipe you love and want to share? Please tell us in the comments below – we love hearing from you!
This article has been read 307 times. Share it and spread the love!