Vegan Dark Chocolate Avocado Mousse Recipe
It seems that everyone has fallen for avocados. They're on everything! Who doesn't love avocado on toast or in smoothies and sandwiches, and of course guacamole. Loaded with healthy fats, protein and fiber, avocados are a fantastic snack or addition to any meal.

You can even eat them plain with just some sea salt and ground pepper. Mmmm!

But have you tried avocados in your dessert? Yes, paired with dark chocolate and natural sweeteners, you can whip up a creamy avocado mousse that will wow any chocolate lover.

Ingredients:
1 ripe banana
1 ½ ripe avocados
¼ cup almond milk
3 tbsp. cocoa powder (substitute 1 tbsp. raw cacao powder for 1 tbsp of cocoa for added nutrients)
¼ cup agave nectar or maple syrup
¼ tsp. cinnamon
4oz. dark baking chocolate (70% or higher)
Optional: ½ tsp. vanilla extract
Mousse Directions:
Melt dark chocolate in a double broiler or in microwave.

Then, add all ingredients to a food processor. Blend for about two minutes in intervals of 30 seconds or until smooth, scraping the sides along the way.

Set aside in the refrigerator to chill for about an hour before serving. Top with coconut whipped cream, chocolate shavings and fresh berries.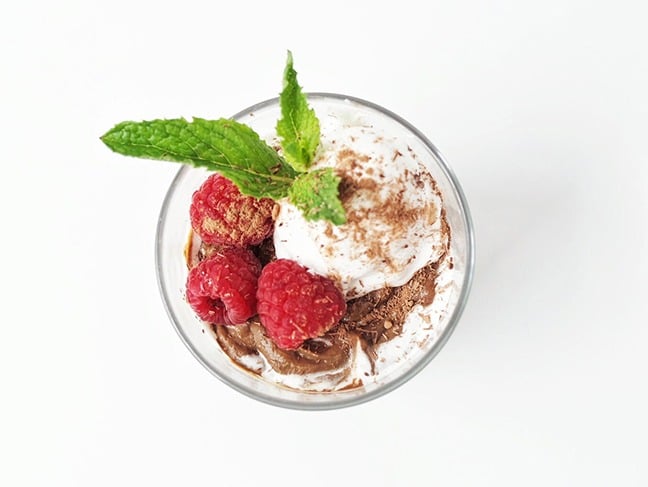 Coconut Whipped Cream
Light, airy and flavorful, this coconut whipped topping pairs perfectly with the chocolate avocado mousse, or you can use it as a decadent addition to waffles, dairy-free ice cream or fruit smoothies.

Ingredients:
1 can full fat coconut milk (must be full fat!)
3 tbsp. powdered sugar
1 tsp. vanilla extract
Coconut Whipped Topping Directions:
Place a can of coconut milk in the refrigerator overnight, allowing the coconut cream to separate from the water. When ready, remove the top of the can and use a spoon to carefully separate the cream from the water. The cream will be at the top of the can.

Add the cream to a mixing bowl (pro tip: chill the mixing bowl beforehand for better results). Using the whisk attachment, beat the coconut cream on medium speed for 2-3 minutes, until small peaks form. Add sugar and vanilla and mix until incorporated.


Serve Immediately
Whipped coconut cream can be placed in the fridge in an airtight container for a few days prior, but it may require mixing again to reach your desired consistency.

Enjoy this delicious dessert and all of the the hidden nutritional benefits!

This article has been read 1K+ times. Feelin' the love!