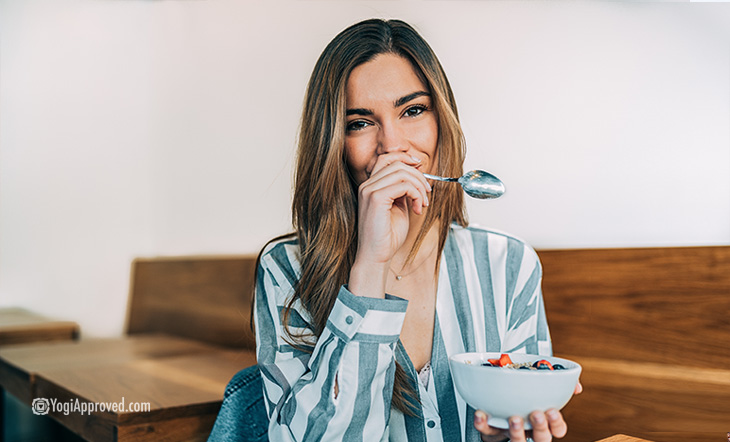 These 5 Vegan Foods Are High In Protein and Should Be In Your Plant-Based Diet
"But where do you get your protein?!" It's become almost the rallying cry, albeit the tongue-in-cheek one, for the vegan, plant based lifestyle.
Though it's a phrase most vegans roll their eyes at and use in jest on sarcastic T-shirts and hashtags, the question is a valid one for newcomers to a plant based, vegan lifestyle.
Worrying about how to get enough high protein foods when adhering to a vegan diet is a common concern. We've all been brought up to believe that in order to grow big and strong, you have to drink your milk. And beef: it's what's for dinner.
When ditching animal protein like chicken, fish, eggs, and dairy, and going completely plant based, it obviously becomes necessary to look to other sources for protein.

It's no exaggeration to say that high protein foods are essential.

And make no mistake of it, though we may be a little overly obsessed with high protein foods as a whole, the macronutrient is still a vital one. Protein is key for energy levels, feeling full, muscle growth and maintenance, and it is the building block for hair, bones, tissue, and skin.
Certainly, it's no exaggeration to say that high protein foods are essential. Where the confusion comes in is the assumption that animal sources are the only way to get protein. In fact, it's quite the opposite!
The simple response to the protein question is that every plant contains some level of protein. This means that, as a vegan, it's still 100% possible to get not just enough, but way more than ample amounts of protein.


Here Are 5 High Protein Foods That Are 100% Plant Based and Vegan:
So if you're switching to a vegan diet or simply looking for protein alternatives, let's talk about how to get ample protein from these five superstar, plant based protein sources.

1. Pea Protein
Pea protein is honestly the next star of the vegan foodie scene – we're calling it now.
Though most old-school, plant based, high protein foods usually hail from soy or gluten origins (such as tofu or most processed faux "meats"), protein from peas is completely soy and gluten-free. This makes it ideal for those with sensitivities, and simply gives us all a way to switch things up.
Pea protein is showing up on shelves in a variety of foods lately, but in its most basic form, you can grab a tub of it straight-up as protein powder. You can find this at many grocery and health food stores or online.


2. Vital Wheat Gluten (VWG)
If you're looking to get the most bang for your buck, vital wheat gluten is one of the basics that can add some extra (protein-y) oomph to just about any baked good or dish.
What is VWG? Simply put, it's the straight protein derived from wheat berries, and is 75 to 80% pure protein.
Since it's not as flashy or trendy as many other plant based, vegan high protein foods, you may have overlooked it hiding on a grocery store shelf. So keep your eyes peeled for it in bagged form (like flour) often in the baking aisle or order some online.
You can use VWG in baking – such as in pancakes, in a bowl of oatmeal, or as the base ingredient for homemade seitan. VWG has a magic elasticity to it, so a small bit goes a long way, both for texture and protein content.

3. Enhanced Milks
Walk into any grocery store and you'll notice the vegan milk game is strong these days. In most cases, the non-dairy milk section rivals or even overtakes the dairy milk section of the aisle – so options are plentiful.
If protein is your endgame, a few options are your best bets. Namely soy milk, the old-school classic, packs the most protein punch. But also protein-enriched milks are getting easier to find and are also high in plant based protein.
Pour these into your oatmeal, over granola, as a smoothie base, or use in baking.
Think it's too expensive to eat vegan? Think again: Calling All Vegan College Students! Use These 4 Hacks to Save Money on a Vegan Diet

4. Tempeh
We've all heard of tofu . . . but consider tempeh – tofu's funkier, slightly more edgy cousin.
Made from similar sources, tempeh is still soy-based and much like tofu, made by fermenting soybeans.
Unlike tofu, though, which is sold submerged in water and in silken to extra-firm varieties, tempeh is always sold in flat, firm pieces. It has a firmer, chewier, and drier texture to it. It also has more of a taste on its own than tofu, and more protein – around 15 grams in a half cup serving!
We recommend you cook it up with BBQ sauce, flavor it with taco seasoning, and use it in Mexican dishes or as part of a breakfast scramble.
Pro tip: tempeh can have a bitter bite to it if not cooked correctly, so sauté it in plenty of water. The liquid will be soaked up and softens the taste of the tempeh.

5. Lupini Beans
Popular in Mediterranean and Latin American regions, we predict this little bean will be blowing up all around the globe soon thanks to its seriously impressive nutritional breakdown.
Lupini beans are just pale yellow, flat, large legumes (AKA beans), that the Roman warriors called a "miracle bean" and ate to stay fueled up for long campaigns.
In a sense, we saved the best for last on this list, since technically lupini beans have the most protein per calorie of any plant on Earth! Seriously, when compared to protein grams per 100 calories, lupini beans clock in at about two times that of soybeans.
You can eat 'em plain, on salads, or in any dish you'd use beans in.


Yes, You Can Get Your High Protein Foods From Plant Based, Vegan Sources!
Next time you hear that impossible-to-avoid question, "But where do you get your protein?," you'll have five ready-to-go responses! No milk, eggs, or animal protein necessary.
With all the options out there, worrying about protein is so last decade. Whether you do it for the animals, your health, or the health of the planet, eating vegan has never been easier or more delicious – and it certainly includes high protein foods too!
Want to learn more about how to stay healthy on a plant based vegan diet? Here's How To Stay Healthy on a Vegan Diet
Our Recommended Protein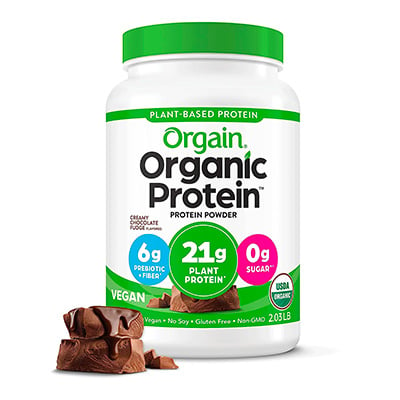 Orgain Organic Vegan Protein Powder
Orgain is Amazon's top selling protein and hundreds of thousands of reviewers agree that it's a high-quality, healthy protein option with an affordable price tag. We've tested it for ourselves and here at YouAligned, it's our go-to protein. Here's what we love most about this Orgain Organic Protein:
21 grams of clean, plant-based organic protein per serving
Non-dairy
No sugar added
Soy- and gluten-free, and with
50 added superfoods (kale, chia, beets, turmeric) and prebiotics with fiber.
That's why Orgain protein is our protein recommendation!
SHOP THIS PROTEIN
This article has been read 9K+ times. Feelin' the love!