Product Review: Juil's Hawa Flat for Grounding & Centering Your Body & Mind
A few weeks ago, I took a chakra balance test and found that my root chakra is imbalanced. The root chakra is located at the base of your spine and it is your survival center in your body. Your root chakra establishes your connection to your physical body, your environment and the physical earth. It is associated with the colors red, brown and black, so I have been carrying around red jasper and hematite stones in an attempt to realign my root chakra.
In my research to realign my root chakra, I came across the shoe brand Juil that offers a variety of shoes that connect your body to the earth, a phenomenon known as earthing or grounding.
The earth is essentially a giant magnet with an endless supply of electrons, which through the connection, cleanses your body of stress and toxins and absorbs, neutralizes and releases free radicals (and inflammation) from your body. As opposed to other shoes with a rubber or plastic sole that insulates your body from connecting to the earth, Juil's shoes feature copper dots that act as a conduit to allow you to remain connected to the earth (so cool!!). When you walk on any natural surface (sand, grass and dirt) with your Juils, your body absorbs the electrons it needs.
Earthing offers a variety of key benefits:
Same calming effect as walking barefoot
Stabilize free radicals and help to decrease the buildup of inflammation
Reduces the levels of cortisol, a primary source of psychological and physical stress, to help you sleep better
Neutralize disease-causing free radicals, providing you with a natural ailment-fighting antioxidant
Improve your body's response to travel and jet lag by stabilizing your body's frequency

Style: Juil offers a variety of footwear styles, ranging from cute flats and sandals to loafers and boots in browns, blacks, blues, pinks, metallics and many colors in between. Juil was kind enough to send me their Hawa style, a simple and chic ballet flat. The shoes look like just any other shoe, so no one needs to know that I'm grounding my body while wearing them, unless I want them to know.
Functionality: The shoes are comfortable and they easily transition from the office to the yoga studio to a night out. The elastic strap keeps the shoe on my foot securely, and it is soft and does not rub or cause irritation to my foot. I am typically electrically charged and often shock myself when reaching for light switches and other electronic devices, but I have found that when I wear the shoes at home or at the office, I no longer get shocked due to the copper dots in the soles. I also know that I feel more calm and at ease with myself when wearing the shoes—I'm happier when I wear them than when I do not.
Durability: The shoes are made with supple and durable, high-quality leather and an elastic collar that keeps the shoe securely on your foot.
Value: The Hawa style costs $115. For a high-quality shoe that also has a beneficial grounding feature, these shoes are a great investment.
I love my Juil ballet flats! I love the grounding benefits of the copper and the quality and comfort of the shoes so much that I am already searching their website for a great summer sandal. These are most definitely Yogi Approved!
The Verdict – They're Great!
Cost: $115 (Worth it)
Style: 10
Functionality: 10
Durability: 10
Fit: A bit large—I had to size down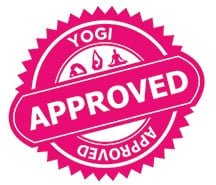 This article has been read 592 times. Share it and spread the love!