6 of the Best Men's Yoga Shorts Compared and Tested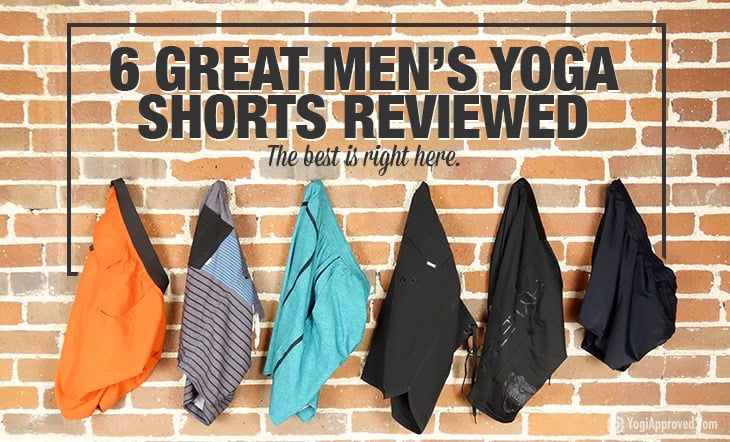 Dylan Werner said it best: "Men's yoga clothing is the worst."

Let's face it. When it comes to yoga attire, dudes don't have the same wealth of choices as our female yogi counterparts. We have to work a bit harder to find that ideal yoga short. Sure, we don't have as many options to choose from, which means less time searching, right? Well, yes and no. Less options means less variety, and if you're anything like me, that lack of variety can be really limiting. This is why most of us just end up rocking boardshorts on the mat and at the gym.

This lack of men's yoga clothing probably has something to do with the size of the men's yoga market. With women averaging 70% of the yoga demographic, we just don't warrant the same attention that the ladies do. But we're here and we aren't going anywhere, so aren't we entitled to yoga attire that looks and feels great on?

We all have different wants and preferences in what we wear during our time on the yoga mat. Some guys want full coverage, full support, and basically full comfort. Others are concerned with the style, or functionality, or the price tag. Bottom line, us gents have specific standards in mind when we shop for yoga shorts, so I'm here to present 6 men's yoga shorts from 6 diverse brands with the hope that there's a little something for every yogi dude reading this.

All of these yoga shorts for men are worth the coin and in one way or another live up to the title of a YouAligned™ product. We tested dozens of products. Here are the ones that made the cut:


1. PrAna Mojo Short
PrAna has always been known for superior quality. These shorts uphold the brand's reputation of versatility, functionality and quality. Here are some of the PrAna Mojo short's main features:

-Mesh pockets
-Quick drying
-Thick, well-made elastic band
-No stretch
-Lots of colorways
-Lifetime guarantee
-Made from recycled polyester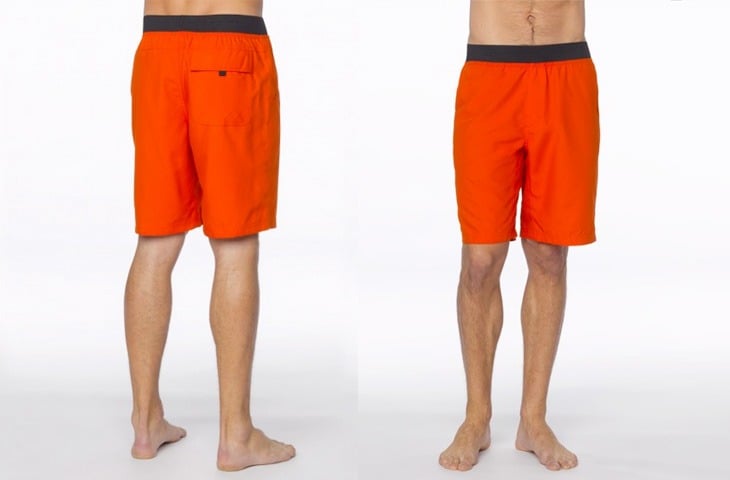 What I like:
PrAna made these shorts to be straight and to the point. The quality of fabric is very high. You can tell these things will hold up after some abuse. If you are a climber as well as a yogi, these shorts certainly work for both. The mesh pockets mean you can take these for a dip, so surfers and SUPers welcome.

What I don't love:
There is no drawstring, so if the elastic ever gives way, you are sh*t out of luck. But I guess that's what the lifetime guarantee is for. There you have it – these shorts are killer.

The Verdict:
Simple, functional and durable. Sounds like a good option to me. With a lifetime warranty and 100+ stellar reviews on Prana.com, the $50 price tag seems like a worthwhile investment. And it is.

You can shop them here at Prana.com


2. Lululemon Pace Breaker
Lululemon is a trendsetter and pacemaker in both the men's and women's yoga clothing world. These shorts live up to their label's reputation. One of my personal favorites of this list, these shorts are well-made with great style. Features:

-Modern cut
-Mesh insert up the side for superior breathability
-Very light weight
-Built-in compression shorts fit very nicely
-Good amount of stretch
-Drawstring
-Deep side pockets
-Hidden zipper pocket
-Variety of colorways are available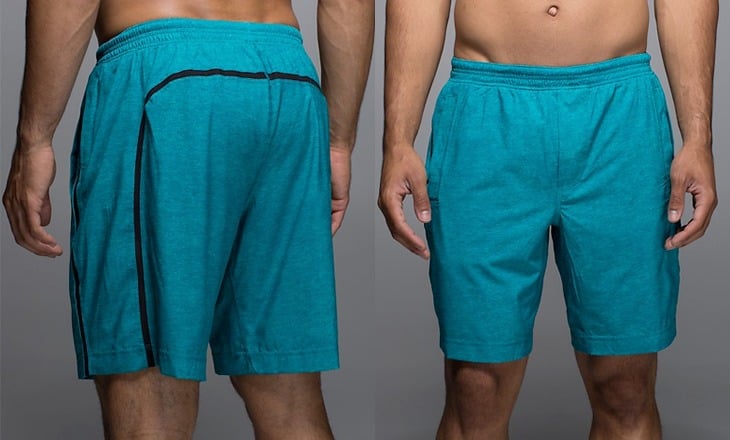 What I like:
In the men's yoga clothing world, Lululemon does things right. The prices are certainly steep, but the quality backs it up. My favorite thing about the Pace Breaker Shorts is that they are an on and off the mat short. You can wear them to yoga, during yoga, and to the gym or store afterward. The pockets are deep so your phone doesn't fall out when you get in the car, and the secret zipper pocket is ideal for credit cards and keys. The length of the shorts falls just above the knee. These shorts are the perfect amount of stretchy, with great colorway options. All around great shorts.

What I don't love:
Mesh pockets would have been a nice feature for that unplanned dip in the ocean or pool after a workout.
Many reviewers on the Lulu website seem to have an issue with the liner, but I have to say I had no issues with the liner whatsoever. Maybe Lululemon took notice and fixed the issue. These shorts do come without the liner for $10 less; so if you don't like inner liners, then go with that option.

The verdict:
If you are okay with rocking Lulu (some people find it a little hoity), these are awesome shorts. At $65, they are a bit pricey, but definitely worth it.

You can shop them here at Lululemon.com


3. Harvest Orion Boardshort
Harvest Activewear is a company that uses primarily organic materials to produce environmentally friendly clothing. Here are the Orion Boardshort's features:

-Slight stretch
-Quick drying
-Made from recycled, low-impact materials
-Velcro butt pocket
-No liner
-High quality feel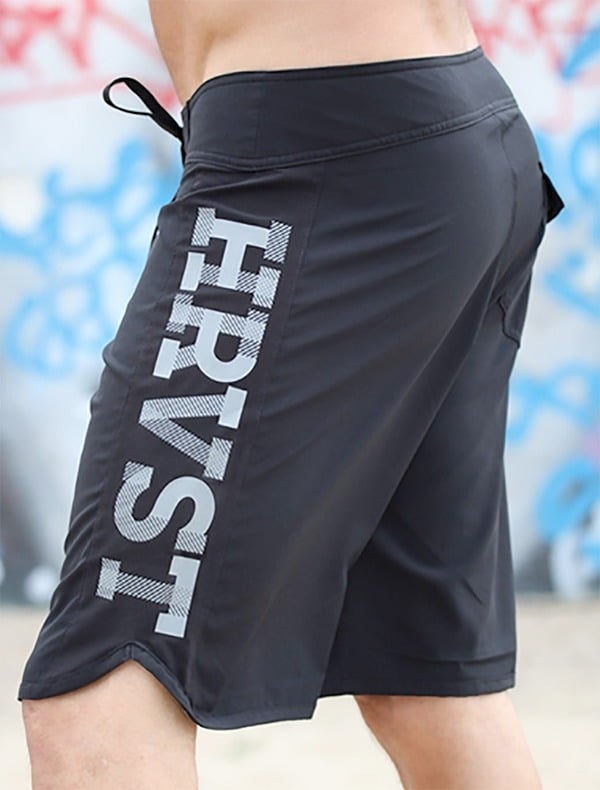 What I like:
These shorts are lightweight and ready for a workout. A slight outward taper to the legs paired with the 1" side cutout makes the shorts perform shorter than they are, giving you longer coverage without fabric bunching when you move. The Orion shorts cover your upper leg without catching or bunching in Warrior, Pigeon and other poses that require your shorts to perform. The slight stretch is dialed in: not too stretchy to where it feels like spandex, but not so rigid you worry about ripping the seams.

What I don't love:
I'm not big on rocking brand names on my clothing. The one downside to these shorts is that the Harvest logo down the side is fairly large. I would have preferred a small logo on the leg or back pocket like the rest of the shorts in this list. There are also no side pockets for keys, wallet etc. While there is a back pocket, the Velcro size is a bit small, and I would've liked a bit more of it to feel like my belongings are secure.

The Verdict:
Great short for hot yoga or any yoga where you know you're going to get sweaty. While these are more of a high-performance board short, they work perfectly well for yoga. The seams are strong and the fabric is fantastic. At $59, the value is there. And there is always the fact that they are made sustainably.

You can shop them here at HarvestActive.com

4. Onnit Hylete Onnit Cross-Training Shorts 2.0
From workout supplements and gear, to deodorant and coffee, Onnit is an active lifestyle brand backed by Olympic gold medalists, NFL players, and even Joe Rogan. These are their only men's shorts. I guess that means they must be good.

Let's see what all the fuss is about:
-Made and designed by Hylete, a well known activewear brand
-Super stretchy
-Moister wicking
-2-year guarantee
-Quick drying (great for hot yoga)
-Two zipper side pockets
-No liner
-Drawstring that can be either inside or outside of the pants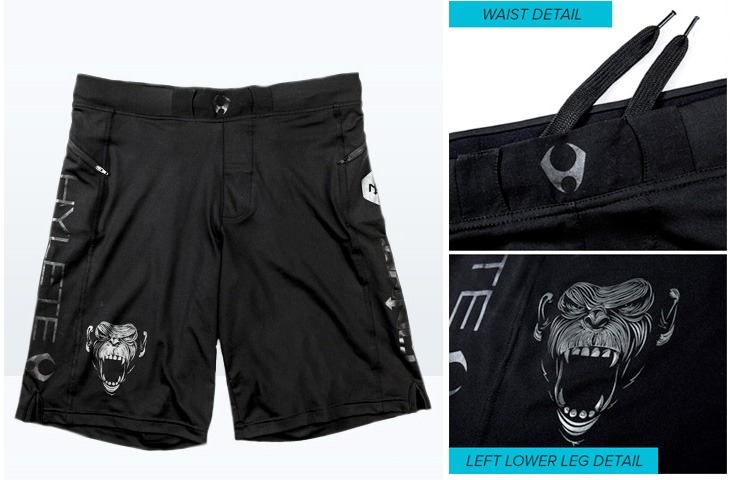 What I like:
Hylete is known for making top-of-the-line workout gear. Onnit was on it (see what I did there?) when they chose Hylete to partner with to produce a great performance short. I like that they stand behind the product with a 2-year guarantee. That is saying something when you know the people that purchase your shorts are going to abuse the hell out of them. These shorts have multiple zipper pockets that are sewn into the lining to keep the pocket from twisting or bunching. Another cool feature is the ability to either have the drawstring on the outside or the inside of the shorts. The stretch is fantastic and the material is the perfect kind of lightweight – not too thick that they feel hot, but not so thin that they leave nothing to the imagination if you go without underwear.

What I don't love:
The pockets are small and both have zippers, so while they are secure, I don't have easy access to a phone, wallet etc. when I'm on my way to the gym or yoga. The only other issue I have with these shorts is the angry monkey logo on the front of them; not something I want staring back at me in the mirror during a calm yoga flow.

The Verdict:
At $42 these are a total bargain. You're getting one of the highest quality performance shorts on the market with a two-year warranty for under $50. Plus, Onnit generously offers a 15% military discount. As long as you don't need an inner liner or deep pockets, this is a great option for a high-preforming athletic short.

You can shop them here at Onnit.com


5. Onzie Classic Men's Short
Onzie was started by a hot yoga veteran, so you can rest assured these shorts will stand up to your yoga, running, gym, or other intense fitness regimens.

Check 'em out:
-Ideal for the short short lover
-Inner liner keeps the family jewels in place and private
-Super, super stretchy
-Very fast drying
-Made in the USA
-No pockets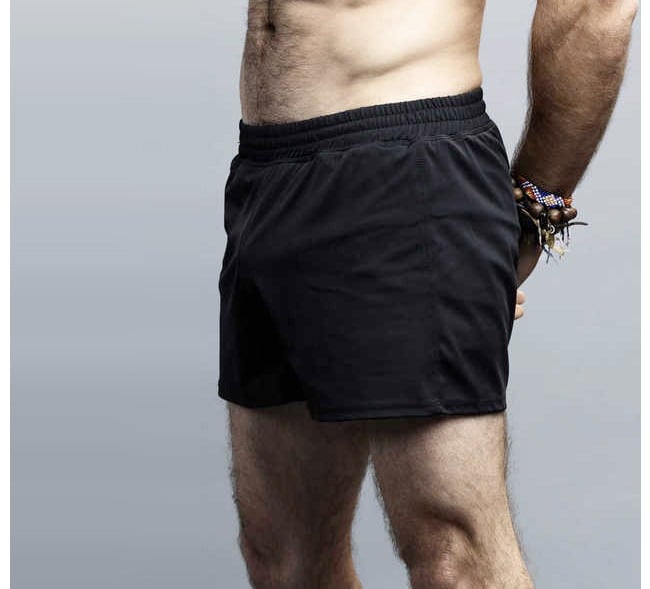 What I like:
The fabric these shorts are made out of is light, soft and super stretchy. They make you want to do a Karate Kid kick when you put them on. Yes, I did that. They are a lot shorter than other shorts in this list, but if you've got the legs to pull these off, then go for it! The Onzie shorts are straightforward. You get an outer short and an inner liner. No pockets, drawstrings (the waist band is very nice and does not require a drawstring), or even logos. Because of that, they dry super fast. These shorts are all business for hot yoga.

What I don't love:
I'm not much of a short shorts guy, but this is a an objectively neutral review (I'm sure many of you guys have better legs then I and love yourself some short shorts) so here is what I don't love besides the length: just as it can be a positive attribute, no pockets, no drawstrings is a down side to me. I prefer a short that I can wear to and from yoga, so I need pockets for my things.

The verdict:
If you like your shorts short and are looking for something specifically for yoga, hot yoga, or running, these are a very good option. Price: $56.

You can shop them here at Onzie.com


6. Vouri Kore Short
Vouri wins the cool company award and also produce my favorite short here. Started by pro skateboarder Chris Miller, Vouri is a men's line dedicated to yogis who may also love to surf, skate, and lead a healthy active lifestyle.

Here's what the Kore Shorts offer:
-Deep mesh pockets
-Drawstring
-Inner liner
-Antimicrobial fabric (odor free)
-Modern cut
-Quick drying
-Wear it everywhere style
-A variety of modern colorways and patterns




What I like:
The Kore Short is similar to the Lululemon Pace Breaker, but with a cooler West Coast look. Style, style, style – these shorts look great! I wear them as an everyday short as well as a work-out short so the versatility is fantastic. The fabric is lightweight, the inner liner is comfortable and not too tight. You just throw these shorts on and go. The antimicrobial fabric is a big plus. These shorts won't ever suffer from the common 'gym smell' that other fitness clothing gets over time.

What I don't love:
The only thing I don't love about these shorts is that the back of the waistband seems to fall down a bit in forward folds. But no worries! Tying the drawstring alleviates this problem. As does having more of a butt, I'm sure…

The verdict:
The quality of Lululemon without the stigma. I'm stoked on this brand. The price is high at $68 but again, I feel this is one of those you get what you pay for instances. If you're looking for a pair of shorts that are stylish, versatile, and won't smell like dirty socks, this is your go-to short.

You can shop them here at VuoriClothing.com


There you have it. 6 yoga shorts for men to meet all of your yoga and active lifestyle needs. I hope this helps in your quest to finding the perfect men's yoga shorts. Questions or comments about any of these featured shorts? Holler at your boy in the comments below.
This article has been read 50K+ times. Hot damn!