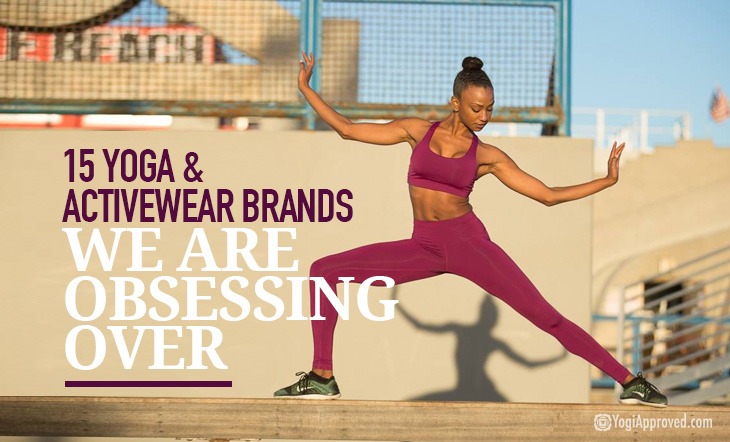 15 Yoga + Activewear Brands We're Currently Obsessing Over
As a yoga publication, a big (and super fun!) part of our job is exploring all the yoga and activewear brands out there. And there's a lot to choose from! Yoga and activewear brands can be a dime a dozen, which is why we have high standards for what we approve. We look for brands that are high quality, trendy + fashionable, and offer something unique.

Looking for your next favorite yoga and activewear brands can be time consuming. That's why we've created a list of the current brands we're obsessing over to help you narrow down the search. Whether you're looking for timeless fashion, comfort and style, performance, or unique design, we've got you covered!

Here are the yoga and activewear brands we're currently obsessing over:
We know there are A TON of yoga brands out there, so obviously not all of them will be included below. This is a small sampling of the brands we're particularly loving this season. Read on to find out why we're so obsessed!

1. Montiel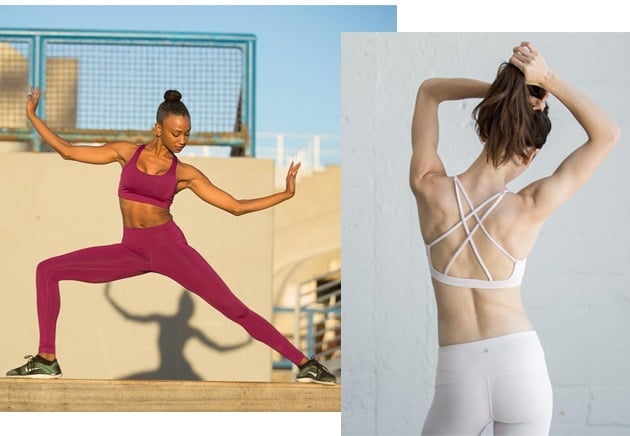 Montiel hails from sunny Los Angeles and their clothing is made in the USA. They partner with local manufacturers and bring you amazing designs, flattering cuts, and luxe fabric. Montiel's designs merge classic cuts with timeless elegance for yogawear fashion that never goes out of style. Their yoga and activewear line is so darn comfortable, you'll have a hard time wearing anything else!

2. innerSTATE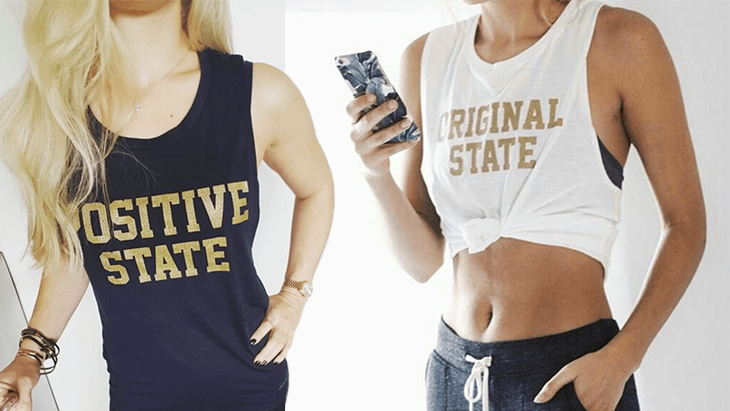 innerSTATE offers a lovely blend of college campus style with yoga and activewear. Our favorite part about innerSTATE is their incredibly soft fabrics that'll keep you as comfy in Yin class as they will studying for your mid-terms. Their joggers and tank tops have phrases like "Grateful State" and "Positive State" so you can show off your Ph.D. in positivity.

3. Naja


Naja strives to empower women by hiring single moms and female heads of households (and they pay above market wage and offer health benefits). We love Naja for their stunning prints and trending designs that will turn heads and keep you motivated for your next workout. Their full line is eco-conscious, high-quality, and supports a great cause so you can buy with confidence.

4. Cory Vines


The Cory Vines activewear line is made with sustainability in mind. Their yoga and activewear essentials are 100% biodegradable, ultra-breathable, and lightweight. From their light pullovers to their tanks and sports bras, you'll find comfy, functional activewear at affordable prices. Plus they have an entire line of men's activewear, too.

5. Outdoor Voices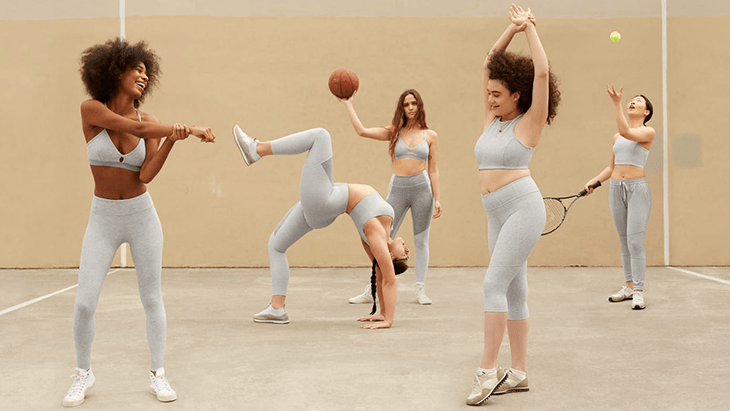 Outdoor Voices has a wide range of options – from tanks and yoga leggings to sweats – for women and men. The best part: you can build yoga and activewear clothing kits based on your preferred activities and styles. Whether you're a yogi, runner, or dancer, you'll find gorgeous activewear in soft colors that'll keep up with your exercise regimen.

6. Adidas


Adidas is one of the few mainstream brands that incorporates social and environmental responsibility into their mission. They make awesome yoga clothes and activewear with performance, functionality, and endurance in mind. We love the style, colors, and vibes Adidas is rockin' this season.

7. Teeki


Teeki always brings creativity to the yoga apparel industry, which is why they're so popular. We're loving their soft colors and striped everything this season! From festival wear to a night out on the town, their sexy, bohemian clothes perfectly blend fashion and function.

8. Wolven Threads


Wolven Threads is a yoga and SUP (StandUp Paddleboard) activewear line made from recycled bottles and inspired by nature. Rock super unique and beautiful sacred geometry patterns in their leggings, bras, and swimsuits – truly merging art, intention, and practice.

9. Daughters of Culture


From soft jumpsuits, wild kimonos, and gorgeous bra tops, you can live and yoga in Daughters of Culture. Their latest release of Egyptian-inspired designs makes us want to travel the world, and their fabrics are soft enough so you can travel (or yoga, or chill) in comfort and style. Their gorgeous line has us head over heels, and you will be too!

10. Spiritual Gangster


We love Spiritual Gangster for their minimalist basics, each carrying a bold statement or powerful mantra. From their adorable bras and Hatha shorts to their leggings and infamous mantra tanks, you'll find your inner Don Corleone (of yoga fashion bliss).

11. Ivy Park


Ivy Park was co-founded by Beyonce, so you're guaranteed to look and feel fierce wearing this activewear brand. Blending high fashion with functional and versatile activewear designs is what defines Ivy Park. From flirty bra tops to compression leggings, you'll channel your inner diva every time you break a sweat!

12. Alo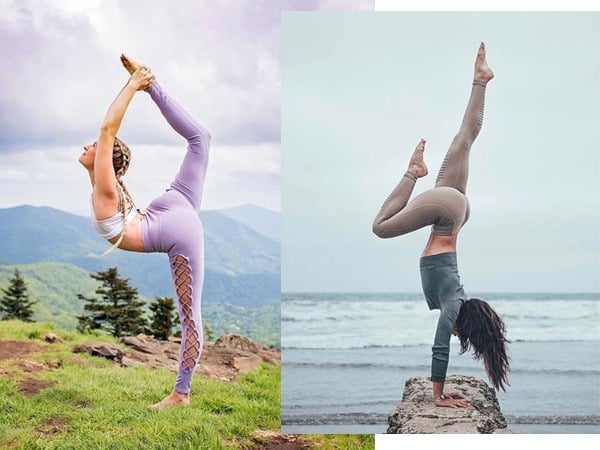 Alo yoga apparel is a yoga teacher favorite with its sexy, slimming line of leggings that move with you but stay in place. From their infamous Goddess Ribbed Leggings to trendy moto leggings and a men's yoga line, Alo offers a wide variety of attire for every yogi. Check out their seasonal fashion like mesh everything and graphite hue for the dudes.

13. Vuori


Vuori brings stylish, high-performance activewear for men and women from Southern California, USA. From board shorts to sweatpants, and yoga leggings to graphic tees, Vuori has lots of options. Shop their yoga collection or training collection for any workout routine, and expect quality fabric that can keep up with your active lifestyle.

14. Hard Tail


Hard Tail is a family-owned activewear brand made in the USA. We love them for their top-notch tie-dye prints that are always in style. This season they went all out with their crop tops and strap-backed bras, and we just can't get enough! Check out their Activewear and Performance lines for all your yoga needs.

15. Ripple Yoga Wear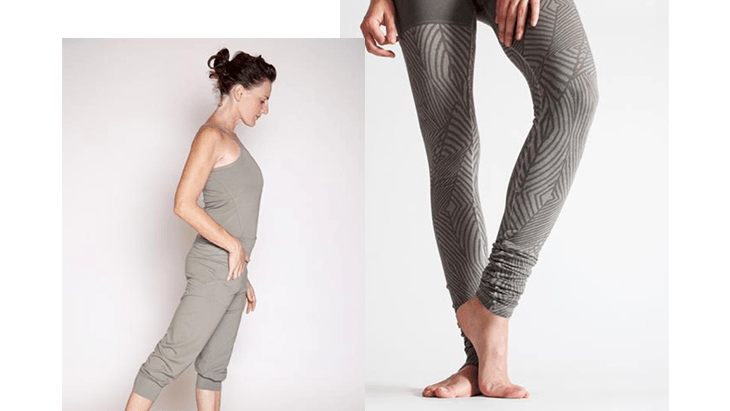 If synthetic fabrics rub you the wrong way, you will love this brand. Ripple Yoga Wear is made with natural fabrics that are super soft and simple, yet functional and fashionable too. We're digging their loungewear-meets-activewear line for men and women that defines the term "athleisure."


There are hundreds of yoga and activewear brands out there, and it's always super challenging to narrow down the list! These brands made the cut based on their creative designs and trending fashion, their quality fabrics, and their ethical business standards.

Have a yogawear brand you love that wasn't on the list? Please share in the comments below and let us know. We love hearing from you!
This article has been read 10K+ times. Bada bing!