13 Yoga and Activewear Trends To Watch in 2017
You may have noticed how activewear was EVERYWHERE in 2016 and this year is going to be no exception. In fact, as more and more people start working from home, the demand for fancy work clothing is being replaced by a demand for fashionable comfort – otherwise known as athleisure wear.

So what are yoga and activewear fashion trend going to look like in 2017?

No need to peruse magazines and search the internet to find what the hottest trends are because the editors at YouAligned.com have already found the latest yoga and activewear trends that you need to know about.

Here are 13 yoga and activewear trends that we're loving for 2017:
1. Shredded Everything
Brand: Jala Clothing
Jala Clothing, located in Southern California, is a yogawear brand that's rocking the awesome shredded look in 2017. We saw this look launch in 2016 and yogis just can't get enough of it! This super popular trend began with Jala's shredded leggings, but for 2017, Jala takes it one step further and gives us a super trendy shredded sweatshirt to match.


2. Crop Top Bras
Brand: Noli Yoga
The crop top bra is a growing trend straight outta the 1990's that's continuing to gain major popularity. The Aria Bra by Noli Yoga is a full coverage crop top bra with a high neckline that creates a different, more sassy and stylish look for your yoga or gym outfit. Noli Yoga offers fun prints and solid colors in this style, making it easy to mix and match with different leggings.


3. Harem Pants
Brand: Buddha Pants
Buddha Pants is a brand that has been a big part of making the harem pant a huge trend. A blend between "hammer pants" and traditional Indian sari pants, everyone is loving harem pants for yoga, traveling, or cozying up at home. We especially love the Full Moon Harem Pants for the super comfortable, versatile pocket feature that allows you to fold and pack the pant into its own pocket. Warning: these Buddha Pants are so comfy you might not want to take them off!


4. Not-So-Basic Bralettes
Brand: Manduka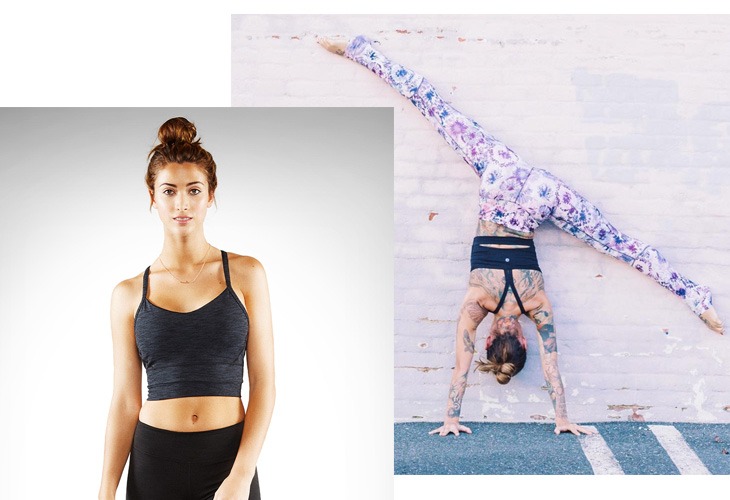 Manduka is known for their high-quality yoga mats, but they also have an amazing yogawear line that's staying true to their brand with soft, basic colors and styles for 2017. Manduka's subtly stylish bralettes are a fashion trend that we predict is here to stay. Their Libertine Bralette is all the rage with its midriff cut, longer silhouette and adorably strappy back for a fashionable yet timeless look.


5. Bodysuits
Brand: Mika Yoga Wear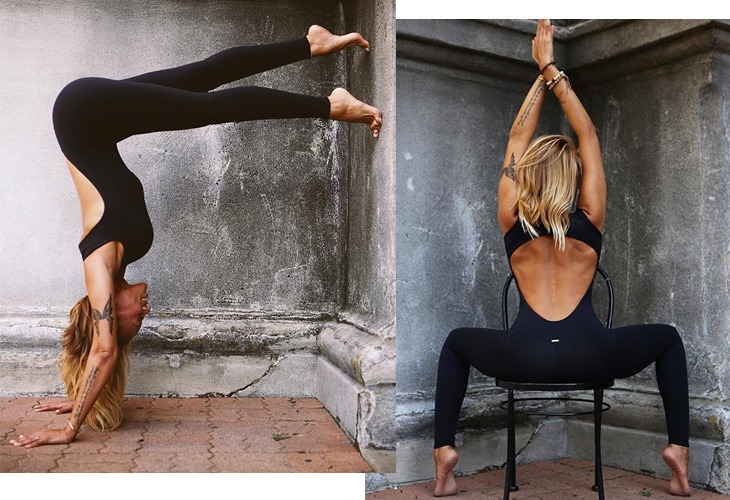 We are loving the bodysuit trend, and the Kali Bodysuit from Mika Yoga Wear is one of our favorites. This one piece is the ultimate studio-to-street look and can be worn to fit your style. It is easy to add layers during or after class to make this look your own, and you can easily move during your yoga practice without having to constantly adjust your shirt or pants. Mika Yoga Wear has several bodysuit styles you are sure to love.


6. Moto Leggings
Brand: Alo Yoga
Alo Yoga is known for their signature two-toned Goddess Leggings and is now creating even more fun yoga legging style trends. The High-Waist Moto Legging from Alo Yoga is a seriously badass babe look. With the quilted glossy moto detailings on the thighs, knees, and shins, these Moto Leggings make a definite fashion statement on and off the yoga mat.


7. Stirrup Leggings
Brand: Free People
Leggings with a stirrup? Another awesome 1990's throwback trend we're happy to see back en vogue! The stirrup legging takes the "legging over heel" look to the next level both in terms of style and performance – not only is the stirrup trendy – it's also super functional and helps keep your leggings in place. The Stirrup Leggings with a stirrup heel from Free People offer double fashion points for their equally-as-trendy striped stitching.


8. Joggers
Brand: Athleta
Are all of your yoga leggings dirty? No worries, this trend has your back. Meet the Techie Sweat Ankle Pant from Athleta. This jogger pant is a must-have trend that is a super comfortable, stylish and great yoga pant alternative. The jogger is making its way from athletes and runners to yogis, and we are so thankful. Athleta is a brand that values your satisfaction – don't like something after you wore it to class? Return it!


9. Camouflage Print
Brand: Hard Tail
Hard Tail is a Santa Monica-based yoga and activewear brand that proudly makes their clothing in the U.S. We absolutely love Hard Tail for their fun and unique tie-dye prints, but for 2017 we are swooning over their oh-so-trendy camouflage yoga leggings and camo-inspired colors. Camouflage print has always been a timeless fashion statement, but Hard Tail knows it is big for 2017.


10. Layered Cut-Out Performance Bra
Brand: Karma Athletics
Layered cut-out performance bras like the Naomi Bra from Karma Athletics are making fashion-forward statements in yoga studios and gyms. The cut-out, layered look with mesh detailing is functional, fashionable, and bold. Wear these bras solo, or under a tank for an added fashionable flair.


11. Cell Phone Pockets
Brand: Lululemon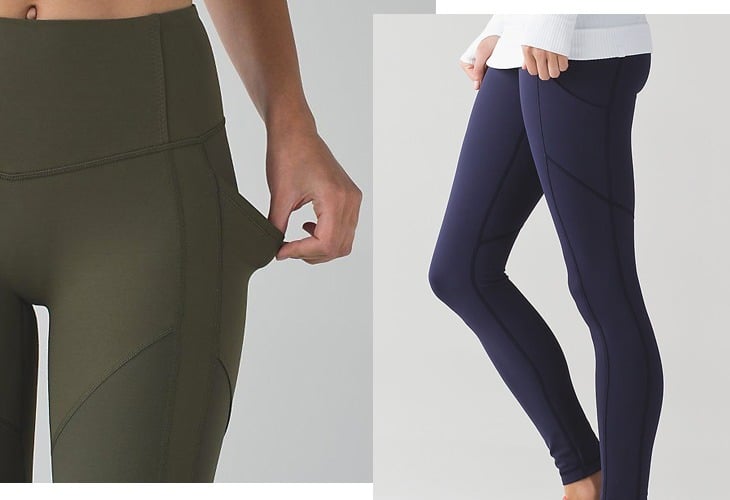 Another one of our favorite trends for 2017 is the yoga leggings with side pockets. Call them cute, call them convenient, call them perfect. This trend moves away from the zippers and waistband pockets to give you a stylish and easily accessible place to store your phone and keys. The Speed Tight by Lululemon is the perfect mix of function with the added side pocket and performance of Lululemon's high-quality clothing.


12. Brighter, Bolder Prints
Brand: Liquido Active
Liquido Active is taking the very popular activewear trend of printed yoga leggings even further this year with creatively beautiful and vibrant prints you're sure to love. Liquido offers high-quality and functional activewear, all with a variety of bright and bold prints that make you look great and stand out from the sea of black yoga leggings. For 2017, we're especially loving Liquido's Tropicalia Patterned Yoga Leggings.


13. The Wild West
Brand: Teeki
Teeki did it again when they launched their latest themed collection that has yoga girls everywhere falling in love. This year is focused on the Wild West – cactus, coyote, dust and gold – on their yoga leggings and tops. Teeki has a huge variety of western-inspired prints and colors to choose from. Our personal fave? The Coyote Moon Dusk Bell Bottoms.


Have fun checking out these great trends for 2017 and making them your own. We love yogi expressing their individuality and style. Be confident in your own skin and have fun!

What do you think of these yoga wear fashion trend prediction in 2017? What are your favorites? We would love to hear if you are already rocking some of these, leave us feedback in the comments below!

This article has been read 10K+ times. Bada bing!