What's In Our Yoga Bag This February?


The editors of YouAligned.com love yoga and everything related to living a healthy and natural lifestyle. We pride ourselves on keeping our pulse on the industry, and we take reviewing the latest trends and products very seriously. What's in Our Yoga Bag is a monthly recurring article featuring all our editor's latest finds that we want to share with you! You can expect a wide range of goodies, from yoga clothing and accessories to jewelry, healthy snacks, skin care products, and beyond – everything that aligns with your healthy, active yoga lifestyle. You never know what fun stuff we'll find next, so stay tuned!


Here is what we've got in our yoga bag this February!
Hot Chakras Bhakti Blooms Leggings ($45) and Coral Red Hot Top ($28)


This outfit by Hot Chakras is colorful, comfortable and perfect for Valentine's Day! The Hot Top has a flirty low-rise cut and a unique t-style back. The Bhakti Blooms Leggings are a soft and lightweight nylon/spandex mix that is moisture-wicking, fast drying and feels like a second skin. This is a hot duo!

Shop this outfit here.

---
Energems ($6.99)


Instead of reaching for a sugar-loaded energy drink or other foul-tasting energy supplements, try Energems, a chocolate-based energy chew that is free of artificial colors, flavors and preservatives. The antioxidant-rich chews give you a boost of caffeine (3 chews have equivalent to a cup of coffee) and added B vitamins for energy, vitamin D, folate, and niacin. Energems are available in three flavors: dark chocolate, mint dark chocolate, or berry flavored dark chocolate. Snag a tub online or at a store near you.

Shop these healthy treats here.

---
Dub Mantra Sangha Album by Joss Jaffe ($11.99 – $19)


Whether you are looking for yoga tunes, a new artist, or musical inspiration, check out the newest album by Joss Jaffe entitled Dub Mantra Sangha. This album is a compilation of 15 guest musicians that represent five languages across three continents, including newly Grammy Nominated Chant Artist Dave Stringer, Donna De Lory, and more. This 60-minute album filled with dub reggae rhythms is the perfect length to accompany a yoga class, including a smooth, rich ending for savasana. Available on CDbaby and iTunes.

Get the album here.

---
Sports Suds Laundry Room Combo Kit ($31.90)


Sports Suds created a solution for funky smelling athletic wear with their Laundry Room Combo Kit. This is ideal if you have a front-load washer that is prone to smelling funky (if you forget to air it out) or if you live in rented space with a borrowed washer machine. The laundry detergent is non-residue and odor-eliminating that leaves your clothes smelling like nothing – no perfume, no chemicals, and no nasty odors caused by sweat. This sports-specific detergent is a must for yogis and athletes of all kinds to keep their gear smelling and looking clean use after sweaty use.

Try this detergent here.

---
Klio Tea Organic Greek Mountain Tea ($11)


We love Klio Tea's Organic Greek Mountain Tea, a certified organic herbal tea that is hand-farmed, hand-harvested and unprocessed. A part of the Mediterranean diet since ancient times, this naturally caffeine-free tea is made from dried flowers, leaves and stems of the native Sideritis, a plant that grows throughout the mountains of Greece. The tea is rich in healthy phytonutrients, antioxidants and has anti-inflammatory, antimicrobial and antibacterial properties which boost your immune and respiratory system, so drink to your health!

Get this amazing tea here.

---
Solyvia DD Cream and Girolata Eye Contour Treatment ($32 each)


Solyvia brings us two amazing products: DD Cream and Girolata Eye Contour Treatment. In a convenient rollerball tube, the DD Cream is a lightweight tinted organic daily defense cream that provides hydration and anti-aging benefits while protecting your skin against environmental aggressors and evening your skin tone. Your eyes need special attention, and the Eye Contour Treatment uses a comforting metal roll-on ball application to soothe and moisturize the delicate skin around your eyes.

Use code YOGI21 at checkout to save 20% off any Solyvia or John Russo product through 2/15/16.

Shop these products here.

---
Toe Talk Mindful Grateful and Namaste Socks ($11.95 each)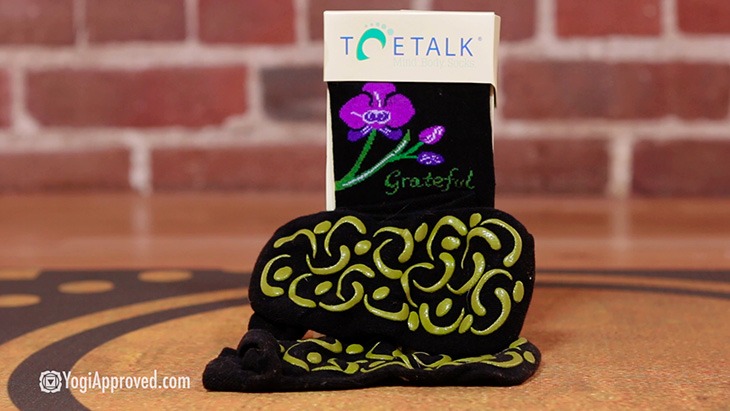 Introducing the Grateful and Namaste socks from Toe Talk Mindful. The lightweight ankle socks have grippy bottoms that work great, even on hardwood and slick tile floors, making them ideal for barre, pilates, and even your home yoga practice (these grippy socks even work on yoga mats). The best part about these socks is the positive mantras that face up to give you an extra dose of inspiration throughout your day.

See the full line of socks here.

---
Subject II Change Long Octagon Necklace in Rose Quartz ($50)


The Long Octagon Necklace by Subject II Change is a great statement piece for Valentine's Day or year-round. This necklace features a stunning octagon-shaped rose quartz stone secured in a high-quality setting. Rose Quartz, often called the "love stone," is associated with unconditional love and the helps open up your heart chakra so you can give and receive love freely. The stone sits on a 14k gold plated chain with unique detailing and a lovely "subjectIIchange" charm.

Shop this beautiful line here.

---
Po Campo Midway Weekender Bag ($94.99)


If you are looking for a great yoga and travel bag that will store your yoga mat and everything else that you need, check out Po Campo's Midway Weekender Bag. The vegan and weatherproof bag is durable and offers a sophisticated, chic look that is great for year-round use. Inside, the bag is spacious and has several handy compartments. The bag also has a detachable and adjustable shoulder strap, so you can choose to carry it as a handbag or across the body, and the front elastic straps can hold your yoga mat. This is a unique, fashionable, and practical yoga bag.

Shop this yoga bag here.

---
KESS InHouse Gilded Confetti Gold Geometric Yoga Mat ($74.25)


The Gilded Confetti Gold Geometric Yoga Mat by KESS InHouse is a beautiful and ornate yoga mat with a print by artist Matt Eklund. The cushiony 4mm mat is made of a durable, textured foam that is plush and durable. KESS InHouse has a huge selection of yoga mat designs from dozens of diverse artists, so if you're a yogi who loves art, you'll love all the artistic yoga mats KESS InHouse has to offer.

Explore these unique yoga mats here.


Thanks for watching!! Join us next month!

This article has been read 2K+ times. Feelin' the love!