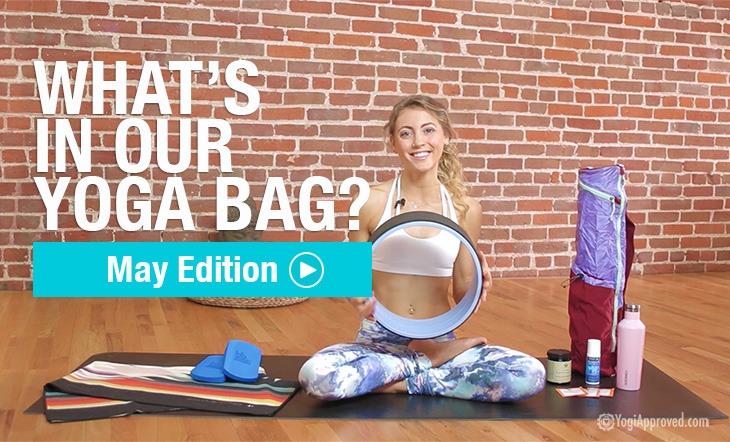 What's in Our Yoga Bag this May
The editors of YouAligned.com love yoga and everything related to living a healthy and natural lifestyle. We pride ourselves on keeping our finger on the pulse of the industry, and we take reviewing the latest trends and products very seriously. What's in Our Yoga Bag is a monthly recurring article and video featuring all of our editor's latest finds that we want to share with you!

You can expect a wide range of goodies, from yoga clothing and accessories to jewelry, healthy snacks, skin care products, and more – everything that aligns with your healthy, active yoga lifestyle. You never know what fun stuff we'll find next, so stay tuned!

Here is what we've got in our yoga bag this May!

Check out this video, and then read the full review below:
InYo Wear Galaxy Leggings
The Galaxy Leggings ($58) from InYo are a blissful blend of cool pastels in a print that can be worn year-round. The polyester/spandex fabric blend feels silky smooth and moves with your body, but stays in place. Best of all, the Galaxy Leggings feature InYo's signature butt ruching for a unique, super-cute booty lift.


Montiel Teardrop Bra
The best bra for small boobies, Montiel's Teardrop Bra in white ($38) doesn't hide and flatten your boobies. Instead, it provides support and flatters the girls! Made from a blend of supplex and lycra, the bra has double straps that create a one-of-a-kind sexy and refined look for all-day comfort.


The Reversible Mat 5mm by Lululemon
The Reversible Mat ($68) by Lululemon will soon be your new best friend. It's plush surface absorbs and wicks sweat, making it great for hot yoga (without even needing a towel!). We love it for its reliable traction, it's reversible options that provide two different types of surface depending on your preferences, and the multitude of color options. The Reversible Mat 5mm is also designed with an antimicrobial additive, so it will stay clean and fresh.


Yoga Exercise Wheel by SukhaMat
The Yoga Exercise Wheel ($44.95) from SukhaMat is made of eco-friendly PC Alloy Plastic and eco-friendly TPE foam. The Exercise Yoga Wheel augments your yoga practice, and is also designed specifically for exercise. Its outer foam cushion offers plenty of traction, making it easy to use for strengthening and toning exercises. Best suited for intermediate to advanced practitioners.


Patagonia Lightweight Yoga Sling ($49)
Patagonia is a household name in outdoor and activewear based on their high-quality designs that you can depend on. That's why we were so excited to find their yoga mat sling! It lives up the company's standards by providing a lightweight, yet super durable yoga mat bag that folds into its own little carrying bag when not in use. It has a zipper compartment, a water bottle pouch, and a comfortable carrying strap.


Vagabond Goods Sayulita Microfiber Towel
The Sayulita Microfiber Towel ($68) from Vagabond Goods is a stunning towel inspired by the vibrant bohemian beachy colors of Sayulita, Mexico. The towel provides grip and remains dry to the touch, even during hot yoga. Best of all, the towel is machine washable and the colors remain bright and vibrant wash after wash.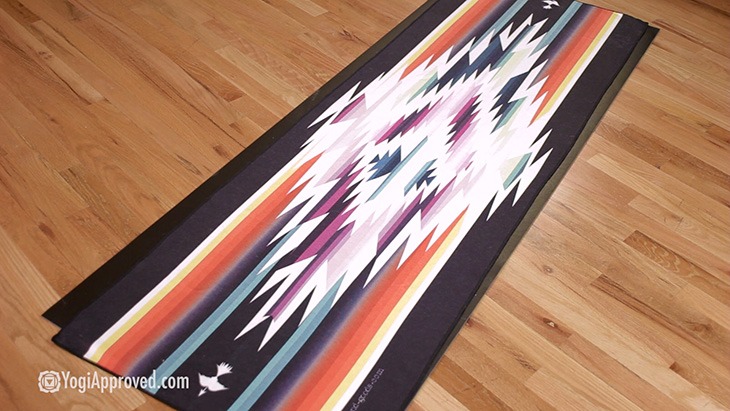 DOD Fitness Wrist Wedges
For yogis who suffer from wrist pain, the Wrist Wedges ($19.99) from DOD Fitness will help save your practice. The wedges have an ergonomic design that reduces stress on your wrists during weight-bearing poses, such as Downward Dog or Cobra. The simple ergonomic design places the heel of your hand higher than your fingers, shifting the distribution of weight in your hands and decreasing pressure.

Lotus Blooming Herbs Authentic Chyawanprash
The Authentic Chyawanprash ($29.99) from Lotus Blooming Herbs is an ancient Vedic herbal jam that promotes longevity, wellness and rejuvenation. Ethically wildcrafted, the daily supplement is an organic combination of herbal botanicals, aromatic spices and linoleic rich fats that are easy to mix into hot drinks for a comforting beverage. Drink Chyawanprash to boost your energy and immune system and experience transformational health benefits!

"FREEZE – Ice the Pain" Gel by ASUTRA
For those everyday aches and pains, FREEZE – Ice the Pain ($11.95) from ASUTRA is an easy-to-apply roll-on gel that provides temporary pain relief. Offering a delicious cool tingly sensation, the natural menthol formula numbs pain and reduces inflammation by reducing blood flow to your sore muscles or joints. The formula works like an on-the-go ice pack that provides immediate relief.

Corkcicle 16oz Canteen
Nothing is worse than taking a swig of water after yoga and getting a mouth full of warm water! Corkcicle solved this problem with its 16oz Canteen ($27.95). The stylish stainless steel water bottle has easy-grip flat sides and a grippy non-slip bottom. The bottle is triple insulated to keep hot beverages hot for 12 hours and cold beverages cold for a full day (and without condensation)!

Pranayums Daily Super Spice Shots
The 7-day Starter Pack of the Super Spice Shots ($9.99) from Pranayums is a delicous blend of organic spices that feed your life force and spice up your life! Offered in 7- or 30-day supplies or a monthly subscription, the spice shots provide a unique and versatile naturally sweet flavor for your everyday recipes, from your morning oatmeal to kitchari and everything in between. Integrate this Ayurvedic spice blend into your diet for increased energy and an overall sense of improved well-being.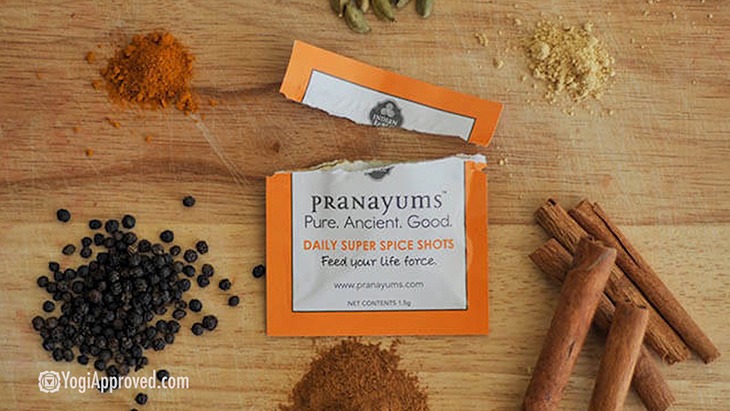 Shop this spice


What were your favorite featured products? Please share any comments or questions below – we love hearing from you.

Thanks so much for watching!! Be sure to join us next month. We've got something special for you!

This article has been read 2K+ times. Feelin' the love!