7 Ways to Reduce Your Work Stress and Increase Your Job Satisfaction
Work stress is a well-known term, and that's probably due to the staggering statistics that show over 80% of the US workforce suffers from work stress. 25% of these workers attribute their job as their number one life stressor, and one million Americans miss work each day due to stress.
These statistics also show that the main contributing factors to work stress are workload, interpersonal issues, and finding a work-life balance.
Regardless of what's contributing to your work stress, this article shares quick, accessible ways to counteract the stress so you can remain calm, focused, and fulfilled.


Here Are 7 Ways to Reduce Your Work Stress:
Pick one or try them all and see which work best for you! Everyone has different challenges at work, so some ways more be more relevant and helpful to you than others.

1. Take Full Advantage of Your Morning
Cultivating a morning routine before work is one of the most effective ways outside of office hours to reduce work stress. Whether you have five minutes or a full hour (or any length of time in between), take advantage of this opportunity to set yourself up for success.
Here are a few ideas of activities you can add to your morning routine:
Read 10 pages
Journal for 10 minutes
Meditate
Move your body: do yoga, go for a walk or run, dance, or workout
Sip of cup of your favorite morning beverage slowly and mindfully
Give yourself a pep talk in the mirror
Read: This Simple Morning Routine Will Set You Up for Success Every Single Day

2. Keep an Open Line of Communication
Whether you work remotely or in an office, maintaining an open line of communication with your colleagues and management is crucial for reducing work stress. Once you've established this open line of communication, it's much easier to problem solve with a co-worker or bring up a challenging situation with your boss.
Just knowing that you have this ability makes a big difference in your day-to-day stress levels and overall job satisfaction.

3. Practice Acceptance and Non-Attachment
Acceptance and non-attachment play a huge role in your ability to let things go and move on. This in turn helps your focus and productivity because you won't spend as much time being stressed or ruminating on past workplace conflicts.
When something happens that bothers you or adds to your level of work stress, practice acceptance. Notice the way the person or situation makes you feel, allow yourself to feel the uncomfortable feeling or subsequent emotions, and then accept them.
This doesn't make the situation okay, but it does help you process your emotions in a healthier way and helps create a positive, productive response rather than an impulsive, emotional reaction.
Next comes non-attachment, which is the practice of not getting caught up in the minutiae and instead focusing on the moment and the task at hand. This approach helps you take the emotion out of a situation or circumstance so you can keep moving forward.
Sound intriguing? Read: How to Find Inner Peace By Practicing Non-Attachment


4. Cue Up Your Favorite Playlist
Turn on your Apple Music, Pandora, Spotify . . . whatever app you use for music . . . and play something you like – and ideally, something upbeat. It lightens the mood and helps your "work flow" be focused, productive, and uplifting.
Speaking of productivity! Have you tried listening to binaural beats? According to Psychology Today, binaural beats can reduce stress while improving concentration. They can also boost your mood and creativity, which makes them our favorite pick for reducing work stress while increasing your productivity.
Spotify offers a curated binaural beats playlist for focus.

5. Practice Mindfulness
Every so often, take a moment to simply look around and notice your surroundings. Take several slow sips of water and feel the life-sustaining liquid enter your body. Tune into the sounds around you. Take a few minutes to close your eyes and breathe deeply, following the breath in and out.
This simple yet effective practice gives your mind and your eyes a moment to rest. Take a few breaths and feel the work stress wash away a little.
Interested in infusing your day with more mindfulness? Try This Simple Mindfulness Practice

6. Challenge Yourself to Stretch
But where do I stretch at work? Sitting at your desk! Didn't think you could do a few effective stretches without getting out of your desk chair? Surprise!
Try it: Stay seated in your chair, fold forward at your hips, drop your head and arms and let yourself hang heavy, with your stomach touching your thighs. Shake your head 'yes' and 'no' to release tension in your neck and shoulders, and swing your arms back and forth if that feels good. The point is to relax, take a few deep breaths, and decompress your body.
Undo the Desk With Us!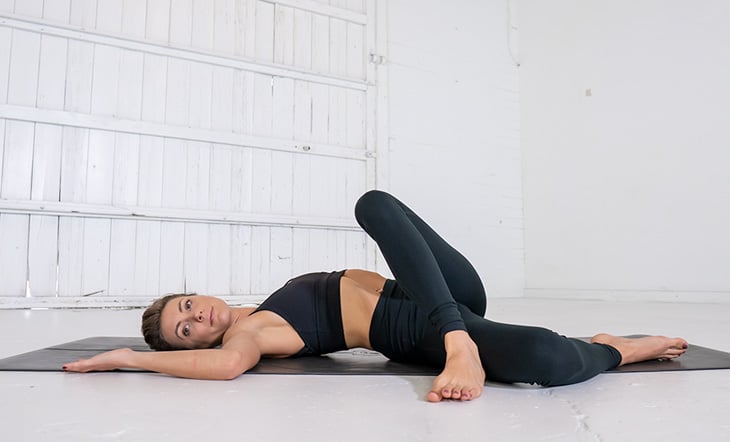 After work, roll out your yoga mat and undo the effects of sitting at a desk all day with a yoga practice designed to do exactly that. Exclusively on YA Classes!

7. Advocate For a Workplace Wellness Program
Workplace wellness programs are meant to enhance the health (mental and physical) and well-being of an organization's employees. For the company, the benefit is better employee satisfaction, and up to a 25% reduction in their annual bottom line.
For the individual, the benefits are immense. From the obvious reduction of work stress, to improving your concentration, and giving you a healthy outlet for self-care. Some corporate wellness programs even offer therapy or employee incentives for reaching certain health goals.
If your organization doesn't yet have a workplace wellness program, it's time that you and your colleagues advocate for one! Speak to management and see what's available. The below article is a great resource for getting started. And did you know? YA Classes offers corporate pricing for our yoga, fitness, and wellness membership!
What Is Workplace Wellness? 7 Things to Know About Corporate Wellness Programs


Take Control of Your Work Stress With These Tips
So often, we get caught up in life's stresses and fail to pay attention to what's going on within ourselves. Yet when we can show up mindfully, we can take control of our stress and emerge more empowered to handle any challenges with ease, grace, and calm.
Invest in time for self-care (and that includes while you're working!), keep those lines of communication open, practice mindfulness, and try implementing these tips in a way that makes sense for you. You deserve to reduce your work stress for a more satisfying and fulfilling work-life balance!
What work stress reduction tip most resonated with you? Have a work stress tip you'd like to share? Please tell us in the comments below – we love hearing from you!
This article has been read 577 times. Share it and spread the love!

Johnny Jedi
Johnny was born in Rasario, Argentina and moved to the Big Apple when he was a teenager. There he found his three passions: yoga, writing and his pet chinchilla Henry. And yes, you guessed it, Johnny likes Star Wars.
You may also enjoy

When practiced regularly, mindfulness can have profound benefits. Use these 8 simple mindfulness exercises to add mindful awareness to your day.

Tonya Wetzel