10 Productivity Hacks to Accomplish More and Stress Less at Work (And In Life)
If you want to boost your focus and accomplish more while stressing less at work, then this list of productivity hacks is what you're looking for.
Feeling busy? Overwhelmed? Unable to keep up with your daily tasks? Are you lacking in productivity and motivation as a result? We all feel the sting of being too busy and desperately wish for a few more hours in each day.
Luckily you don't have to spend your career feeling this way. These productivity hacks will help you feel more accomplished, fulfilled and in control. Being productive is so important for our peace of mind, our ability to succeed and thrive, and perhaps most importantly – so we have free time for ourselves and self-care.
Today, busyness is a modern status symbol. But busyness is not synonymous with efficiency! Being super busy, working weekends, and always being on call actually decreases overall productivity.
Manage your time more efficiently and find more time for the things you want to do by incorporating these productivity hacks.
Learn how some companies are shortening the workweek because It's Been Proven That Productivity Increases with a 3-Day Weekend


Here Are 10 Productivity Hacks to Maximize Your Time Spent Working:
These 10 productivity hacks will help you feel more productive, accomplished, and less stressed in your job and improve your quality of life overall.

1. Wake Up 15 Minutes Earlier
Setting your alarm clock for 15 minutes earlier can give you just enough time to eat a solid breakfast, meditate, take a walk, do a few sun salutations, or just spend a few minutes sipping coffee in peace. Starting the day relaxed and with a positive mindset improves productivity in all areas of your life.
Spend 15 minutes in the morning setting your intentions with these 5 Morning Mantras for a Better Day.

2. Write a List of Priority To-Do's

Do this every morning before you do anything else. Starting your workday by writing out everything that must get done is a great way to stay on track. The key part of this practice is to do it FIRST THING: before you check email, before you start any other task.
Write out your list and then complete the first task on that list before moving on to anything else.
The most important rule for this productivity hack? Be realistic. Instead of setting yourself up for failure by biting off more than you can chew, pick three realistic tasks that are top priority to accomplish today. If you get more done, great, but if not, you still accomplished the most important tasks on your to-do list. The rest will be there for you tomorrow!

3. Batch Everything
"Batching" is a commonly known productivity hack and the fine art of first taking an inventory of the time-consuming busywork that drains hours in your day. Then, you'll schedule a specific time to do this one task. As a result, you won't have to spend any additional time and energy beyond your allocated time for getting this task done.
For example, if part of your work requires regular posting on Facebook, this could be taking up to an hour (or more) of your time each day to sit down, plan out your post, write it, find an image, and share. Instead, allocate one day per week (or even better – per month) to create and schedule your posts for the entire week/month.

4. Schedule Time to Check Email
Rather than check emails as they arrive in your inbox, check messages in short, scheduled intervals to maintain your workflow and improve productivity. For example, set aside time in the afternoon and again in the evening to review your inbox. Don't let yourself peak at your inbox anytime beyond the allocated times for the day.
If you just can't help yourself, certain email platforms have "pause" options that automatically batch messages for you. If you constantly drop out of your workflow to read messages, you're bound to lose your focus – and your momentum!
When you find yourself caught in this email checking trap, challenge yourself to stop, take a deep breath, and do a few stretches at your desk before you focus back in on your tasks. This bonus productivity hack will help you develop more self-serving work habits and also help your mind get back on track.
Check out: 8 Yoga Poses You Can Practice Sitting at Your Desk (Photo Tutorial)

5. Prepare for Your Workday the Night Before
A lot of time-saving hacks involve shifting your decision-making tasks to a time when you can spare a few more minutes. For example, pick out your work outfit the night before. Instead of standing in your closet every morning, paralyzed by options and pressed for time, pick out your outfit the night before.
You can also meal prep for the day or week ahead so you don't waste time making lunches each day (bonus: it saves you money from buying lunch on the go!). If you're planning on hitting the gym or meeting friends for dinner after work, pack a bag of what you'll need and put it by your front door the night before.
Giving yourself one less thing to worry about in the morning will make you feel much less stressed for time.

6. Turn Off Phone + Social Notifications

Want to know the exact opposite of a productivity hack? Opening Facebook, Instagram, and Twitter every time you get a notification. It is distracting and a total time suck.
Turn off notifications on your phone and set aside time to check social platforms each day – not just when you're bored or when a notification pops up.
The same is true for text messages – they'll still be there for you later, and stopping to reply to every text you get will definitely drag your productivity down. Take a break from texting and social media during the day and see how your productivity improves.
Nowadays, we see more and more people putting their phones on do not disturb during the day. Not only is that an effective way to reduce the impulse of picking up your phone every time it dings, it also sets a great example for others!

7. Don't Be Afraid to Delegate
Don't reach out for assistance as a last resort. If you need help accomplishing a task or find yourself stuck on something that's now draining your time, don't waste more time by getting overwhelmed. Instead, shoot your supervisor an email or ask your savvy colleague for advice.
If you're in a position to delegate, do it! Whether it's delegating simple household tasks to your children, partner, or roommates, or delegating tasks at work to an assistant or teammate, asking for help and delegating whenever necessary is a productivity hack that's perhaps the most underutilized!
Give yourself permission to say no to work or social requests that feel overwhelming – and thank anyone who lends a hand. Asking for help can feel vulnerable, but taking on too much at once can also put you in a position of overwhelm.

8. Take a Break
You can only be as productive as you are inspired, fresh, and motivated. We've all felt the negative effects of burnout – that tired, unmotivated, lackluster feeling when it's almost impossible (and certainly not enjoyable) to get anything done. Instead, set an alarm to stand up and move around every hour or so. Get up and get yourself a water or tea.
Step outside and breathe in the fresh air. Grab your headphones and listen to an upbeat song. Taking small breaks throughout the day may feel like you're wasting time at first, but ultimately breaks are the best use of your time when you want maximum productivity consistently.
Feeling the afternoon slump? Yoga can help! Practice These Yoga Poses to Boost Your Energy

9. Use Your "Gap Time" Wisely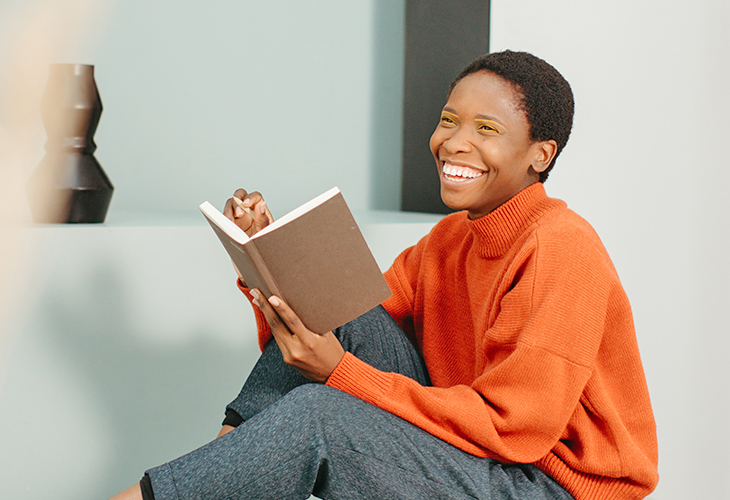 Have a few minutes between meetings or have a while in traffic? Use your time spent waiting wisely. Learn a language or listen to podcasts. Waiting at the doctor's office? Read a book instead of scrolling aimlessly on your phone. Fill the gaps in your day with creative or educational tasks to have a greater sense of accomplishment and productivity overall.
3 Health Benefits of Reading Books Every Day (Plus 9 Reading Lists to Get You Started)

10. Create a Consistent Routine
Perhaps the most important productivity hack on this list is to create a consistent routine that you can stick to. Knowing that you'll check email from noon-1pm and again from 4pm-5pm will help you stay focused on more important tasks the rest of the day. Having a routine of going to the gym after work, and then packing your lunch and picking out your outfit for tomorrow will help you feel on track and not rushed in the morning.
Routines are key for productivity. They help us get the most out of each workday and also work wonders for making us feel in control, accomplished, and fulfilled.
Looking for the Most Effective Morning Routine? This Is It (And It's Simpler Than You'd Think)


Customize Your Own Productivity Hacks
Customize your own productivity prescription from the list of hacks above. Pick and choose what works for you! Perhaps you will find that, with a few life hacks, you aren't as busy as you thought you were. You will have more time to focus your energy on the things – and people – that light you up.
And after all, isn't that the most important priority of all?
Do you have another go-to productivity hack? Have you tried any of the hacks on this list? Please share in the comments below – we love hearing from you!
This article has been read 613 times. Share it and spread the love!