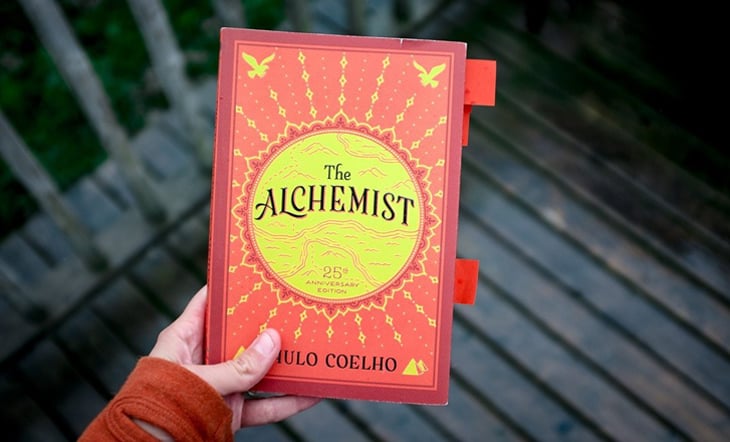 The Alchemist: Book Review and Guideposts for Your Soul's Journey
The acclaimed book, The Alchemist, by Paulo Coelho, has long been on my "to read" list and comes highly recommended by everyone. So when I finally got my hands on a copy, I read the entire novel in one sitting (which isn't too hard to do since it's on the shorter side).
I knew The Alchemist would be packed with "words of wisdom" and I was hoping it would help me on my own quest to follow my heart and chase my dreams.
And well, it did… but it also kind of kicked my ass in the process.
This book had me nodding my head, like "Yes! I totally get that!" and also threw a few curve balls to remind me that real life isn't like the romanticised version of chasing your dreams I've watched a hundred times in my favorite RomComs.
10 Books Every Yogi Should Read


The Story of The Alchemist
Before we get to the juicy stuff, a little background: The Alchemist is about a young man named Santiago who wants to travel the world, so he takes his sheep and heads out as a shepherd.
One night, while traveling with his sheep, he decides to rest under a sycamore tree next to an abandoned church. That night he has a dream about a child who tells him to find a hidden treasure at the Egyptian pyramids.




This sets Santiago on a mission, at first to find out the meaning of the dream, and then to actually find the treasure at the pyramids. He goes to a gypsy, runs into the King of Salem, gets robbed by a thief, and ends up working for a crystal merchant where he makes tons of money.
He joins a caravan to cross the desert in pursuit of the pyramids, where he meets an Englishman who leads him to the Alchemist.
He also meets a beautiful woman, but leaves her to travel to the pyramids with the Alchemist. They are almost to the pyramids when the Alchemist leaves Santiago to finish on his own.
Santiago gets to where he thinks the treasure is, only to get beat up and mocked for following a silly dream.

The Alchemist teaches us to expect things to get hard, so when they do, you don't end up questioning yourself out of your dream.

Before the men left him, one of them says: "Two years ago right here on this spot, I had a recurrent dream, too. I dreamed that I should travel to the fields of Spain and look for a ruined church where shepherds and their sheep sleep."
He continued, "In my dream, there was a Sycamore growing out of the ruins of the sacristy, and I was told that, if I had dug at the roots of the sycamore, I would find hidden treasure. But I'm not so stupid as to cross an entire desert just because of a recurrent dream."
Turns out, the treasure was there in the beginning all along but he had to go on this whole journey to figure it out and in the end, it led him right back to where he started.


A Few Guideposts from The Alchemist:
As you read The Alchemist, you'll feel like you're right there with Santiago on his soul journey. I know I did. And so much of it reflected my own. These are some of the biggest guideposts I gained from his journey.


"When you want something, all the universe conspires to help you achieve it."
When Santiago set out on his journey, he came across many people who imparted wisdom, pointed him in the right direction, kept him safe, and helped guide him.
Sometimes I forget, while on my own journey, that people in my life are there for a reason. Trusting that people and circumstances are working in my favor helps keep me moving forward.
10 Quotes From "The Alchemist" to Remind You of Your Purpose
"Why do we have to listen to our hearts? Because, wherever your heart is, that is where you will find your treasure."
One of the most relatable moments in The Alchemist is when Santiago gets frustrated trying to listen to his heart.
It's hard to connect to self, get quiet, and genuinely hear what our hearts are saying. But when we do, it leads us to the exact right time and place.

"The closer he got to his dreams, the more difficult things became."
This is a great reminder not to quit. The Alchemist teaches us to expect things to get hard, so that when they do, you don't end up questioning yourself out of your dream.
Know you are close and you can do this, and know the universe is conspiring to help you even when it doesn't seem like it. You can do this.
Use These 7 Simple Steps to Create a Fulfilling Life of Purpose


The Alchemist: A Book Full of Treasures
In the end, Santiago got his treasure.
But he also got so much more. He made new friends, he found an inner strength he didn't know he had, he learned to listen to his heart, he fell in love.
His journey took him to places and experiences he wasn't expecting, but that ultimately brought him right back to where he started.
Because, as it turns out, the treasure was right there all along.
Much like Santiago's journey in The Alchemist, we all have a dream to follow and our journeys won't look the same. We'll learn things about ourselves, go places we never thought possible, and in the end, find the treasure we're seeking.
If we are open to the journey, the treasure is already ours.
Featured Image Source: ColourThroughTheLines.com
This article has been read 240 times. Share it and spread the love!