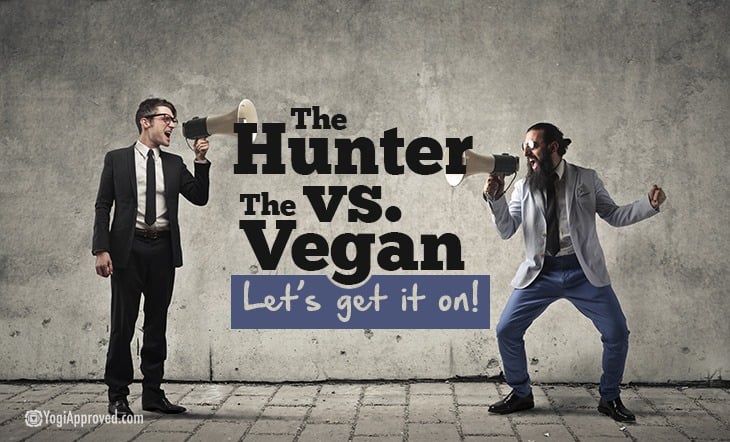 The Hunter vs. Vegan Debate: A Meat-Eater's Perspective
Most of us, at some point or other, have had to answer these questions for ourselves: do we eat meat or not? If so, why? Chances are if you are a hunter or a vegan, you may be on opposite ends of the meat-eating debate. A conversation between meat eaters and non-meat eaters about food choices can be difficult.

In her book, The Power of Ashtanga Yoga, the well-known and celebrated Ashtanga yogi Kino MacGregor wrote,

"Whether you eat an apple or a steak is not the bottom line. If you are a mean person who eats a vegetarian diet, practices asana, and lives a life with no regard for the divine, you are not really a yogi . . . on the other hand, if you are a gentle, forgiving person who practices the lifelong spiritual path while occasionally eating a steak, you are closer to the heart of the tradition."

During a book-talk with Steven Rinella, host of the show MeatEater on The Sportsman Channel and author of the book Meat Eater: Adventures from the Life of an American Hunter, a vegan asked the man dubbed "the meat eater" a question about how he can rationalize killing animals for food. Check out the video below to see this interaction for yourself. The answer and discussion that followed may surprise you.



The Hunter vs. Vegan Debate
There is currently a fundamental conflict between those who hunt and those who do not. While vegans may ask the hunter about the sanctity of life, the hunter can argue that they respect life and it is because of this respect that he or she hunts. This is a new way of thinking for all of us: a hunter can develop admiration and even love for a species, a special kind of love and admiration that would otherwise not exist if people did not hunt.

In reality, both hunters and vegans are well aware of the sanctity of life, but they go about appreciating it differently. So, if we are going to truly honor the animals we share this planet with, hunting and conservation should be seen as a legitimate way to cultivate this appreciation.

The earliest forms of art in the world were cave paintings that depicted hunting. Veganism has only existed for about 2,000 years, whereas hunting has been a part of human existence for about 2 million years. Looking at all of human history, hunting was as vital to our species as the creation of civilization, art and higher knowledge. In fact, without hunting, our chances of surviving long enough to build civilization were slim.
Regardless of our modern-day choices, we are all connected and we should try to find a way to cultivate respect for others regardless of how different their choices are from our own.
So let's get this straight . . . we have hunted and killed our own food for millions of years and we can love and respect something that we kill for food? This is nearly unheard of in today's world, where only a fraction of the population hunts their own food. We have become far too comfortable with the idea that food just appears perfectly wrapped in plastic in the grocery store.


The Real Problem
So, maybe the problem is not hunters who kill their own food, or vegans who have sworn off animals and animal byproducts all together, but rather the people in the middle of the spectrum. The real problem is those of us who pick up our meat at a grocery store and never give it a second thought.

The real problem is the people who criticize those who practice the ancient and natural act of harvesting their own meat or those who have given up animal protein altogether. Neither the hunter nor the vegan should be criticized for their personal choices.

The Compromise
Hunters and vegans can cultivate respect for each other's lifestyles as long as they are aware and informed about their dietary choices and are able to explain why they eat what they eat. As Steven Rinella said, he has respect for the vegan lifestyle and the clarity it provides. Any hunter would agree with him when he says he would rather have a vegan over for dinner than someone who lacks the ability to place value in or explain why they choose to eat and live the way they do.

As yogis, it is important that we consider where we are on this spectrum and ensure that our relationship with meat and those around us is karmically healthy. There should be an open dialogue between meat eaters and non-meat eaters. At the end of the video clip above, Steven agrees to read a vegan pamphlet and the vegan audience member agrees to read Steven's book Meat Eater: Adventures from the Life of an American Hunter.

Vegans, you too should read his book, and meat eaters, you too should seek out educational books and articles that encourage a vegan lifestyle (you can start right here on YouAligned by checking out these articles:

4 Reasons Why all Yogis Should Stop Eating Meat Right Now
5 Steps to Become a Vegan Family

Learn the full story and become fully versed in the other point of view before you criticize and pass judgement.

If more people on either side of the debate took the time to educate themselves on another point of view, there would be more respect for those with a meat-based diet as well as their plant-based diet counterparts. So, whether you eat an apple or a steak (of the bovine or venison variety), what it really comes down to is how we treat others, whether they agree with us or not.

What are your thoughts on this debate? Are you a meat-eater who is willing to learn about the vegan's point of view? Are you a vegan who is open to learning about why the hunter hunts? Or are you somewhere in between? Please share your thoughts in the comments below and keep this important conversation going.

This article has been read 9K+ times. Feelin' the love!