5 Airports With Yoga Rooms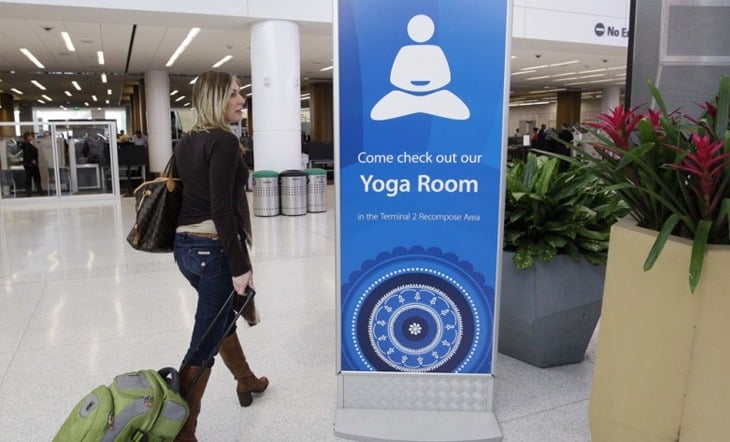 "Life's about the journey, not the destination."

…Or at least until you end up in the airport, exhausted, desperate for yoga, and caring only about that final destination. I don't know about you, but overcrowded terminals and loudspeaker announcements on ten-minute-loops don't help me enjoy the journey. Not to mention all the rushing, waiting, rushing some more, jet lag, cramped seats, etc.
How about a quick yoga session before takeoff? Maybe a few minutes of meditation to release the travel stress? A recent trend in airports may help with at least some of your travel woes. Around the globe, more and more airports are beginning to offer yoga rooms inside terminals. You heard right! Many of these yoga rooms offer yoga mats you can use, and they all provide a quiet space to calm your body and mind before getting on your flight.
The following are airports with yoga and meditation spaces:
San Francisco
The first airport to provide a 24 hour yoga room now has two of them. They can be found between Terminals 1 and 2 and near Gate 69 in Terminal 3.

Image: © Michael Townsend

---
Chicago
The Windy City has yoga rooms at both Midway and Chicago O'Hare Airports. O'Hare's yoga room is located in Terminal 3 with mirrors and bamboo to create a calming space for your practice. Yoga mats are provided.

Image: ellenbainyoga.com

---
Dallas – Fort Worth
Between Terminal B and Terminal D, there is a yoga room that provides not only mats, but also partial privacy screens. If you're looking for privacy, only your silhouette will be visible to other people using the room.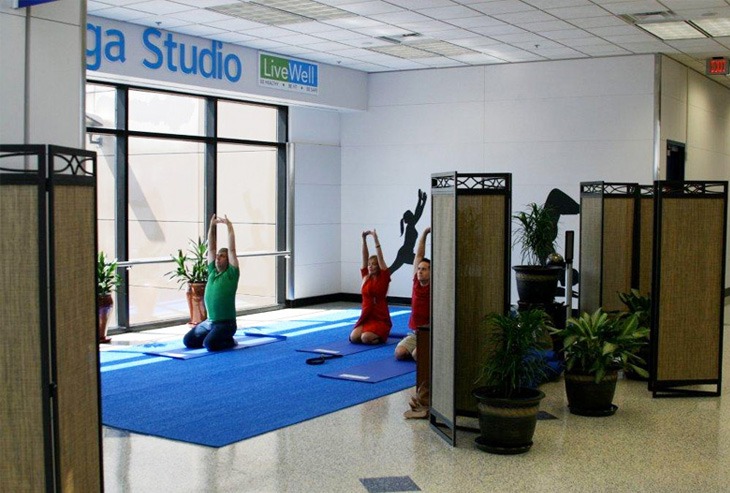 Image: Courtesy of Dallas Fort Worth International Airport

---
Burlington, Vermont
Up on the second floor of the Burlington International Airport, you'll find a yoga studio. It is situated across the hall from shower facilities and a family bathroom. Soothing colors on the walls will help you relax on one of the provided yoga mats or meditation cushions.
---
---
Helsinki
While there are fewer airports abroad that are equipped with yoga rooms, Helsinki has Kianuu, a sort of multiuse lounge area. The space is designed with soft, moss green carpet, and contains chairs crafted from salvaged rather than harvested wood. They provide yoga mats and even a periodic yoga class!
---
London
Heathrow Airport's yoga facilities can be accessed through the SkyTeam lounge. There is a cost to enter the lounge, but your money will be well spent to ease the stress that international travel can put on your body.
---
Even if the airport you are in does not yet offer a yoga room, remember that there are quiet places in almost all airports. It's also helpful to know that most airports have a prayer room or chapel of some sort. These are usually rather empty and always quiet. Regardless of your religious orientation, these quiet places can be used for quiet meditation.
If you don't have the time to go find a yoga room or quiet space in your airport, why not sneak in a bit of yoga while you wait to board? You might be interested in These Ten Tips For Travelers.
Safe and happy travels!
This article has been read 9K+ times. Feelin' the love!