Travel Like a Local – Your Guide to 4 Gorgeous Coastal European Destinations
The words "coastal" and "European" go together like "bread" and "butter."
Honestly, it's hard to find a destination along the coast that's not worth seeing.
The land of sparkling seas, centuries-perfected cuisine, unparalleled wines, and countless photo ops never disappoints.
Still, there are a few spots you simply must see to believe the astounding allure of their beauty and culture. If you've ever wondered what it's like to walk around in a travel calendar, visiting any of these places is your big chance.
Seize the moment and grab those perfect photos! Use These 6 Pro Tips to Take the Perfect Yoga Photo


These Are 4 Coastal European Destinations You Simply Must Visit:
Whether you're looking to relax and unwind, retreat and unplug, indulge in a happy little culinary coma, or explore the sites and trails that shaped heritage and history, these four European destinations offer some of the most transformative travel experiences around.


1. Praiano, Italy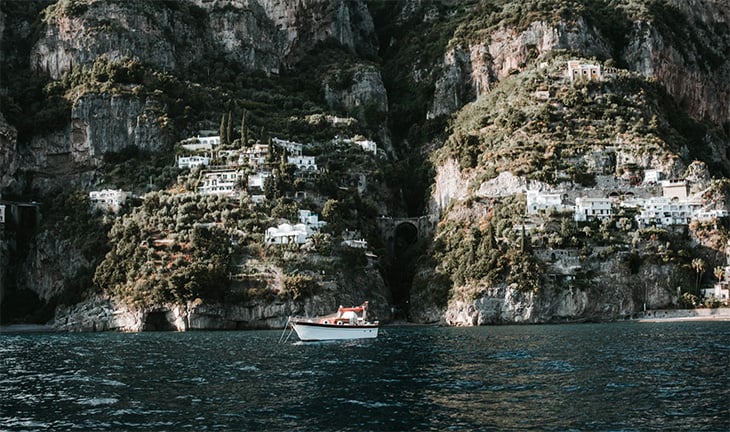 When we think about the Amalfi Coast, we're often drawn to images of popularly stunning places like Capri and Sorrento. But situated smack dab between Amalfi and Positano and bearing witness to one of the most majestic sunsets in creation, a sleepier local town called Praiano offers much more than meets the eye (which is still a lot).
Praiano is a village full of local charm, breathtaking views, and easy access to the rest of the Amalfi Coast. (That is if you're willing to brave one of the massive red buses whose schedules fluctuate like the tides. It's all part of the experience!)
If you're interested in living like the locals, check out the Marina di Praia, a bustling and picturesque fisherman's wharf set alongside a quaint, secluded town beach. One of just a few family-owned restaurants will gladly serve you up some freshly caught fish alongside al dente pasta.
Is pizza more your thing? Stop into Che Bonta for anything from fresh baked breads to homemade pasta, classic Neapolitan pizza, pastry, or seafood straight from the marina. This casual family restaurant is in the center of town on an adorable stretch of rustic stone steps where you can dine al fresco.
There are a lot of steps to the sea in Praiano. So, take a well-deserved break at Café Mirante, a picturesque, family-owned patio bar located halfway between the deep blue, choppy water and the main street through town. You can sip on a carefully crafted Limoncello mojito while watching the sun set behind the cliffs of distant Positano.
No trip to the Amalfi Coast would be complete without a venture down the famous Sentiero Degli Dei (Path of the Gods). This gorgeous trail stretches from Agerola to Nocelle and offers magnificent views of the coast and nearby island of Capri.
Words can't do it justice. You just have to strap on a backpack and some sneakers, grab a camera, and let some of the most awe-inspiring scenery in the universe unfold before your eyes.

2. Split, Croatia
Croatia is fast becoming one of Europe's most popular summer destinations and it's easy to see why. It's a land full of pebbly white coastlines, shockingly turquoise waters, islands full of lavender, and a serious love of pasta.
One of its largest cities, Split, is the perfect hub during a trip to Croatia. The historian in all of us will enjoy a visit to Diocletian's Palace. This centrally located, incredibly preserved landmark was erected in the fourth century for the Ancient Roman Emperor Diocletian.
The entire city was built around this beautiful fortress where citizens sought refuge many centuries ago. Today, visitors can wander around the 30,000 square meter complex of ruins to get a powerful sense of what it was like to live in the Roman Empire.
After you stroll through the palace grounds, keep right on going down Split's legendary promenade, also known as The Riva. This popular, lively hub of Split is where everyone from locals to students and tourists go. You can shop, grab a coffee with friends, spend a spunky night on the town, or people-watch the day away.
A little outside the main city, about 10 kilometers down the coast, lies a smaller, quieter, but equally beautiful town called Podstrana. This stretch of coastline offers quiet, family-frequented beaches, cheap and cheerful seaside dining, and endless water sports. And it's all just a short taxi or bike ride away from Split.
And finally, if you're up for an unforgettable day trip, hop on a bus from Split's city terminal and ride for an hour to Krka National Park. This national gem houses seven waterfalls with endless opportunities to wade around in shallow turquoise pools and lush green landscapes. This little slice of heaven will make you feel like you escaped the sea and wandered straight into the rainforest.

3. Santorini, Greece
Any good travel calendar features a stunning sunset from Greece's iconic island of Santorini. Well known for its surreal views, blue-and-white architecture, donkey-clad cliffs, and colorful beaches, Santorini doesn't even know how to disappoint.
Approach life like the loud, lively locals by sleeping in, staying up late, and skipping out on the fiery midday sun by frequenting the beach in the late afternoon over a crispy Greek pizza and a famous frappe coffee.
The first destination on the list should be Akrotiri, the ancient Greek ruins of a Bronze Age city destroyed by the eruption of the volcano Thera. This eruption was the most famous single event in the Aegean before the fall of Troy.
Remarkably preserved by layers of ash, the relics provide a fascinating window into the lives and unique inventions of the Minoan people, who are said to have shaped the development of Western European civilization.
The famous sunset at Oia is, in fact, a must-see. Is it a tourist trap? Yes. Is it worth the view? A resounding yes.
Less frequented than some of the more touristy beaches like Red Beach and Kamari Beach, Perivolos Beach, is located on a beautiful black sand stretch of coastline. This beach is lined with umbrella-covered sunbeds, authentic restaurants, and a wide selection of aquatic activities. You can enjoy a refreshing Greek salad or souvlaki in between salty dips in the sea.
What island visit would be complete without a trip to the local fishmonger? Ammoudi Fish Tavern boasts one of the most exquisite eating experiences on the island. Situated against a breathtaking red clay backdrop, this popular establishment serves up freshly caught seafood. They're famous for their grilled octopus and calamari, and you can't ever go wrong with the catch of the day. It's the quintessential place to dine al fresco at sunset.


4. Madeira Island, Portugal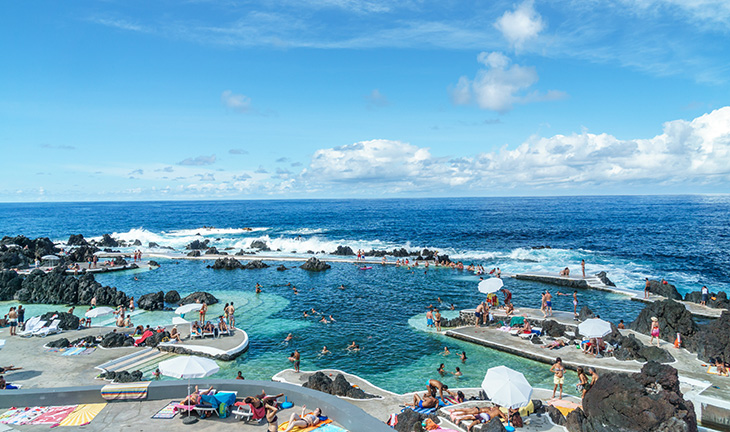 Not far from the Canary Islands, located just west of Morocco, lies the strikingly beautiful Portuguese island of Madeira. Lush, rugged, and volcanic, Madeira boasts high cliffs and rocky beaches, and a diverse array of tropical flora and fauna.
Whether you're interested in hiking the legendary levadas or sampling the famous wine, there's something for everyone in Madeira. (As long as you're brave enough to experience one of the trickiest landings on the planet.)
Since its terrain is often sharp and rocky, many swimming holes in Madeira are more like pools than beaches. Doca Do Cavacas, located in the main town of Funchal, is one of many "bathing complexes" that offer natural pools surrounded by open sea. It's the perfect way to spend an afternoon floating in fresh, crisp water and noshing on unassuming snacks from the onsite restaurant.
For one of the best sunsets on the island, set up shop at Restaurante Sol Poente for dinner and dine on the islands signature dish: black scabbard with banana. Seated high above a spectacular rocky beach, you can watch the sun dip behind the happy dusk swimmers indulging in the last few splashes of the day.
If you're up for one of the heartiest laughs of your life, it's well worth the epic climb (you can also take a cable car) to Monte. Here you'll hop into a wicker toboggan and let two men dressed in traditional white cotton suits and straw hats steer you down steep hills at high speeds, using their rubber-soled boots as brakes. Sound wild? It is. You must experience it to believe it.
Finally, no trip to Madeira is complete without a stroll through the bustling Mercado Dos Lavradores. Here you can purchase everything from exotic fruits and vegetables to fresh fish, handmade souvenirs, local crafts, spices, or a bottle of the island's famous Poncha, a traditional alcoholic punch made with aguardente de cana, honey, sugar, and orange/lemon juice.


Bring Back the Magic: Visit These Enchanting European Destinations!
For most of us, the prospect of faraway foods, local traditions, and unparalleled sunsets are some of the top reasons we venture to places unknown. And there's no shortage along the beautiful coastlines of Europe. The clarity that comes from the eager, unassuming, salty sea air sends us home with a sense of magic.
Capturing it in a photo doesn't always do it justice. But returning home feeling reset, recharged, and ready to bring what we've learned back to our everyday lives is what makes a visit to spectacular European destinations an experience that enhances us forever.
Need more European destinations to see? Check out these 10 Travel Destinations You Definitely Want to Add to Your Bucket List
This article has been read 739 times. Share it and spread the love!