Planning Family Travel This Holiday Season? This Mom of 4 Shares Her 5 Tips for Success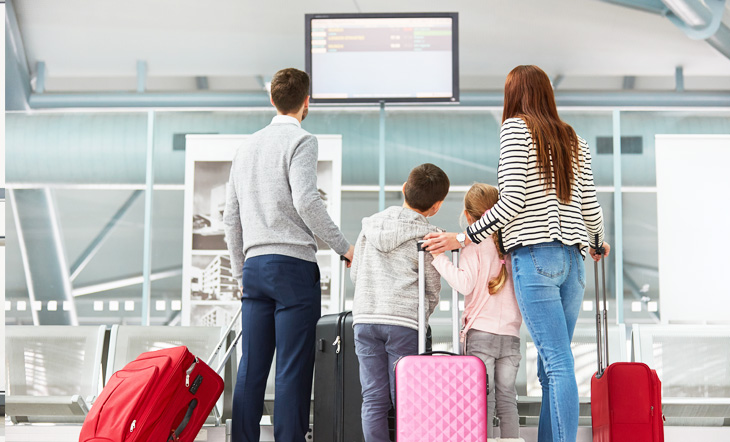 If your holiday season includes schlepping mini-humans and all their crap, this list of family travel tips might help save your sanity. Or at least allow you to get to your final destination with a little less Grinch this season.
Holiday travel can be overwhelming, especially with family in tow, but with these travel tips, you'll feel less stressed, more prepared, and ready to enjoy wherever your holiday travels may take you, and fully embrace your time with family.
As a mom who raised four kids mostly on her own and traveled extensively with them, I know a thing or two about family travel. I have navigated many an airport, train station, bus and subway with four little ducklings in tow without losing anyone (mostly, and I always got them back!).
Now I have four productive, happy adult children, three step children, three grandchildren from my steps, and travel has become a bit of a clown car caravan situation that requires spreadsheets and tactical maneuvers worthy of the secret service.
But somehow we pull it off and nobody loses their cool (again, mostly). Read on to learn five family travel tips for successfully navigating your travels this holiday season.


5 Holiday Travel Tips for Navigating Family Travel Calmly and Effectively:
1. Pack an Extra Change of Clothes
Everyone's carry-on gets an extra change of clothes. If you've ever been thrown-up on mid trans-Atlantic flight and forced to wear a regurgitated Hawaiian-punch covered blouse, you'll know why this is a rule.
Pick something light and easily packed like leggings and a tee or light sweats. This is also handy if your neighbor's ginger ale spills onto your lap ten minutes into a six-hour flight. Or if your luggage gets lost and you get to the airport hours (or even days) before your bags do.
And if any of this happens, sounds like you might need some in-flight yoga. . . Practice These 9 Yoga Poses in Your Plane Seat to Soothe Your Sore Body
Anything is possible – a spare outfit change is truly a life saving tip.

2. The Cross-Pack Rule
A crucial step in the packing process, the cross-pack rule is a must. How does it work? Every traveler includes at least one change of clothes in someone else's packed luggage.
That extra set of clothes combined with the set in your carry on will get you through two full days if your luggage is lost. Airlines rarely lose the entire family's luggage – it's usually just one person. And if that one person is you, you'll thank the cross-pack rule for having your back.

3. Meds? Have a Backup Plan
Prescriptions, chargers, and valuables including passports should all go in your carry-on, or better yet your purse. Something else you should keep close when traveling? Prescription printouts.
On the off-chance your vital, sometimes life-saving meds get left in a hotel room, knocked into a toilet, lost, or oops the inhaler or injectable is empty and/or malfunctions. Now what do you do?!
In the event you need a prescription refill, make sure you bring the little paper printout that comes with your prescription and store it somewhere you'll remember. You can bring that paper to almost any pharmacy and get a refill. This is especially important when traveling abroad where medications can have different brand names.

4. When In Doubt, Print It Out
Technology is great, BUT embracing the old school method of printed copies is never a bad idea. You can print out your itinerary, tickets, boarding passes, and any relevant emails with contact numbers and organize them into a cute little travel folio.
It may feel a little archaic, but when you're struggling to help a child (or elderly family member) in the bathroom and your phone falls into the toilet with ALL your travel info on it, you'll wish you could make a call to the year 1999 and ask for your printed passport back.




Electronic boarding passes have revolutionized travel, but how easy is it to leave your phone on the kitchen counter while rushing kids out the door to meet the airline shuttle van. And airport wifi can be super dicey if you're depending on it to access your virtual docs.
If you're traveling abroad, add a copy of each family member's passport. If you lose one or get your bag stolen, this will save so much time getting it replaced.

5. You Do You Boo
Only you know your family, your kids, your partner, etc. The best travel advice anyone can give is to do the things that feel right for your particular family. If that means easing up on any screen time restrictions, then do it.
Everybody gets their own travel iPad? Why not? If it means going snack crazy to keep the kids (or adults) happy – go for it. After exiting your flight you all stop and stretch in the airport gate (while and everybody stops and stares?) Allow that to affect you? Namaste right here thank you very much.
Do you do yoga in the airport? Want to? Read Airport Yoga: 10 Tips for Travelers
Do what you need to do to keep your family unit happy, healthy, and whole.


Enjoy Your Family Travel This Holiday Season With These Pro Travel Tips
We hope you enjoyed these five, fun tips to make your travel excursions a little less accident prone.
Incorporating the subtle art of not giving an F when it comes to traveling with your family can be the key to unlocking the "wander" in your wanderlust. Happy traveling!
Calling all parents! Any more family travel tips to share? Have questions about holiday travel? We'd love to hear from you in the comments below!

This article has been read 181 times. Share it and spread the love!