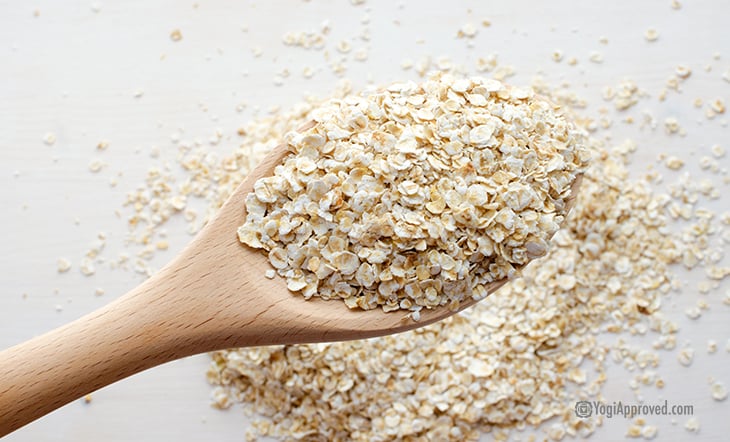 15 Uses For Rolled Oats We Bet You've Never Thought Of
I bet you don't know how amazing rolled oats are. They're versatile, they're high in protein and antioxidants, they are a great source of fiber, and they're extremely beneficial for sensitive skin. I'm here to enlighten you on all the uses for rolled oats that you've been missing out on.

So, ditch the plain, boring oatmeal and let's do this!

15 Surprising Uses For Rolled Oats:
To make this a bit easier to find what you're looking for, let's break it down into categories.

Cleansing
1. Got dirty hands? Make a thick paste of ground oats and water and scrub-a-dub-dub.

2. Got really dirty hands? Swap the water for milk, which helps better lift dirt and grime.

3. Cleanse Your System: If you're a little backed up (yep, we're going there), rolled oats will help cleanse your system, relieving constipation and bloating.

4. Cleanse your itchy or irritated skin with an oatmeal bath. I like to add fresh lavender flowers as well for a seriously relaxing and soothing self-care sesh.

5. Heal Skin: Speaking of itchy – if you rubbed up against a poison plant on one of your adventures, apply a paste of rolled oats and water to the affected area. Keep reapplying as needed.

Eating
6. Oat Milk: Ran out of milk for your smoothie? Blend a ½ cup of rolled oats with 1 cup of water until it's a creamy oat milk, then add the rest of your smoothie ingredients.

7. Summer Oatmeal: Enjoy cold oats for a delicious, power-packed summer breakfast. Combine rolled oats, peanut butter, milk, nuts, dried berries, seeds, and fresh fruit of your choice in a cereal bowl and enjoy!

8. Oat Flour: Blend dry rolled oats in a food processor until you have a fine powder – use this flour in your baking for a sweet, nutty flavor.

9. Boost Your Immunity: The beta-glucan, zinc, and selenium in rolled oats can help you out during flu season by boosting your immunity and protecting you against disease.

10. Combat Cancer: Did you know the antioxidants in, and anti-inflammatory properties of, rolled oats can help prevent and combat cancer?

Beautifying
11. Soothing Eye Mask: Create a paste out of ground oats, warm milk or water, and honey, and apply to closed eyes for a soothing eye mask that's perfect for relaxing before bed.

12. Acne Treatment: How about a natural acne treatment? Boil oats and water until they're sticky, allow to cool completely, and then apply to problem areas to help soak up excess oil and dirt.

13. Homemade, All-natural Moisturizer: combine a ratio of 2:1 rolled oats to milk or water, then add a dollop of Manuka honey. Apply to dry skin and allow it to absorb for 5-10 minutes before wiping off with a warm cloth.

14. Time to exfoliate! Oats offer a wonderfully gentle exfoliant for sensitive skin. I like to combine ground rolled oats with bentonite clay, add a touch of water until it creates a paste, and gently scrub.

15. Healthy, shiny hair? Yes, please! Combine ½ cup of milk with 3 tablespoons of oats, 1 tablespoon of Manuka honey, and 1 tablespoon of coconut oil. Apply to scalp and let it sit for 10-15 minutes before rinsing out.

It's Time to Let Rolled Oats Live Up to Their Potential
Did you know about these uses for rolled oats? And – there are so many more! You just have to get creative with them. Personally, I think food is really amazing, and we haven't unlocked all the potential of it because our society teaches us to be consumers rather than to be resourceful with the ingredients we already have in the kitchen.

Enjoy these little tricks, and let us know how they went in the comments!

This article has been read 9K+ times. Feelin' the love!