Valentine's Day Gift Guide for Yogis 2017
Like Rumi said, "Love is the bridge between you and everything." Love is what's being celebrated on February 14 this year, and even though we don't need the excuse of a holiday to celebrate our love, Valentine's Day is always a great opportunity to show your special someone you care.

Whether you're looking for your girlfriend, boyfriend, wife, husband, best friend, or even yourself (hey – you deserve to be celebrated too!!), this Valentine's Day Gift Guide has 14 beautiful, meaningful and unique gift ideas for your sweet Valentine.

Here are 14 gift ideas for your special someone this Valentine's Day:
Scroll down for more information and product links.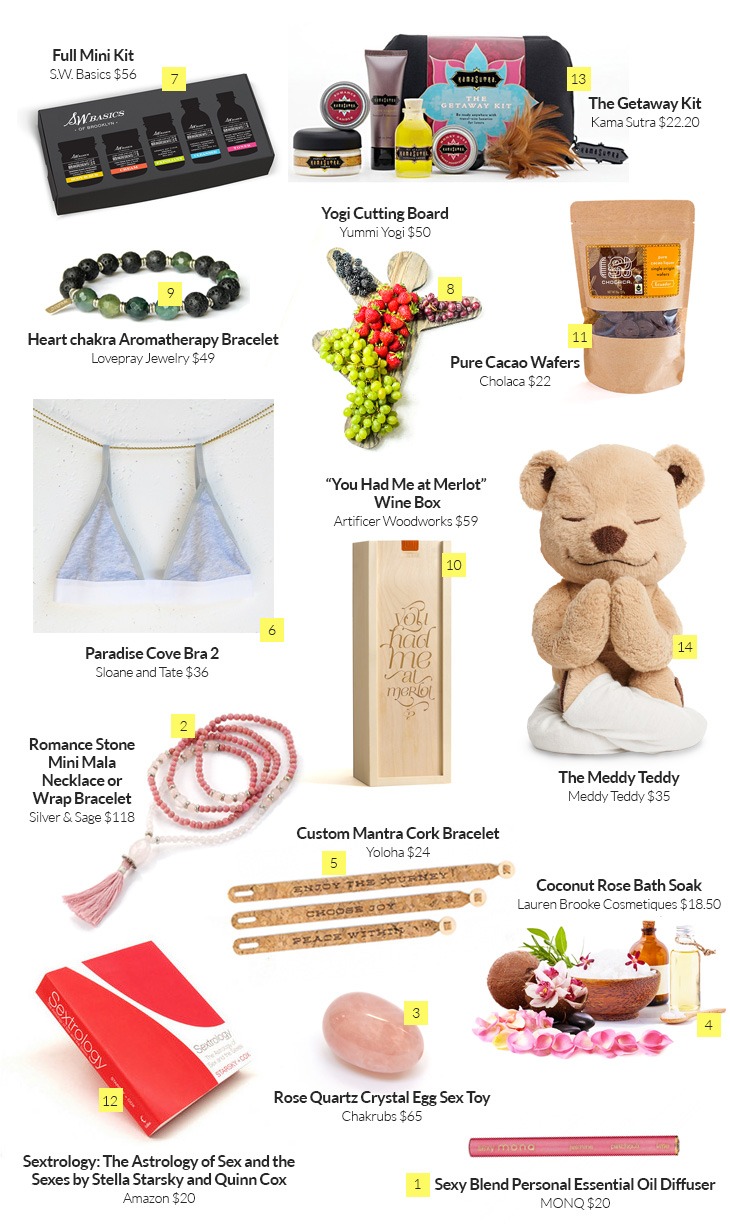 1. Sexy Blend Personal Essential Oil Diffuser by MONQ $20

Aromatherapy uses essential oils to invigorate and awaken the senses, and MONQ has created the first personal essential oil diffuser. Their Sexy Blend is a mix of patchouli, jasmine, and lime for their powerful aphrodisiac, sensual, and stimulating properties – a perfect, sexy gift for Valentine's Day.


2. Romancing the Stone Mini Mala Necklace or Wrap Bracelet by Silver & Sage $118

This stunning Mini Mala Necklace or Wrap Bracelet by Silver & Sage is made of rhodonite and rose quartz, which creates its elegant pink two-tone color pattern – perfect for Valentine's Day but also timeless and stylish year-round. The stones represent love and self-acceptance.


3. Rose Quartz Crystal Yoni Eggs Sex Toy by Chakrubs $65

Yoni Eggs have been used for over 2000 years in Chinese tradition to strengthen and tighten the vagina. The Yoni Egg by Chakrubs is offered in Rose Quartz, which represents the heart and symbolizes love. It has a feminine energy of compassion and healing and corresponds to the heart chakra – the perfect gift for yourself or your romantic partner this Valentine's Day!


4. Coconut Rose Bath Soak by Lauren Brooke Cosmetiques $18.50

Pamper yourself and/or your special someone with this decadent, all-organic Coconut Rose Bath Soak from Lauren Brooke Cosmetiques. Aloe vera, coconut milk, and oatmeal nourish and hydrate your skin, while rose and ylang ylang essences uplift and restore both mind and body.


5. Custom Mantra Cork Bracelet by Yoloha $24

Nothing says "I love you" like engraving it on a unique and adorable Custom Mantra Cork Bracelet from Yoloha. Your Valentine will fall in love with the eye-catching cork material, and with the 15 character max, it's like engraving "I love you" is meant to be!


6. Paradise Cove Bra 2 by Sloane and Tate

The adorable, sexy, and oh-so-stylish Paradise Cove Bra 2 by Sloane and Tate is made from a lightweight Cotton blend that's comfortable, in a flattering and timeless bikini design that's perfect for sexy time, but also great for lounging or wearing under your favorite shirt.


7. S.W. Basics Full Mini Kit $56

Give the gift of amazing natural skincare products this Valentine's Day with the Full Mini Kit by S.W. Basics. The Mini Kit features five top-selling items from this popular skincare line – like the sugar body scrub, our personal fave – and each product is sure to wow your Valentine with their short, all-natural ingredient list.


8. Small Fruit Cutting Board by Yummy Yogi $50

When you picture a romantic Valentine's Day, you visualize a lovely spread of fresh cut fruits and, dare we say, chocolate covered strawberries?! Whatever you choose to serve your Valentine this holiday of love, you can serve it on this adorable Yummy Yogi Cutting Board from Yummy Yogi – the perfect size for fruits, veggies, cheeses, and apps.


9. Aromatherapy Chakra Bracelet by Lovepray Jewelry $49
Lovepray Jewelry brings us his and hers Chakra Aromatherapy Bracelets. The heart chakra (as featured in the photo) represents our ability to love and be loved, so you can wear this matching bracelet with your significant other to symbolize your relationship! Add a drop of essential oil to the absorbent lava stones so you can enjoy your favorite essential oil scent throughout the day.


10. "You Had Me at Merlot" Loved-Themed Wine Box by Artificer Woodworks $59

This Valentine's gift does all the work for you! All you need to do is add your Valentine's favorite wine bottle to this adorable "You Had Me at Merlot" engraved wine box by Artificer Woodworks. You can even add a personal message to the back of the lid to make it extra special. One tree is planted for each box sold.


11. Cholaca Pure Cacao Wafers $22

Giving heart-shaped chocolates to your Valentine is so last year! This Valentine's, give the gift of delicious, healthy, and energizing cacao wafers from Cholaca, a brand we recommend and respect for their pure cacao and utmost environmentally sustainable practices. These yummy wafers are perfect for baking or snacking on right out of the bag!


12. Sextrology: The Astrology of Sex and the Sexes by Stella Starsky and Quinn Cox $20

Sextrology is an insightful love and relationship book based on astrology. It focuses on 24 sex signs, distinguishing the difference between men and women of each sign, and breaks down their particular sexual psychology and behavior, secret desires, and even physical attributes. This love and astrology book is great for couples or those looking for astrological insight into the dating scene.


13. The Getaway Kit by Kama Sutra

The Getaway Kit from Kama Sutra is perfect for a Valentine's weekend getaway (or staycation!) and comes with Vanilla Creme kissable body oil and body cream, honeysuckle kissable body powder, and love liquid personal lubricant in addition to a tea candle and feather tickler – all small enough to go in your check-on bag.


14. Meddy Teddy $35

Why give a plain old teddy bear when you can give your love a teddy bear with a purpose?! The Meddy Teddy is the perfect gift for your kiddo or any Valentine, combining the cuteness of a teddy bear (that can do yoga poses!) with a more meaningful message of mindfulness and meditation. This Teddy is a great Valentine's Day gift for any age!

Valentine's Day is a day for love and all the ways we can celebrate the love we have in our lives. When you're looking for a gift to show that special someone you care, make it meaningful with one of these awesome gift ideas your Valentine is sure to swoon over.

Happy Valentine's Day, with love from YouAligned!

This article has been read 3K+ times. Feelin' the love!