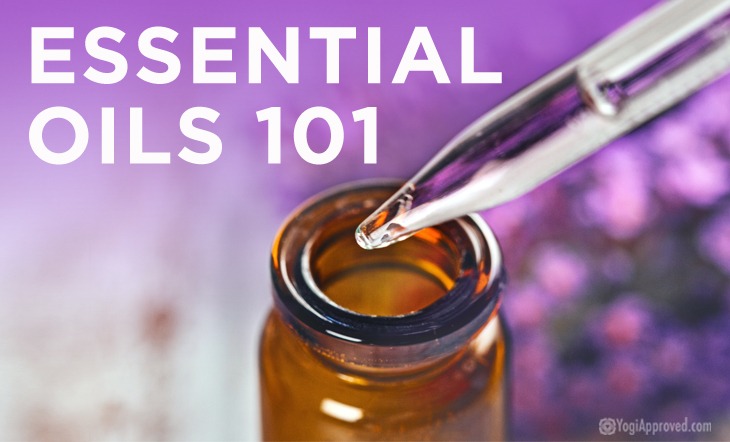 Essential Oils 101 – What You Need to Know
Essential oils are all the rage these days. But did you know that essential oils have been used since around 1500 BCE? In fact, in some communities, essential oils are considered the oldest and most powerful substances on earth.

These oils and their uses have been documented throughout ancient texts in cultures around the world. For example, the Ebers Papyrus (a 100+ page scroll that dates back over 3,000 years) records how to use essential oils, herbs, and resins for countless medical conditions.
"Essential oils have been used since around 1500 BCE"
With the rising popularity of essential oils, it's easy to get lost in the concepts of how to use them and what they are useful for. Aromatherapy is one specific use that has in recent years made essential oils so common to the layperson. While aromatherapy is a fantastic way to use oils, it is just one of many. Want to learn more?


Here are the 3 main methods of using essential oils:

1. Aromatic: diffuse your chosen oil in an ultrasonic diffuser, or inhale the scent straight from the bottle.

2. Topical: place the oil directly onto your skin undiluted or mixed with a carrier oil such as coconut oil or jojoba oil.

3. Internal: ingest the oils by putting them in a liquid (such as a glass of water) or in a vegetable capsule.

Not all oils are created equally! Be aware that essential oils have differing levels of quality and purity. While you can use any and all oils aromatically, you have to be careful what types of oils you use topically and internally.


What can I use essential oils for?

There are countless ways to use and benefit from essential oils, ranging from health and wellness to household tasks. Here are just a few examples:

1. Headaches:
Aromatically: diffuse or inhale lavender oil.
Topically: rub lavender oil and peppermint oil on temples.
Internally: place 1 drop of peppermint oil on tongue and press to roof of mouth.
Recommended read: How Holistic Treatments And Yoga Cured My Headaches

2. Nausea:
Aromatically: diffuse or inhale peppermint oil.
Topically: rub ginger oil over abdomen.
Internally: place 1 drop of peppermint oil under tongue.

3. Muscle Pain:
Topically: apply wintergreen and peppermint oil directly to sore areas.

4. Cuts and Burns:
Topically: apply lavender oil undiluted to affected area.

5. Hormonal Balancing:
Internally: take 2 drops frankincense oil in a vegetable capsule daily.

6. Acne Treatment:
Topically: using a cotton ball, apply 2 drops of tea tree oil and frankincense oil to affected areas morning and night.

7. Focus and Mental Clarity:
Aromatically: diffuse or inhale vetiver, lavender, and cedar wood oil.
Topically: apply same oils to back of neck.

8. Disinfecting Spray
Mix 20 drops Young Living Thieves ® essential oil with 8 ounces water in a glass spray bottle (glass is recommended because the oils in the Thieves® blend are known to disintegrate plastic.) Thieves® is a blend of clove, lemon, cinnamon, eucalyptus, and rosemary oils.

9. DIY Goo Gone:
Apply lemon essential oil directly to sticky surface and allow to sink in before scrubbing.

10. Spider-Away Spray:
Mix 10-15 drops peppermint oil with 8 ounces water in a spray bottle and spray around windows, doors, vents, etc. This spray can also be used in the garden to deter unwanted bugs.

11. Dryer Sheets:
Add 10 drops of lemon and lavender essential oils to damp, clean washcloth and add to dryer load in place of dryer sheets.


What you should look for when buying essential oils:
Purity is the most important factor in essential oils. When you get medicine prescribed by a doctor, you want to know that it is actually 100% medicine that will help you heal. The same principle applies to selecting essential oils. If you want to use the essential oils for your wellness, then you have to know that they are pure and top quality. The most important thing you can do is research the essential oil company before you purchase their product.



Young Living is an essential oil company that has an astringent quality control process that guarantees the purity of their oils. Many essential oils that can be purchased at the grocery store do not have the same level of quality control. Although those bottles at the grocery store may say they are 100% oil, that doesn't guarantee it is 100% pure oil. Often times, these oils are diluted with less expensive oils that smell the same as the original plant, but are less expensive and lack the medicinal properties.

Here's an easy quality test. If lavender oil burns when you put it on your skin, it isn't pure lavender oil. The same goes for peppermint: if it doesn't tingle and cool your skin, it isn't pure either!


Where can I learn more?
Knowledge is power when you are trying to find the best quality essential oils and their uses. Pick up a reference guide like this one to help you understand essential oils a little more. As always, we love hearing from you! Please share your favorite essential oils and their uses in the comments below. The entire YouAligned community benefits from the knowledge we share.

This article and all included information is not intended as medical advice and does not treat or diagnose. Please consult your doctor for any health-related questions or concerns.
This article has been read 10K+ times. Bada bing!