Pros and Cons of Detox Cleanses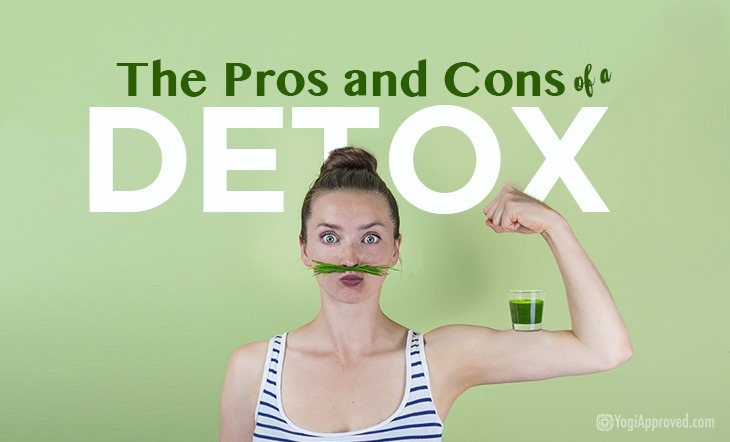 Your body naturally detoxes through your digestive system, liver, kidneys and even the skin that you shed. That is your body's way of breaking down toxins and eliminating what is not needed. A detox cleanse can complement your body's natural processes, if it's done right.

You have probably heard about the benefits of a cleanse or detox, from quick and easy weight loss and improved energy to a rebalance of your entire digestive system. Cleanses kickstart your body's natural cleansing process by avoiding solid food or a specific food group (such as sugar, caffeine, processed foods, etc.), to eliminate those toxins and give your body and digestive system a chance to reset, heal and more readily absorb nutrients from food.

During a liquid cleanse, you will often have to replace solid food with liquids for a period of time. For instance, if you opt for the Master Cleanse, you will forgo solid food and instead drink a mixture of lemon water, maple syrup and cayenne pepper. There are also other cleanses that involve fresh-squeezed juices or green tea.

The best kinds of cleanses are those that allow you to eat solids and liquids. These cleanses help you reset your system, which will help you achieve long-term health and weight-loss success. Many experts find that the best types of cleanses out there are those that eliminate processed foods, alcohol, sugar, caffeine and products from animals. A cleanse can be in the form of a healthy diet that is a mixture of fruits and vegetables, as well as whole grains, beans and other sources of vitamins and protein. Or, you can choose to make this type of "cleanse" a permanent lifestyle change and reap the benefits of clean, healthy eating in your body and health overall.
A good rule of thumb is not to consume less than 1,000 calories in a day or you may be causing more harm than good to your body.
Before you begin any cleanse, make sure that the cleanse you follow is healthy for you and matches your lifestyle. It is best to follow a cleansing system that allows you to take in appropriate calories to fuel your body. A good rule of thumb is not to consume less than 1,000 calories in a day or you may be causing more harm than good to your body. Also, cleanses that omit healthy fats, good-for-you carbs and protein from your diet are best avoided. These cleanses can actually slow down your metabolism, cause you to lose valuable muscle mass, weaken your immune system and cause you to see a low drop in your blood sugar, which can lead to imbalances in your body and even increase your risk of a heart attack!

Every diet or program has its strengths and weaknesses. Here are the pros and cons to a detox cleanse:


Pros
Eliminate Toxins: Cleanses are meant to help your body rid itself of toxins and give you a reboot. You can use your cleansing period as a way to kickstart healthy eating habits.

Jump-Start Weight Loss: For the most part, cleanses are not meant to be a long-term weight loss program, but they can be a great first step to get you on the right path toward your long-term weight loss goals. Use your cleansing period to help you get on the right path toward a healthy relationship with food and permanently transform those unhealthy eating habits. If you need to see the scale jump to get you motivated, this could be a great first step.

Increased Intake of Vitamins: If you are doing a juice cleanse, your body gets a tremendous boost of essential vitamins and minerals. Be smart about the cleansing program that you choose so you do not eliminate key nutrients, which would leave you feeling sluggish or malnourished. If you do a cleanse right, you will feel energized – not fatigued.

Identify Food Sensitivities: When you cleanse, you typically cut out all or at least some foods altogether for a period of time. Then, once you are ready to go back to solid foods, ease yourself back in. This is a great time to gradually integrate foods back into your system, giving yourself time to assess how your body reacts to each type of food.

Mindful Eating: When you go on a cleanse and then revert back to a traditional diet, you may realize that you no longer need sugar or caffeine to keep you going. With a cleansing plan, you are typically encouraged to follow a schedule, which is great to keep you from snacking when bored or overeating at mealtime. You can now integrate foods that are good for you and make you feel good, and you can avoid empty calories and mindless self-indulging that could be harmful to your health.

Reset Your Taste Buds: Sugars, caffeine and highly-processed salty foods can make your taste buds numb to the point that you can no longer appreciate the simple pleasures of food in their natural states. And, once you cut out the salt and sugar, you may find that your body no longer craves it.


Cons
Not Effective for Long-Term Weight Loss: The weight that you lose during a cleanse is typically a short-term change, resulting from loss of water retention and the removal of solid matter through bowel movements. Once you start eating solid foods again, whatever weight was associated with water or excess waste in your digestive system will come right back.

Decrease in Energy: When you do a liquid-only cleanse and/or when you're following a low-calorie and low- to no-protein diet, you may experience mental fatigue, cloudy, unfocused thoughts and a decrease in energy. If you have a rigorous exercise routine, such as running for long periods of time, hot yoga, or other exercises that use larger loads of energy, you may want to skip those exercises during your cleanse. Be sure to pay attention to your body, and if you feel lightheaded or fatigued, take in more calories or just take it easy.

Frequent Bowel Movements: You may experience more frequent than usual bowel movements, so make sure that you have a bathroom easily accessible, at least for the first few days until you know how your system will react. These frequent flushes may be more than just water and excess waste – you may be flushing away essential nutrients and electrolytes that keep your body functioning properly. In this case, regularity may not be a good thing.

Little to No Fiber: Through a typical juice cleanse, you may be eliminating all or most of the fiber from your diet. Your body needs fiber to work effectively, and fiber is essential to clearing out your colon to help your digestive system function efficiently.

Price: The price of many cleansing systems can be quite expensive, some upwards of $60 or more for a single day. Even if you juice your own fruit, you will have to spend a lot of money to purchase several pounds of fruits and vegetables to create the juice for each meal throughout a single day. After all, while you may eat a piece or two of fruit in a meal, you will need double or triple the amount to create just one glass of juice when made with a juicer.

Whichever cleanse you opt for or whether you choose to try a cleanse or not, do what feels right to your body. Listen to your body and understand what it is saying when you make any modifications to your diet. Don't go with what worked for someone else or what is on-trend right now. What works for others may not be best for you and your health. The cleanse should make your body feel re-set and recharged, not punished.

Have you ever tried a cleanse? What were your results? Do you have any tips for anyone considering a cleanse? Please share your thoughts in the comments below – we love hearing from you!

This article has been read 5K+ times. Feelin' the love!